Diplomatic showdown looms over China spy ship's plans to dock at Sri Lanka's Hambantota port
Chinese foreign ministry slams opposition as 'senseless', India's concerns are with the ship's ability to track missile facilities at Sriharikota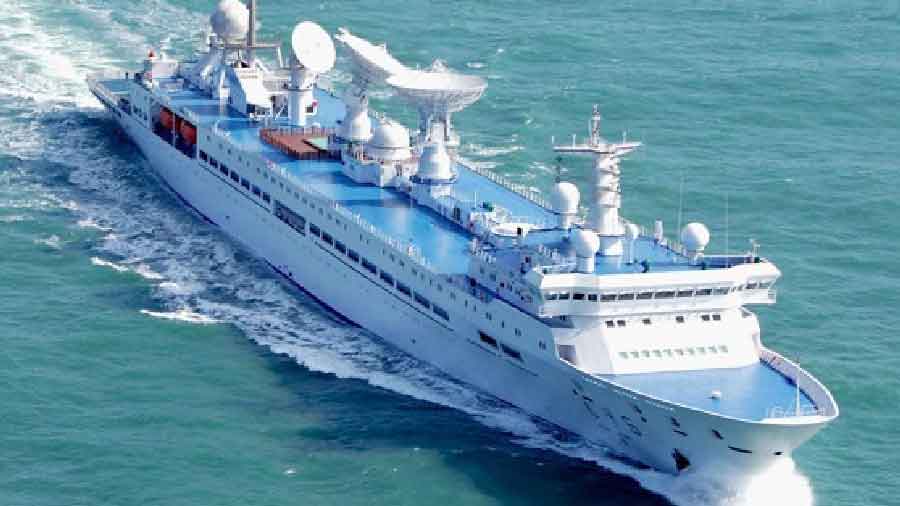 Yuan Wang-5
Twitter/@InsightGL
---
Published 10.08.22, 03:24 PM
|
---
A diplomatic confrontation looks set to erupt as the Chinese spy ship Yuan Wang 5 heads towards Sri Lanka's Hambantota Port despite Colombo's request that Beijing delay the vessel's arrival.
The Yuan Wang 5 space and satellite tracking vessel is currently sailing close to indonesia and is scheduled to reach Chinese-leased Hambantota port on Thursday morning. 
Sri Lanka has stuck to its position even after the Chinese ambassador Qi Zhenhong met the Indian Ocean island's new president Ranil Wickramasimghe to demand that the ship be allowed to dock in Hambantota. It is not clear what might happen if the ship sails into the Chinese-run port.
The Chinese foreign ministry also issued a sharply worded statement and the ministry spokesman Wang Wenbin said it was "senseless" to pressure Sri Lanka to prevent the Yuan Wang's one-week stopover in Hambantota for what the Chinese say is "replenishment." 
Wang did not name India but said: "Sri Lanka is a sovereign state. It can develop relations with other countries in the light of its own development interests. China urges relevant parties to see China's scientific explorations in a reasonable and sensible way and stop disturbing the normal exchange between China and Sri Lanka."
The Yuan Wang 5, launched in 2007, has advanced missile tracking facilities. India fears the Chinese vessel may seek to track missile facilities and launches at the Indian Space Research Organisation's space centre at Sriharikota on the southeast coast. India does not have a comparable vessel. 
But Wang said it was "completely unjustified of certain countries to cite so-called 'security' concerns to pressure Sri Lanka," accusing other nations of seeking to "exploit it (Sri Lanka's) vulnerability" when it was in dire economic straits. 
Former president Gotabaya Rajapaksa who had warm relations with Beijing is said to have given the green signal for the ship to dock in Hambantota in one of his last acts in office. This gave the new president, Wickramasimghe, a chance to try and stop it. 
The Sri Lankan foreign ministry said it had given diplomatic clearance for the Chinese vessel to dock at the port. But it said that later it had asked China to delay the visit until "further consultations" were carried out.
China built Hambantota Port and took over the 100-year lease after Sri Lanka was unable to make repayments. 
It's the latest example of friction between regional rival powers India and China over Sri Lanka. India recently scuttled a Chinese wind-energy project that was scheduled to come up on three Sri Lankan islets facing the Indian coast. The project will now be carried out by an Indian company. China was deeply displeased to be pushed out the project and said it would have a deleterious effect on foreign investment. 
India has loaned Sri Lanka almost $4 billion which includes emergency crude oil supplies to tide over shortages in the bankrupt nation of 22 million people. Sri Lanka is also negotiating a possible $4 billion in financial aid from Beijing and has insisted that bilateral relations remain on a solid foundtion.
A Chinese firm has the contract to build the prestigious Colombo Eastern Container Port development. India has had to be satisfied with the Western Container Port work on which has not yet started. 
Recently reports that india had asked Sri Lanka to grant the Adani group a power project caused a ruckus in the country.