Democrats defy odds to clinch Senate control
Republicans do, however, have the upper hand in the race for control of the House, with a lead in 221 districts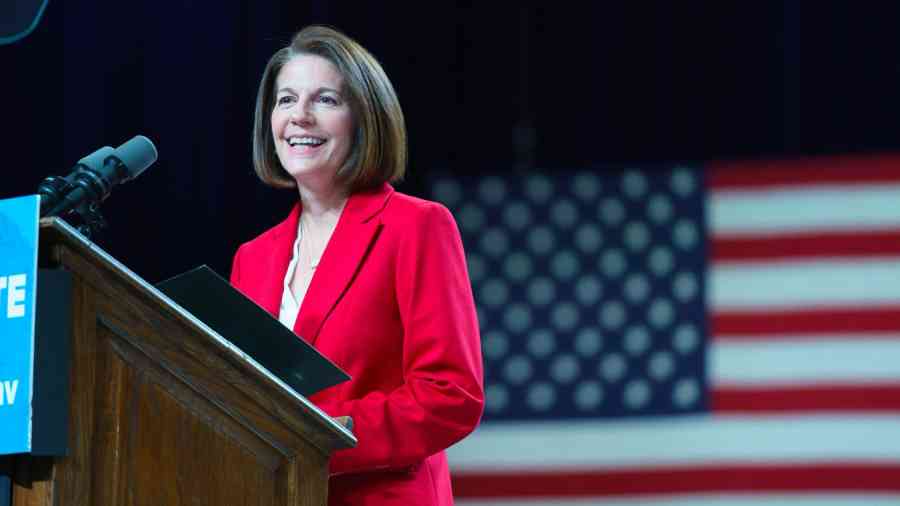 Catherine Cortez Masto
Facebook
---
Washington
|
Published 14.11.22, 03:35 AM
|
---
Democrats have retained control of the Senate with the victory of Senator Catherine Cortez Masto in Nevada, a decisive moment in an extraordinary midterm election in which her party defied historical patterns and predictions of major losses.
Democrats have now accomplished what had once appeared a heavy lift because of high inflation, fear of crime and President Joe Biden's weak job approval ratings.
Republicans do, however, have the upper hand in the race for control of the House, with a lead in 221 districts — more than the 218 needed to clinch the majority.
Cortez Masto, the first Latina elected to the Senate, pulled ahead of Adam Laxalt, the Donald Trump-endorsed former Nevada attorney-general, as mail ballots, many from Clark County, broke in her favour.
Her victory means Democrats will keep at least their 50-50 majority in the Senate, where Vice-President Kamala Harris holds the tiebreaking vote for the party.
Republicans were dealt another blow on Saturday night when Jim Marchant, who helped organise a national slate of Trump-aligned candidates aiming to take over state election systems, lost Nevada's race for secretary of state to Cisco Aguilar, a Democrat.
The result meant that every election denier hoping to run future elections in a critical battleground state has been defeated, with US voters roundly rejecting extreme partisans who promised to restrict voting and overhaul the electoral process.
In the Senate, Democrats have a chance to win a 51st seat in a December 6 runoff in Georgia between Senator Raphael Warnock, the party's incumbent, and Herschel Walker, a Republican and college football legend.
Television and radio ad spending in Georgia's Senate contest is approaching $200 million, with the messaging blisteringly negative.
Democrats turned in the strongest midterm showing in two decades for a party holding the White House, keeping the House on such a razor's edge that control is still up for grabs days after the polls closed.
Speaking to reporters in Cambodia, President Biden said that he was "not surprised by the turnout; I'm incredibly pleased". He added that his party's ability to retain control of the Senate "is a reflection of the quality of our candidates".
Biden said his party's focus would now shift to a runoff election in Georgia, noting that "it's always better at 51", given that Democrats would have true majorities on committees rather than pushing nominations and legislation through evenly divided committees. The additional seat, should Senator Raphael Warnock win his runoff, would also mean that Democrats could spare a vote on key nominations and bills.
Larry Hogan, the departing Republican governor of Maryland and an outspoken Trump opponent, strongly hinted at a 2024 presidential run.
"I've been saying since 2020 that we have to get back to a party that appeals to more people, that can win in tough places like I've done in Maryland, and I think that lane is much wider now than it was a week ago," he said on CNN.
The Republican losses halted a plan by some allies of former President Trump and other influential donors to take over the election apparatus in critical states before the 2024 presidential election. The "America First" candidates, and their explicitly partisan statements, had alarmed Democrats, independent election experts and even some Republicans, who feared that if they gained office, they could threaten the integrity of future elections.
Marchant, who lost in Nevada, not only repeatedly claimed that Trump had won the 2020 election, but he pledged that if he were elected, Trump would again be President in 2024.
(New York Times News Service)