Darling of Right, Suella Braverman is hated by Left
'Good news for Sunak is that the first clutch of polls after his installation as Prime Minister are out, and they show that he is more popular than his party'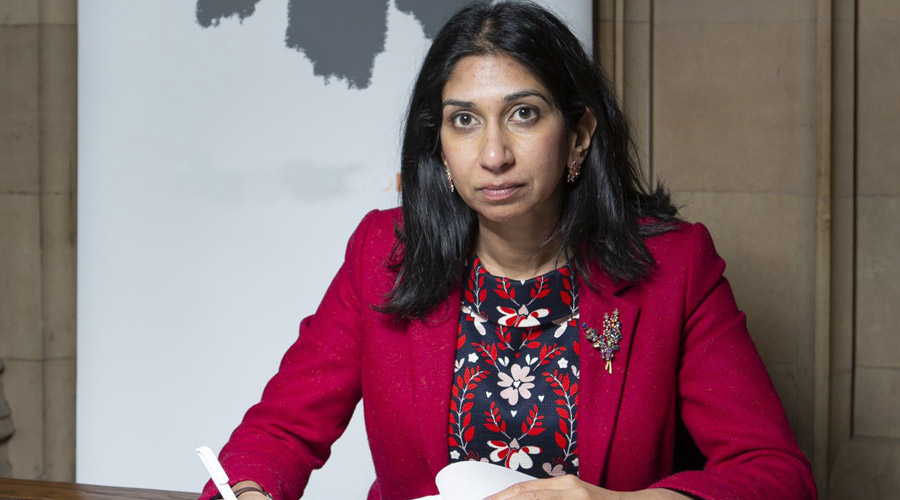 Suella Braverman.
File picture
---
London
|
Published 29.10.22, 01:32 AM
|
---
This takes some doing but Suella Braverman, sacked as home secretary by Liz Truss and reinstated a week later by Rishi Sunak, has turned herself into the number one hate figure for the left in Britain while remaining the darling of the Tory right. 
On Friday the Financial Times suggested that Rishi has more to lose than gain by bringing her back: "Sunak's risk of bringing back Braverman outweighs reward."
It pointed out: "Labour scents blood, too: Sir Keir Starmer has made it clear to frontbenchers that they should keep talking about the "grubby deal" between Sunak and Braverman."
It added: "The good news for Sunak is that the first clutch of polls after his installation as prime minister are out, and they show that he is more popular than his party, with his ratings not far behind Starmer."
One poll for the i newspaper, showed that Labour would still win the next election but the leaders are close together in terms of their personal popularity. "Keir Starmer has a four point lead over Rishi Sunak in terms of the party leader Britons think would make the best prime minister, by 34 per cent to 30 per cent."
The Mail said: "Voters trust Rishi Sunak to handle the economy more than Sir Keir Starmer, and believe he would make a better Prime Minister, according to a new poll which gives the Tories a glimmer of hope for the next election."
Rishi does not believe Britain is a racist country, a Downing Street spokesman said, following claims by the South African-born American comedian Trevor Noah that there was a "backlash" after he became the UK's first British-Asian Prime Minister.
Curiously, there has been very little comment about Suella's racial origins.
She was born Sue-Ellen Cassiana Fernandes in Harrow, north London, named apparently after the Sue Ellen character (played by Linda Gray) in the American soap, Dynasty. Suella is part of the 2015 intake into the Commons, which also brought Rishi into the Commons.
In her maiden speech in June 2015, the new Tory member for Fareham in Hampshire recalled: "On a cold February morning in 1968, a young man, not yet 21, stepped off a plane at Heathrow airport, nervously folding away his one-way ticket from Kenya. He had no family, no friends and was clutching only his most valuable possession, his British passport. His homeland was in political turmoil. Kenya had kicked him out for being British. My father never returned. He made his life here in Britain, starting on the shop floor of a paint factory. My mother, recruited by the NHS in Mauritius as a girl of 18, passed her 45th year of service last year. My family had nothing but hopes and dedication. They were so proud to be British and so proud to make our country even better.
"It is a stroke of luck to be born British, and my indebtedness goes to the heart of why I am a Conservative. Our party rewards endeavour, enables compassion and liberates people from the shackles of the state."
Like the historian Zareer Masani, she thinks the British Empire had more pluses than minuses: "In Kenya, the administration, the civil service, the infrastructure, ports, railways, roads brought by the British – the British Empire was a force for good. That is not to deny the awful things as well that went on because of the time period and cultural norms at that time.
"I am informed by the experience of my parents. (They) were born under the British Empire in the 1940s, and they have nothing but good things to tell me about the mother country.  It was Britain that gave them opportunity and safety when they were young adults.
"My background is one that is ferociously proud of Britain, Britain's history, Britain's welcome. My parents were born under the British Empire. They came to this country with a huge fondness for the empire.
"I am proud of the British empire."
At school she got 13 GCSEs, all A stars. When she went to France as home secretary, she spoke to her counterparts in fluent French. As a member of the Triratna Buddhist Community (formerly the Friends of the Western Buddhist Order), she attends the London Buddhist Centre monthly. She took her oath when she became an MP on the Dhammapada.
She has said: "After attending a local state school, my parents decided to send me to a local independent school where I won a scholarship to help with school fees. From there, I gained a place to read Law at Queens' College, Cambridge University, followed by a Masters in European and French Law (LLM) at the Pantheon-Sorbonne in Paris and sat the New York Bar exams, qualifying as an Attorney in New York State. This gave me a comparative insight into the legal, constitutional and political frameworks of Europe and the USA."
Suella, who was Attorney General under Boris Johnson, wore a white bridal gown when she married Rael Braverman in February 2018 at the Commons. The couple have two children. She has described her husband as a "very proud member of the Jewish community".
At a Diwali party this year, she wore a lehenga.
"India is in my heart, she's in my soul, she's in my blood," she said. "I'm very proud that my father has his roots and his family home in Goa and my mother can trace her ancestral origins to Madras."
She made it clear: "India is part of my own heritage. I'm Indian on both sides of my family."
She also said: "Coming from Wembley, the home of the Asian community here, I am very proud to be a member of our British Asian community.
"When I have travelled in India, from Kerala to Bihar, from Delhi to Calcutta, I've always been struck by is the friendship that our countries enjoy. We have a long history, but it is very striking how fresh and vibrant our relationship always feels.
"As Home Secretary, I particularly value the cooperation on security matters between our two countries. This is vital, on a domestic level in India and in the UK but also more broadly on an international scale, especially in the Indo-Pacific. That's why our governments cooperate so closely in terms of defence and security, on land, at sea, in the air, in space and in cyber. It's also why I will frequently speak to my counterparts and colleagues from India on a wide range of issues.
"Nor must we ignore how closely we are bound together by culture. We consume food, music, movies and art from each other's countries voraciously. The story of India and the story of the UK are so intimately linked that they are to a great extent the same story."
But the same Suella told the Tory party conference in Birmingham this year: "It's not racist for anyone, ethnic minority or otherwise, to want to control our borders. It's not bigoted to say that we have too many asylum seekers who are abusing the system. It's not xenophobic to say that mass and rapid migration places pressure on housing, public services and community relations."
She visited Leicester after the recent communal disturbances and pledged to crack down on newcomers causing trouble: "I saw this when I went to Leicester recently. A melting pot of cultures and a beacon of religious harmony. But even there, riots and civil disorder have taken place because of failures to integrate large numbers of newcomers. Such conflict has no place in the UK."
Her comments in The Spectator appeared to undermine negotiations for the Free Trade Agreement with India: "I have concerns about having an open borders migration policy with India because I don't think that's what people voted for with Brexit."
Asked whether she would support a deal if it involved greater flexibility for Indian students and entrepreneurs, she added: "But I do have some reservations. Look at migration in this country – the largest group of people who overstay are Indian migrants. We even reached an agreement with the Indian government last year to encourage and facilitate better cooperation in this regard. It has not necessarily worked very well."
Many think sending cross channel migrants to Rwanda would be cruel and inhuman but Suella became even more of a hate figure after she told a Tory conference: "I would love to have a front page of The (Daily) Telegraph with a plane taking off to Rwanda, that's my dream, it's my obsession."