Cressida Dick: Scotland Yard chief quits suddenly
Home secretary Priti Patel in the hunt for a successor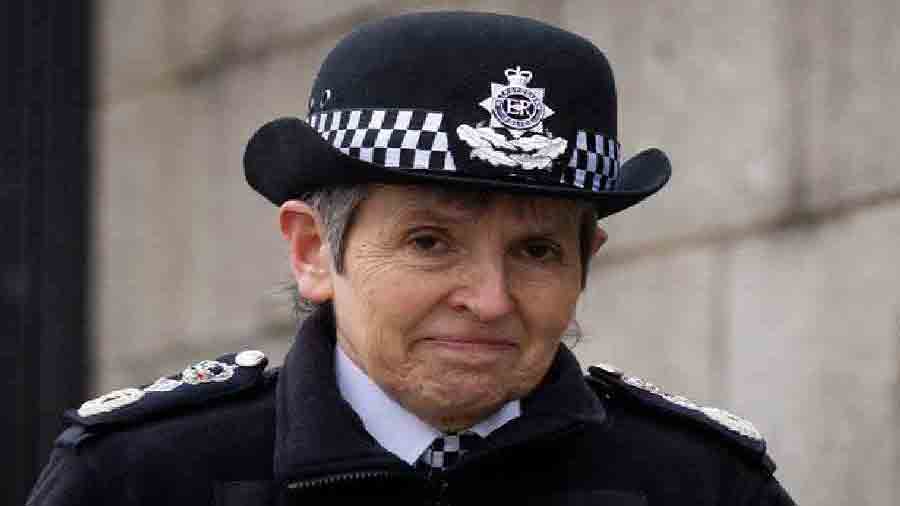 Scotland Yard chief Cressida Dick.
Twitter
---
London
|
Published 12.02.22, 01:01 AM
|
---
Britain's top police officer, Cressida Dick, who is the head of Scotland Yard, suddenly resigned on Thursday night, after being effectively sacked by London's Labour mayor, Sadiq Khan.
Scotland Yard has made it clear that despite her shock departure, the police investigation into "Partygate" is to continue, with the future of the Prime Minister Boris Johnson dependent on its findings.
The home secretary, Priti Patel, is now looking for Dick's successor but neither she nor Boris appear keen on the obvious candidate — Neil Basu, the country's most senior non-white officer who is reckoned to have done a good job heading UK counter terrorism based at Scotland Yard.
Basu, 54, son of a Bengali doctor who emigrated to the UK from Calcutta, which is a well-trodden path, is said to be "too political" and "independent minded". He holds the rank of assistant commissioner at Scotland Yard but is currently on secondment leading the "Strategic Command Course" at the College of Policing, teaching the most senior officers of the future.
Although the Metropolitan Police Commissioner is appointed by the home secretary — Dick was given a two year extension in September because of the alleged lack of a successor — the mayor of
London has a say over how policing is done in the capital.
Dick, 61, the first woman to be appointed commissioner of the Metropolitan Police, resigned hours after a defiant declaration that she had no intention of doing so.
She is also the first openly gay person to hold the post. She told BBC Radio 4's Desert Island Discs in 2019 her sexuality was one of the least interesting things about her, adding: "I happen to love Helen. She's my partner. And on we go."
The daughter of two academics, "Dame Cressida", as she is now called, read forestry and agriculture at Balliol College, Oxford, before joining the Met in 1983. She took a brief career break to study criminology at Cambridge and had a short spell working in finance but for most of her life she has been a police officer.
She left the police in 2015 to work at the Foreign Office, in an unspecified job shrouded in secrecy, but returned two years later when she assumed the mantle of Met commissioner.
She has been held responsible for many of the force's failings, ranging from racism to misogyny. In 2005 she was the "gold commander" who ordered the shooting of a suspected suicide bomber, a Brazilian called Jean Charles de Menezes, but he turned out to be innocent.
Last year, one of her senior officers, Wayne Couzens, abducted, raped and murdered a woman, Sarah Everard, who was seized as she walked home. Women protesters who gathered for a vigil were roughly manhandled by her officers. And an inquiry this year found a London police station, Charing Cross, was riddled with racist and sexist police officers.
Sadiq took the view that a change of leadership was necessary and forced her out without consulting either the Prime Minister or the home secretary.In her resignation statement, Dick said that "the mayor no longer has sufficient confidence in my leadership to continue. He has left me no choice but to step aside as commissioner of the Metropolitan Police Service".Sadiq thanked the commissioner for her 40-year policing career. He said he would now "work closely with the home secretary on the appointment of a new commissioner" with an aim to restore trust in the force.
Boris said Dick "has served her country with great dedication and distinction over many decades", while Priti added that the police chief held the role "during challenging times" and that she "exemplified the increasingly diverse nature of our police".