Russia vaccine 'also shows 92% efficacy'
Announcement comes two days after Pfizer and BioNTech announced a similar high efficacy of their candidate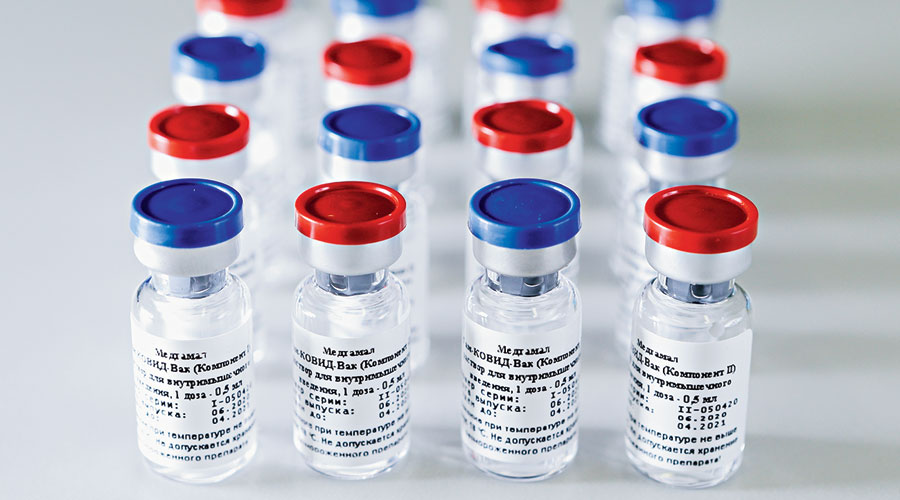 ---
---
Sputnik V, Russia's vaccine candidate against the coronavirus disease, also shows 92 per cent efficacy in protecting people from the infection, Russian agencies said on Wednesday, two days after Pfizer and BioNTech announced a similar high efficacy of their candidate.
The first interim analysis of 20 Covid-19 cases among 16,000 volunteers in Russia who received Sputnik V has pointed to 92 per cent efficacy, based on the split of those cases between volunteers who received the vaccine and those who received the placebo, the agencies said.
Russia has offered India 100 million doses of Sputnik V and India's regulatory authority for drugs and vaccines had last month approved a clinical trial on Sputnik V on volunteers in India to be conducted by Hyderabad-based Dr Reddy's Laboratories.
The findings will be published in a peer-reviewed journal after scrutiny of the data by experts, the Gamaleya Centre in Moscow and the Russian Direct Investment Fund, the Russian government's sovereign wealth fund, said while announcing the interim results.
The 16,000 volunteers had received two doses of Sputnik V and are among 40,000 scheduled to receive the vaccine in Russia's ongoing double-blind randomised placebo-controlled efficacy trial, the RDIF and Gamaleya Centre said in a statement.
The agencies said an analysis of Covid-19 cases among an additional 10,000 volunteers, including doctors and other at-risk populations, in areas around Russian hospitals has also confirmed the vaccine's efficacy rate of over 90 per cent.
America's Pfizer and Germany's BioNTech had jointly on Monday announced that their vaccine candidate had shown over 90 per cent efficacy, based on the first analysis of 94 Covid-19 cases among over 43,000 volunteers who had received either the vaccine or the placebo.
The high efficacy levels have raised hopes of early, reliable vaccines.
However, scientists have cautioned that early efficacy levels could be higher than observed during longer follow-up because as the weeks go by, if more people become infected, efficacy levels might fall.
"Vaccine efficacy is usually higher when evaluated shortly after vaccination," said Gagandeep Kang, a senior microbiologist and vaccine science expert.
The RDIF and Gamaleya Centre have said Russia has received requests for more than 1.2 billion doses of Sputnik V from over 50 countries. The vaccine supplies for the global market will be produced by RDIF's international partners in India, Brazil, China, South Korea and other countries, the agencies said.
The existing RDIF contracts with international partners can support the production of 500 million doses of Sputnik V outside Russia annually, they said. The Russian entities have neither named the Indian vaccine production partners nor provided details of the planned clinical trials by Dr Reddy's Laboratories.
"The first shot (to a trial volunteer) will be coming soon," an official familiar with the timeline said.
While both, the Pfizer-BioNTech candidate and Sputnik V, have shown over 90 per cent efficacy in early analyses, the two candidates rely on different design strategies. The Pfizer-BioNTech is based on mRNA, or genetic material, while Sputnik V uses human adenovirus as a vaccine delivery platform.