Corporate sandwich test
OK to pinch? Debate around Indian hotshot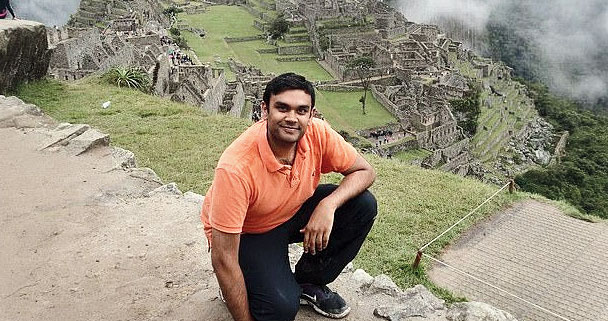 A picture of Paras Shah taken from his Facebook page
---
London
|
Published 08.02.20, 09:07 PM
|
---
The story of Paras Shah, an Indian-origin bond trader who has been earning £1 million a year but has been suspended by the Citigroup bank for allegedly stealing sandwiches from the office canteen, is refusing to go away. The Financial Times has commented it's fine to pinch small things from your employer but drew the line at sandwiches.
Just to get the story straight, The Telegraph rang the Citigroup media officer in London and asked: "Have you suspended Paras Shah for stealing sandwiches?"
Media officer: "No comment."
The Telegraph: "Do you realise that your 'No comment' is indirectly a confirmation of the story, otherwise you would say, 'It's not true.'"
Good try but from the media officer: "No comment."
The saga began with a report in the FT: "Citigroup has suspended one of its most senior bond traders in London after the US investment bank accused him of stealing food from the office canteen.
"Paras Shah abruptly left his post last month as Citi's head of high-yield bond trading for Europe, the Middle East and Africa.
"The bank suspended Mr Shah after alleging he had stolen food from the canteen at its European headquarters in Canary Wharf, London, according to four people familiar with the matter. The 31-year-old was one of the highest-profile credit traders in Europe, having joined Citi in 2017 after about seven years at HSBC."
The Daily Mail quoted a cousin, Dinesh, who went round to the north London home where Paras lives with his wife, Aarti.
The blinds were drawn although neighbours had reported seeing Paras earlier in the day.
Dinesh told the Mail his cousin's favourite sandwich was cheese and pickle — which would suggest Paras is probably vegetarian.
Dinesh added: "The family has been trying to contact Paras but he's not responding to our calls. We're worried about him, that's why I've come to his house. He obviously doesn't want to speak to anybody about what's happened."
In the FT, there was a comment piece by Henry Mance, who wondered: "Is Citi mad? The trader was rumoured to be highly successful. A minor larceny would have been dwarfed by his morning's profits.
"What about the employees who take Biros (a ballpoint pen) from the office stationery cupboard?…. Are we — I mean, they — all to be fired? Sadly, it pains me to conclude that Citigroup was probably in the right….
"I do think that employees are entitled to take some company property. This relies on two basic principles: that you don't take very much, and that you could plausibly justify it within the give-and-take of an employment relationship."
But he adds: "The canteen is a marketplace. You can pay and you should pay. It's implausible to see stealing a chicken breast as payback for overtime you did a week earlier. For one thing, most office canteens are operated by outside contractors. It's robbing Peter to get back at Paula."
Matthew Vincent asked, also in the FT: "Was Citigroup trader's sandwich the most costly City lunch?"
He recalled: "Until this week, the record for most costly City lunch was arguably shared by ravenous financiers from Barclays and RBS. In 2001, dealmakers at Barclays Capital spent £44,007 on a celebratory meal, including £12,300 for a bottle of 1947 Petrus and £9,200 for a 1900 château d'Yquem…. Five of the six diners paid with their jobs.
"In 2008, RBS bankers were persuaded to manipulate interest rates by offers of 'steak' and 'some sushi rolls from yesterday'. RBS paid $325m to settle with US regulators. But this appetite for risk and day-old fish must now be compared with that of Citigroup bond trader Paras Shah, whose alleged theft of canteen food has led to his suspension from a £1m-plus job.
"His colleagues tell City Insider he took self-service a tad too literally on 'a few occasions'.
"But Citi's HR department might wish to put it in perspective, as Twitter user @thecdstrader did: 'Historic banking losses: 1995 Barings, $1.3bn on Nikkei options; 2008 SocGen, $8bn on equity index; 2019 Citi, £4.50 on a cheese sandwich.'"