Coronavirus surges in sprawling Indonesia
Covid-19 stalks the farthest reaches of the planet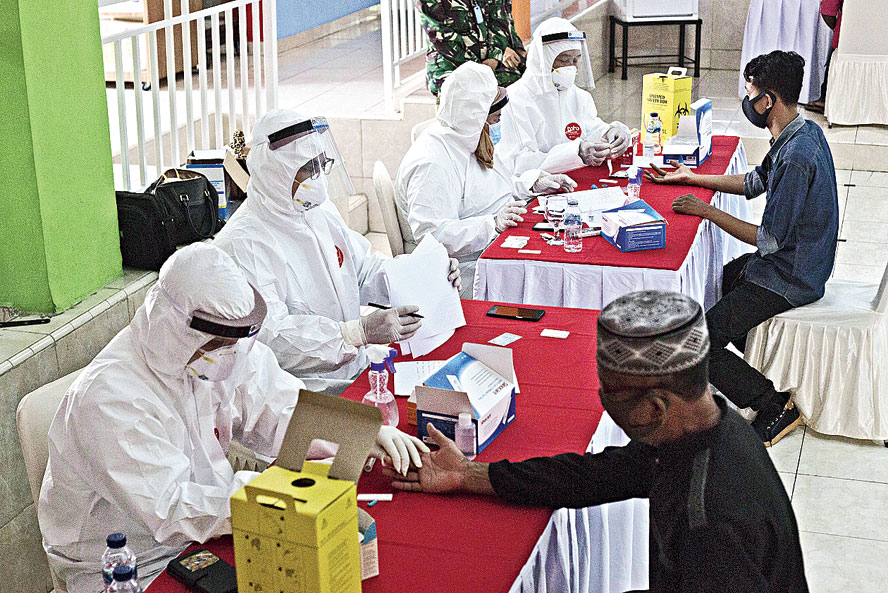 ---
|
New York
|
Published 28.05.20, 10:11 PM
---
The 1,340 Maluku Islands are a long way from anywhere. So remote are these Indonesian isles that the country's most famous novelist was imprisoned there in a gulag that was actually an archipelago.
But the coronavirus is stalking the farthest reaches of the planet.
The first case of the virus in the Malukus was confirmed in mid-March: a hardware technician who had journeyed from Indonesia's most populated island, Java. With the central government loath to impose a national lockdown, local officials took matters into their own hands, instituting quarantines and limiting flights and ferries.
It didn't work. Twenty-five medical workers at one hospital in Ambon, the biggest city in the Malukus, have tested positive for the coronavirus, even though none had contact with Covid-19 patients there. A hat vendor with no history of travel to other Indonesian viral hot spots became sick and died in early May, signalling that community transmission had begun.
Over the past week in Maluku province, positive coronavirus tests have increased by double digits each day, with limited testing — only around 600 people have been tested — surely obscuring the true caseload.
"We didn't expect it to happen this fast," said Kasrul Selang, the head of the coronavirus task force in Maluku province. His wife has tested positive for the coronavirus.
The world's fourth most populous country, Indonesia offers both a cautionary tale for how dithering leadership can thwart public health and a medical puzzle for why an unprepared nation's hospitals have so far not been overwhelmed by the virus.
With thousands of islands straddling a section of the Equator wider than the continental US, Indonesia has counted on its sprawling archipelago and youthful population to slow the deadly spread of the virus. But with sharp caseload increases in far-flung regions like the Malukus and full-blown outbreaks on more populated islands like Java, Indonesia's luck may be running out.
In early May, Indonesia had recorded fewer than 12,000 cases of the coronavirus, with around 865 deaths. By Thursday, the number had increased to 24,538 confirmed cases and 1,496 deaths. Health experts say even this doubling of cases reflects the limits of testing.
In an alarming glimpse at what could be runaway transmission, a random sampling of 11,555 people in Surabaya, the country's second largest city, found last week that 10 per cent of those tested had antibodies for the coronavirus. Yet the entire province of East Java, which includes Surabaya, had 4,313 officially confirmed cases as of Thursday.
"Massive infection has already happened," said Dono Widiatmoko, a senior lecturer in health and social care at the University of Derby and a member of the Indonesian Public Health Association. "This means it's too late."
Yet even as the country's caseload accelerates, the Indonesian government has said that national coronavirus restrictions, already a scattershot effort, must be relaxed to save the economy.
"If people don't eat and they get sick, it will be worse," said Joko Widodo, the President, at a briefing for the foreign news media.
There is widespread concern among public health experts, however, that Indonesia's health care system will break down if the coronavirus spreads as intensely as it did in the US or Europe. Worryingly, more than half of Covid-19 deaths in Indonesia were of people below age 60.
New York Times News Service