The free world
Improbable though that may sound, parts of our planet have evaded the coronavirus, or claim to. But how? And what's been happening there?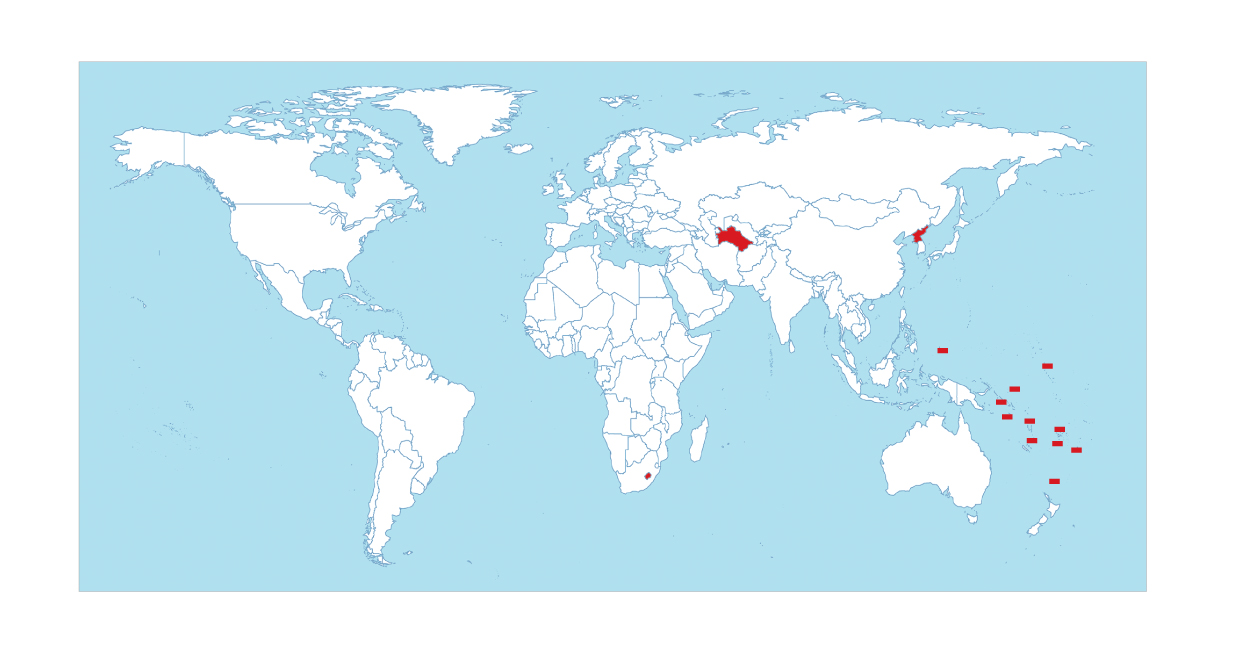 Certain parts of our planet have evaded the coronavirus, or claim to.
Sabyasachi Kundu
---
Published 16.05.20, 09:55 PM
|
---
Vanuatu
If you can confidently point to Vanuatu on a map then you're a better geographer than most. Thus reads the opening line of the entry under Vanuatu, Oceania, in the World Travel Guide. This archipelago in the South Pacific Ocean is made up of 80-plus islands, most of which are difficult to access. When Unicef used a drone to reach a consignment of vaccines to Cook's Bay in Vanuatu in 2018, it was considered a big achievement. Of these islands, only a handful attract tourists. In fact, just one, Efate, gets international tourists.
Vanuatu's remoteness is possibly what has kept the coronavirus away. Soon after the World Health Organization (WHO) sounded the coronavirus alarm, the country implemented new and strict entry rules and kept revising them as the scenario changed. The island of Malekula was placed in temporary lockdown after one Filipino boat stopped to buy copra from the locals.
In April first week, Vanuatu was coping with routine stuff — flooding and volcanic ash fall. Then, Cyclone Harold slashed through it. It had not even begun to recover, when it got itself a new prime minister. And by end-April, it had resumed its live cricket with the Women's Super League final, which was streamed live on social media.
PS: Remote and relatively little-known it might be, but in the 2020 Index of Economic Freedom prepared by The Heritage Foundation and The Wall Street Journal, Vanuatu scored 60.7, which is 21 countries and 4.2 points above India. What's more, it sells citizenship for about $1,50,000, and its passports allow visa-free travel throughout Europe. The latter benefit, of course, might have lost bits of its USP.
Kiribati, Tuvalu, Solomon Islands, Nauru, Marshall Islands, Federated States of Micronesia, Palau, Samoa and Tonga
These are some of the other island nations in the deep Pacific that remain corona-free. All facts point to either their relatively restricted contact with the world beyond or a convenient geography. Take a look. Only around 200 tourists visit Nauru each year. Tuvalu gets around 2,000 international tourists. The footfall in the Solomon Islands is high but since March 22, all non-citizens have been refused entry. The Federated States of Micronesia, made up of 607 islands — with a combined land area of 702 square kilometres and a population of 1,12,640 — has a built-in social distancing logic and the same goes for the Marshall Islands, composed of more than 1,200 islands and islets in two parallel chains. Less believable is a claim from Kiribati that is doing the rounds of social media. According to it, locals owe their immunity to the coronavirus to the moimoto, or coconuts, which are found in abundance and consumed in abundance too. In Tonga, it is the destruction left in the wake of Cyclone Harold that is in more urgent need of attention than corona. And not that the US President Donald Trump needs a reason to boast, but the chairman of the American Samoa Coronavirus Task Force has said pointedly, "We still don't have a confirmed case."
Lesotho
Of a total of 54 African countries, only one was corona-free till recently: Lesotho. (Comoros announced its first confirmed case in end-April.) The country is racked by a political controversy instead. Prime Minister Thomas Thabane will have to quit by May 22. The 80-year-old and his wife are implicated in the murder of his previous wife and the couple has been under pressure the last many months to retire. All parties have provisionally agreed on finance minister Moeketsi Majoro as his successor. Last month Majoro had said he was not convinced that there were no cases in Lesotho. "The risks and exposures that we see are completely inconsistent with no case," he said. On May 8, Thabane agreed to step down. And on May 13, Lesotho recorded its first case of Covid-19. Coincidence?
Turkmenistan
What is the secret behind Turkmenistan's Covid-19 immunity? The answer possibly is President Gurbanguly Berdymukhamedov.
The man, who used to be a dentist and the health minister till he became the state head of the Central Asian nation, is known for his strongman image. State TV frequently airs visuals of him lifting weights or cycling. He is also said to be the main driver of "health and happiness" campaigns in which uniformed state employees exercise together. Turkmenistan has the world's lowest proportion of smokers too.
Combine with this health fanaticism a spot of megalomania. Berdymukhamedov has proclaimed his presidency as the "era of might and happiness". The capital, Ashgabat, has a 68-foot gold-leaf statue of him on horseback.
Now add to this megalomania a penchant for secrecy. When Berdymukhamedov fell off a horse in a 2013 race, state media did not broadcast it. Natural disasters are never reported. News of outbreaks of plague has been suppressed in the past and it is claimed that the country has had no cases of HIV/AIDS. After it claimed it had zero corona cases, WHO wanted to send a delegation over, but the visit was stalled.
In keeping with the scheme of things, when the whole world was talking lockdown and social distancing, Turkmenistan was all agog with plans to celebrate World Health Day with a mass cycle rally to be led by the President himself.
Whether the rally really happened no one can say for sure. The state media released pictures of him visiting the presidential equestrian complex and the Olympic Village. The President reportedly rode an Akhal-Teke, a Turkmen horse breed known for its speed and endurance, and at the Olympic Village he cycled around a track. There are also claims that 3,500 cyclists in identical tracksuits were out on the roads of the capital city and 7,000 more all over the country. But then again, others claim none of this actually happened.
What did happen is that weeks later, the football league of Turkmenistan kicked into action. Around 400 spectators were reportedly on the spot to watch the game between Altyn Asyr and Kopetdag in a 20,000-capacity stadium in Ashgabat. In a poem published in state newspapers, poet Gozel Shagulyyeva hailed the president as "the impregnable fortress of the motherland".
North Korea
Some May headlines from Korean the Central News Agency, the state news agency of North Korea were — "Punishment of Chun Doo Hwan Urged in South Korea"; "US Interference in HK issue rejected"; "International community needs to guard against revival of Nazism".
Covid-19 reports make the occasional appearance, but mostly in connection with the rest of the world. The ones that pertain to North Korea are self-congratulatory — "Anti-epidemic work intensified in DPRK"; "Big clap for health workers, devoted volunteers" and so on and so forth.
At a time when global Covid-19 cases stand at 45,40,224 and ticking and casualties at 3,03,585 the official line of North Korea is: "zero cases".
North Korea is about the size of Tamil Nadu, with a population almost half of the National Capital Region. Mind you, the Democratic People's Republic of Korea (DPRK), shares its borders with South Korea and Russia. And to date, South Korea has 11,037 corona cases and Russia, 2,72,000. It also won't do to forget that the country shares its border with China and 1,420 kilometres of it too.
The North Korea-China border is porous and there is constant traffic from either side. The country's business with China accounts for 9/10th of its external trade. And while there might be ample distance between China's Wuhan, the epicentre of the corona outbreak, and the North Korean capital of Pyongyang, there are places such as Dandong on the Chinese side that are barely 2 kilometres away from North Korea's Sinuiju. It is highly unlikely that a neighbour with 80,000-plus cases would not have let slip any infected person to the other side. Recently, the Chinese city of Shulan too, which borders North Korea, reported several cases of Covid-19.
The country's "Supreme Leader" Kim Jong Un's totalitarian regime may cry "zero cases" ad nauseam but going by independent news reports, the man who promised to unleash a new strategic weapon on the President of the United States in 2019, is not entirely oblivious to the virus.
For one, the country closed its borders with China on January 30. Two major national festivals — Mt Paektu Prize Sports Festival and the February Spring Arts Festival — were cancelled for the first time in years. Flights and train services were suspended. Foreigners were quarantined. According to the commander of the US Forces in South Korea, the North Korean armed forces too were in a 30-day lockdown. A trade official was executed for visiting a public bath when he should have been in quarantine. And North Korean authorities said they would use weapons to control the border if the Chinese failed to control border violations. There were also reports of aerial pictures of around 100 "smuggling ships" anchored offshore and it was speculated that Kim Jong Un wouldn't let them in because he feared they would bring in Covid-19. North Korea incidentally exports coal, an activity banned by UN resolutions.
On March 9, an online newspaper based in South Korea claimed that around 200 North Korean soldiers died from Covid-19-like symptoms. There have also been reports of doctors dying in a military hospital. And several inmates of the Chongori prison camp, in the northeast, have died of respiratory ailment. Against this backdrop, a seemingly unperturbed North Korea chose to flex its arms muscle and fired two "short-range projectiles" into the Sea of Japan off its east coast.
And then, Kim Jong Un went missing.
For a country where censorship is extreme and all media is owned and controlled by the government, where opacity is a way of life, one can only approximate the truth through speculation. So on the one hand, the talk of the town is the reappearance of Kim Jong Un, to cut the ribbon and inaugurate a fertiliser factory on May Day. And on the other hand, there are reports about Chinese President Xi Jingping's offer to support an apparently corona-free North Korea against the pandemic. Again, on one hand the heated debate is about how North Korea has just banned the use of foreign currency in order to encourage the domestic one. On the other hand, speculation is rife that the country is on the brink of famine as the pandemic has disrupted food supply.
In the meantime, the following continue to make news in the country: Kim Jong Un being lauded by Swiss organisations, brisk construction of hydraulic power stations. At the same time aid pours in. Coronavirus test kits from Russia and China. Unicef and Doctors Without Borders sending gloves, goggles, hand hygiene products, masks.
What can one say, except that North Korea has been wearing a mask for a while now, and even after the coronavirus takes its leave the mask is unlikely to come off.