Covid victim: working mothers
Research suggets that women without children are much closer to parity with men when it comes to salaries and promotions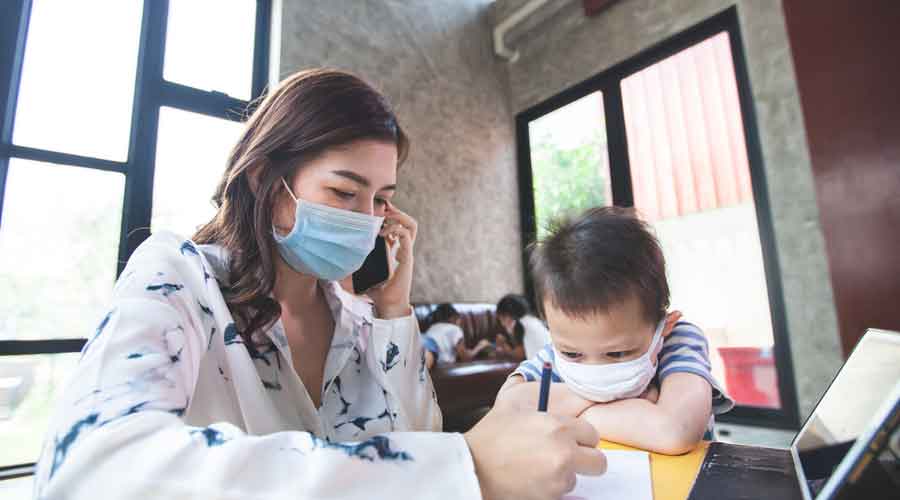 Workplaces already tend to penalise women who choose to work fewer hours or need more flexibility, and that, too, is proving to be exacerbated in the pandemic
Shutterstock
---
New York
|
Published 27.09.20, 01:14 AM
|
---
As if working mothers did not have enough to worry about, experts are now sounding the alarm that progress towards gender equality may be the latest in a long list of casualties of the coronavirus pandemic.
Substantial research has shown that most professional gender gaps are in fact motherhood gaps: women without children are much closer to parity with men when it comes to salaries and promotions, but mothers pay a large career penalty.
Women tend to take on more of the burdens of caring for children and the family. To go to work, they need someone to help with that care. But fathers have been slow to change their behaviour. And without subsidies, private childcare can be prohibitively expensive.
Workplaces already tend to penalise women who choose to work fewer hours or need more flexibility, and that, too, is proving to be exacerbated in the pandemic.
"The bottom line is that based on decades of research we know that there was one institution that was effective at limiting gender inequality and encouraging women's participation in the workplace, and it was early childhood education," said Claudia Olivetti, an economist at the University of Chicago.
Now, the pandemic — and its hobbling of schools and child-care providers — is taking that away, too, piling pressure on working mothers.
Around the world, working women are facing brutally hard choices about whether to stay home if they haven't already been laid off. And the effect may be particularly severe in countries like the US, where the pandemic is compounding inequalities that women already faced as a result of the lack of guaranteed paid maternity leave and affordable child care.
"The question," said Dr Olivetti, who studies gender inequality, "is how far back do we go?"
Israel is both an example of subsidised childcare's power to narrow gender gaps at work, and a cautionary tale about how easily the pandemic can shatter that fragile progress.
The Israeli government provides free early childhood education from age 3, and means-tested day care for many babies and younger toddlers. As a consequence, before the pandemic, women's overall labour force participation had reached 74 per cent, significantly higher than the Organisation for Economic Cooperation and Development average of 66 per cent, according to a recent report from the Taub Centre for Social Policy Studies, an Israeli think tank. The gender wage gap, though persistent, was narrowing.
Then came Covid-19. Schools and day care centres closed in mid-March, and the childcare that had allowed so many mothers to work was gone.
"The first impact is that the unemployment rate is growing faster for women than for men," said Liora Bowers, the author of the Taub Centre report. Women are a minority of Israel's labour force, but make up 56 per cent of those who have lost their jobs since the pandemic began.
Nor was the phenomenon the result of layoffs being concentrated in heavily female jobs: Bowers found that in 18 out of 19 industries, women filed for unemployment at higher rates than their representation in the industry.
Women already held more precarious positions in the work force — working fewer hours, for less money, with shorter tenures and in lower-ranking jobs than men. The loss of childcare limited many working mothers' hours and availability even further, meaning they were often the first to be selected for layoffs and unpaid leave, the report concluded. And it noted that many families appear to be deciding that if they need one parent to give up a job and prioritise childcare, it should be the lower-paid parent — usually the mother.
Sveta Skibinsky Raskin, a mother of five who lives in Jerusalem, worked as a writer while her children were in school and day care. But when the schools closed, she had to stop. "I tried for a week and I just couldn't do it," she said. "I can't work in an environment that constantly requires my attention."
New York Times News Service