Trump renews reopen push despite 'red zone' warning
The states each had more than 100 new cases per 100,000 people in the past week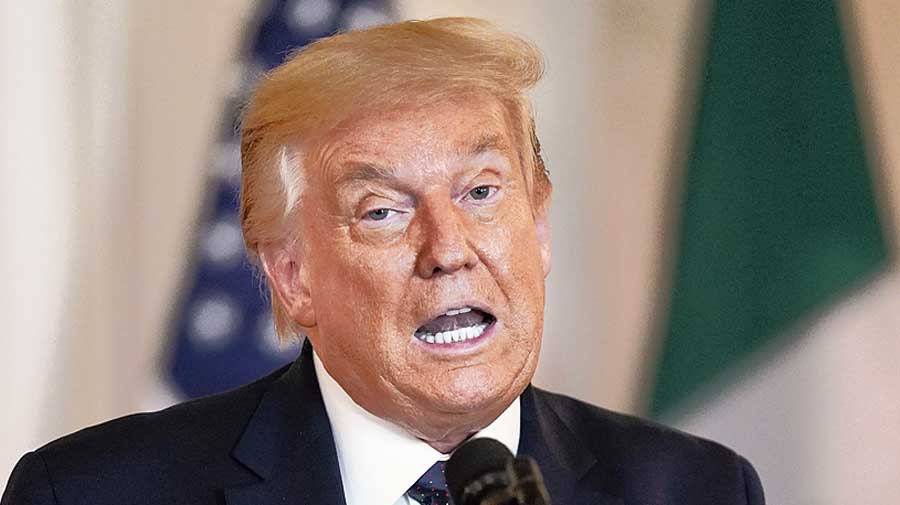 ---
|
New York
|
Published 30.07.20, 05:38 AM
---
President Trump insisted on Tuesday that large portions of the country were "corona-free" and said that governors should proceed with reopening, despite a new federal report warning 21 states that they were in a "red zone" and needed to take aggressive steps to slow the spread of the virus.
The report, shared with state officials by the White House coronavirus task force, was issued on Sunday.
The states in the "red zone" — Alabama, Arizona, Arkansas, California, Florida, Georgia, Idaho, Iowa, Kansas, Louisiana, Mississippi, Missouri, Nevada, North Carolina, North Dakota, Oklahoma, South Carolina, Tennessee, Texas, Utah and Wisconsin — each had more than 100 new cases per 100,000 people in the past week.
When the President restarted his daily coronavirus briefings last week after shutting them down in April, he largely hewed to a script.
But on Tuesday, he resumed his freelancing and wandering into politically and medically problematic areas. When reporters pressed him on a viral video he had retweeted Monday night that included doctors falsely claiming that hydroxychloroquine was a "cure" for the virus and that masks were unnecessary, Trump responded: "They're very respected doctors. There was a woman who was spectacular in her statements about it, and she's had tremendous success with it."
When a reporter noted that the physician who spoke of "a cure", Dr Stella Immanuel of Houston, also "made videos saying that doctors make medicine using DNA from aliens", Trump responded, "I know nothing about her.".
Noting that Dr Anthony S. Fauci, the government's top infectious disease expert, and Dr Deborah L. Birx, his administration's top coronavirus coordinator, have high approval ratings even as his own have sagged, Trump added: "And yet, they're highly thought of — but nobody likes me."