Italians seek future in farming past
Desperate measures in desperate time of Covid-19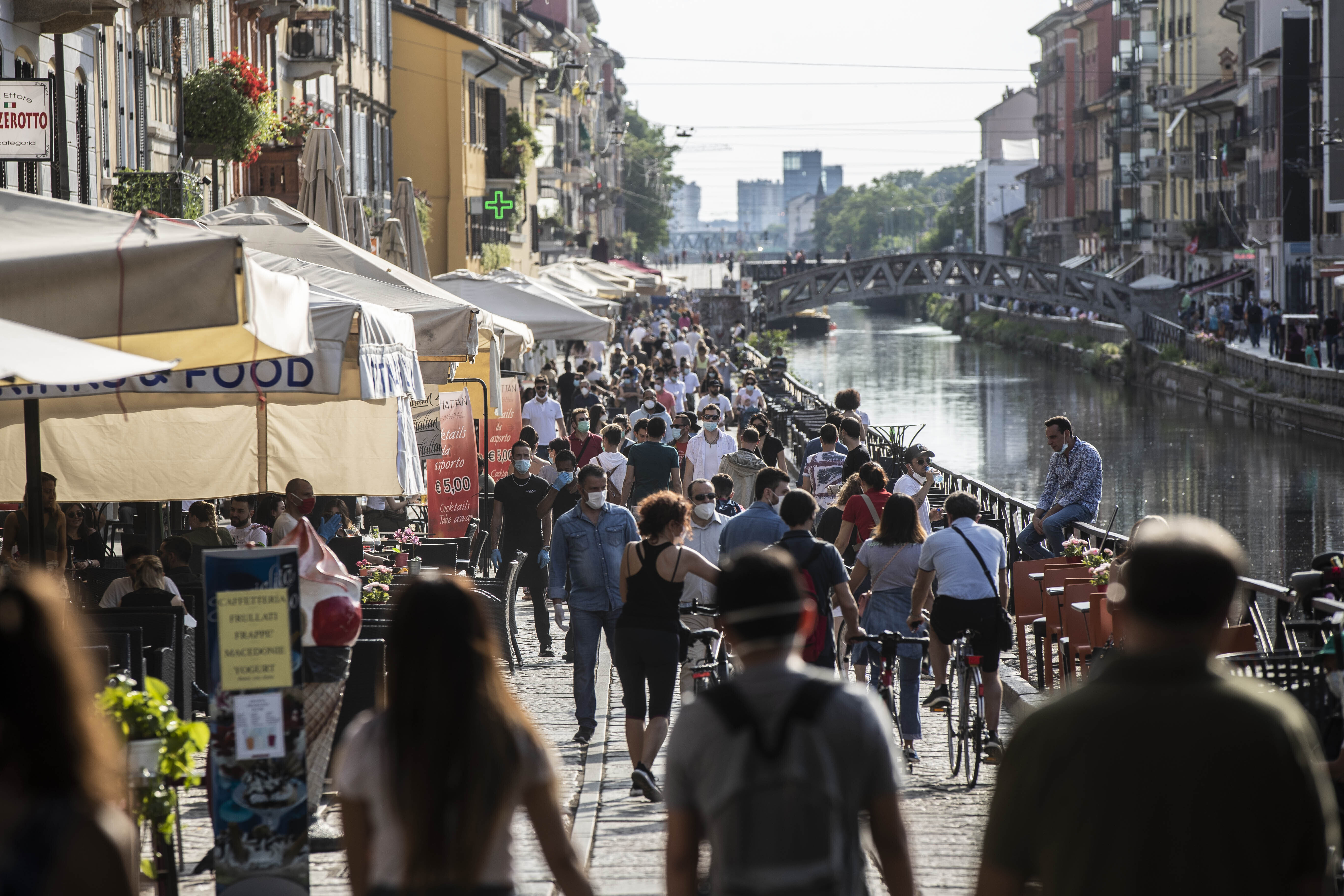 ---
|
Italy
|
Published 24.05.20, 07:48 PM
---
On a small farm outside Rome, workers crouched in the corridors of a cornfield and tended to stalks for the coming harvest. The ones from Morocco, Romania and Nigeria knew exactly what to do. It was the new Italian hires who needed help.
"These you have to get rid of," the farm's owner told Massimiliano Cassina, pointing at some cobs on the bottom of the plant.
Only weeks ago, Cassina, 52, was running a fabric company that had international clients and specialised in sports T-shirts. But the coronavirus pandemic that has killed more than 30,000 Italians and wrecked the national economy also dealt a deathblow to his business. Desperate for a paycheque, he became one of an increasing number of Italians seeking a future in the country's agrarian past.
"They gave me a chance," Cassina, wearing a blue mask, blue rubber gloves and sweat-stained shirt, said.
Italy industrialised after World War II, and never really looked back. But the virus has drastically reordered society and economies, locking seasonal workers in their home countries while marooning Italians who worked in retail, entertainment, fashion and other once-mighty industries.
Where until recently a return to the land seemed reserved for natural wine hipsters or gentry sowing boutique gardens with ancient seeds, more Italians are now considering the work of their grandparents as labourers on the large farms that are increasingly essential to feed a paralysed country and continent.
Without them, hundreds of tons of broccoli, fava beans, fruit and vegetables are in danger of withering on the vine or rotting on the ground.
"The virus has forced us to rethink the models of development and the way the country works," Teresa Bellanova, Italy's agricultural minister, who is herself a former farmhand, said in an interview.
She said that the virus required Italy, which has remained at the vanguard of the epidemic and its consequences in Europe, to confront "a scarcity of food for many levels of the population," including unemployed young professionals, and that agriculture needed to be "where the new generations can find a future".
To do that, agriculture needed to shake off the backward stigma of Europe's pre-industrial and pre-technological past and emphasise its use of sophisticated technology, machinery and chemistry. She said she had discussed such a shift with her French counterpart and the same was true for Spain and Germany and beyond as the virus laid waste to other sectors.
"Agriculture doesn't mean a return to the hoe," she said.
If Italians now need the fields to survive, the farms also suddenly need Italians. About 150,000 seasonal workers from Romania, Poland, India and elsewhere are locked out of Italy.
At the same time, Italians, who previously constituted about 36 per cent of Italy's roughly 1 million agricultural workers, are finding their restaurants, tour companies and stores shuttered. The safer working conditions outdoors are proving attractive. So is a paycheque.
Italy's leading agricultural associations have set up websites with names like Agrijob and Jobincountry and drawn more than 20,000 applications to fill the shortfall.
"Manna from heaven," is how Paolo Figna, 26, who lost his job as a waiter, described work picking strawberries on a farm outside Verona.
But the transition for many has not been easy. Agricultural work has become as foreign to Italians as the seasonal workers from other countries who have filled the ranks of farm hands for decades.
Massimiliano Giansanti, the president of Confagricoltura, one of Italy's largest agricultural associations, said many of those who were interested in the work didn't have the necessary training or experience.
"Agriculture is not picking a red apple from a tree," he said, explaining that, far from the House and Garden idyll of the Italian imagination, farming was a modern industry that required know-how, commitment and flexibility.
For now, he said, "the majority" of the Italians inquiring about positions posted on the association's Agrijob platform still considered it gardening.
Bruno Francescon, 45, the owner of a melon farm in Mantova, hired Italians who had worked in hotels and driven buses. He said he missed his "professionally very prepared" workers from India and Morocco. An influx of Italians, he said, "doesn't compensate for the lack of skills." And some of the Italians he hired simply "ran away".
In February, Anna Flora, 23, had found a job selling hail insurance to farms around Italy. But the virus struck and the firm closed. She applied to sporting goods and pet food shops as a salesperson. They closed, too. Then her town of Ferrara advertised a programme to replace the missing seasonal labourers with local workers and Flora applied.
After weeks of picking strawberries, she said she found the work fulfilling, but also gainful.
New York Times News Service