Trump health boast
President says he is 'medication free'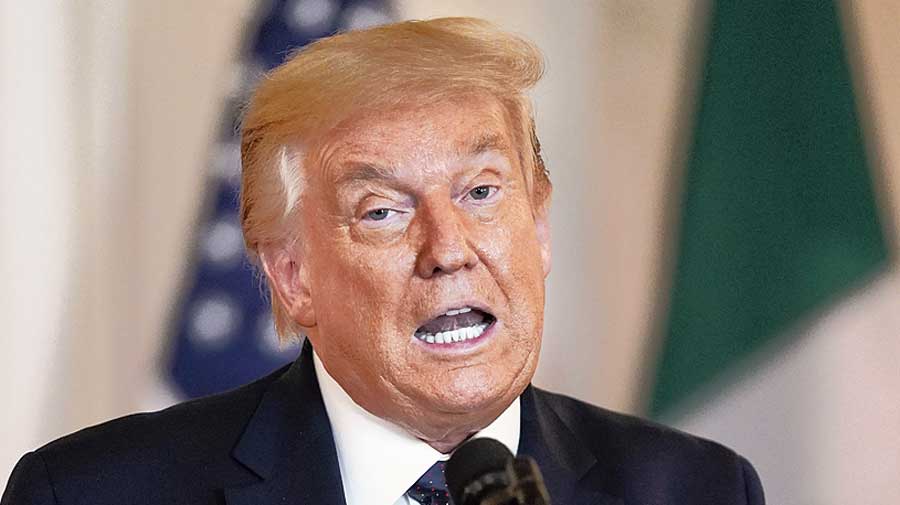 US President Donald Trump
File picture
---
Washington
|
Published 11.10.20, 12:01 AM
|
---
President Trump said on Friday night in his first televised interview since he learned he had Covid-19 that he was "medication free" and he claimed to be back to normal, a week after being hospitalised after having trouble breathing.
In the interview, on Fox News, Trump claimed that he went to Walter Reed National Military Medical Center last Friday because he "didn't feel strong".
But the President denied that he had experienced any trouble breathing, despite multiple people close to the White House saying in interviews that he had, in fact, had trouble breathing and that his blood oxygen level had dropped below 94 per cent, which is a cutoff for severe disease. Doctors had given him supplemental oxygen at the White House before his transfer to the hospital.
Trump said in the interview, with Dr Marc Siegel, a Fox News contributor, that he did not know the results of his most recent coronavirus test, which he said was done earlier on Friday, and he said he was being tested every few days.
A White House official said the segment had been taped on Friday; it aired during Tucker Carlson Tonight. The interview was the latest stop on the President's media tour — he also appeared on Rush Limbaugh's radio show for two hours earlier in the day — as he tries to regain momentum in the final stretch of the campaign.
"I think — didn't feel strong," the President told Dr Siegel of his symptoms. "I didn't have a problem with breathing, which a lot of people seemed to have. I had none of that. I didn't feel very strong. I didn't feel very vital. I didn't feel like the President of the US should feel."
Trump claimed that he wanted to give all Americans with Covid-19 an experimental antibody cocktail from Regeneron Pharmaceuticals, which he credits with his quick recovery, for free.
New York Times News Service