Stage set for pandemic theatre
The show must go on: how plays are adapting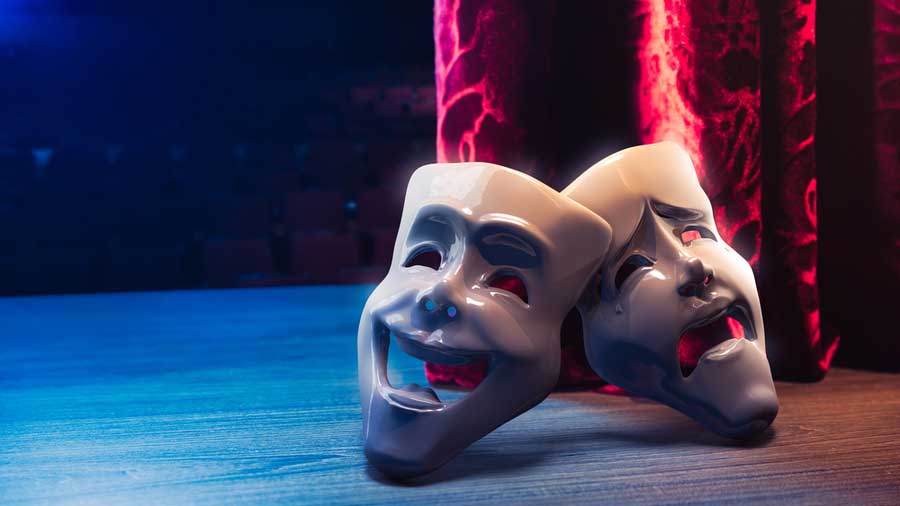 ---
|
New York
|
Published 06.07.20, 01:16 AM
---
Inside a former firehouse in Richmond, Virginia, a lone actor performs The Picture of Dorian Gray for audiences as small as two. In a Denver parking lot, theatregoers in cars watch, through their windshields, four performers costumed as grasshoppers. On a 600-acre property in Arkansas, a cast of about 130 re-enacts the story of Jesus for several hundred ticket-holders spread across a 4,000-seat outdoor amphitheatre.
The coronavirus pandemic has shuttered Broadway till the end of the year (at least), and the nation's big regional theatres and major outdoor festivals have mostly pivoted to streaming. But even as infections surge in the US, many theatres are finding ways to present live performances before live audiences.
Of course, there is social distancing. Also, in some places, masks. Temperature checks. Touchless ticketing. Intermission-less shows. And lots of disinfectant. At the Footlights Theatre, in Falmouth, Maine, actors will perform behind plexiglass.
But these precautions mean there is dinner theatre in Florida. Street theatre in Chicago. Drive-in theatre in Iowa.
"Our commitment is to do live theatre — there's a huge difference between that and seeing something on a computer screen," said Susan Claassen, managing artistic director of Invisible Theatre in Tucson, Arizona, a state that has emerged as a Covid-19 hot spot. The theatre, which has been running a four-character play called Filming O'Keefe indoors, installed an air ioniser, allowed patrons in only one-quarter of its seats, mandated that they wear masks, and put on a show.
"Our theatre got its name from the invisible energy that flows between performers and the audience," Claassen said. "Even with 22 people in the audience with masks on, that energy is so strong."
There are also financial reasons for continuing: Some theatres say they cannot survive a year without revenue.
"We'd rather go down creating good theatre than die the slow death behind our desks," said Bryan Fonseca, the producing director of Fonseca Theatre Company in Indianapolis. The company plans to stage Hype Man, a three-character play, outdoors, for 65 mask-wearing patrons. "I am hopeful and also very cautious," Fonseca said, "careful that I don't create a problem."
By putting on shows, some theatre artistes are, in effect, making the case that it is a mistake for the industry to wait for New York to lead the way, given the risks there. "Someone has to be the first to take that cautious step into the dark to see what works and what doesn't," said
Phil Kenny, a sometime Broadway producer who has a role in Willy Wonka in Orem, Utah.
But even in New York City there are signs of theatrical life. Food for Thought Productions, a company that presents staged readings of one-act plays, is planning to restart in a private club on July 13, with attendees required to have taken coronavirus tests.
In Fort Myers, Florida, the Broadway Palm Dinner Theatre postponed The Sound of Music as the number of confirmed cases surged in that state. In Houston, Theatre Suburbia cancelled Daddy's Dyin' Who's Got the Will? citing a local stay-at-home advisory. And in Salt Lake City, where the Grand Theatre was planning a run of To Kill a Mockingbird in which all the performers were masked, the theatre scuttled the production just four nights before it was to begin, citing rising local caseloads.
But many are persisting. In Jacksonville, Florida, even as the mayor imposed an indoor mask order, the Alhambra dinner theatre is continuing to stage Cinderella. The theatre is selling only 50 per cent of its seats; it has installed plexiglass between its seating tiers; patrons must wear masks after they eat; performers wear gloves and face away from each other during any partnered dancing; and, at the end, Cinderella and the Prince share an elbow bump instead of a kiss. (The audience invariably laughs.)
"I feel very comfortable, and I'm definitely not worried about my health," said Olivia Zeisloft, 18, who is playing the title role (and whose grandfather is the director). "It's been an amazing experience."
Denver's Buntport Theatre, which usually presents work in a 100-seat warehouse, decided to create outdoors, and, like several other theatre companies around the nation, looked to the drive-in for inspiration. The result: The Grasshoppers, in which four actors wearing adapted onesies perform an isolation-themed piece for patrons in cars. "It both feels like you're doing theatre and not like you're doing theatre," said Erin Rollman, a company member.
Then there is street theatre, getting a new look from artistes idled by the pandemic. In Chicago, the ad hoc collective Random Acts of Theatre dons costumes to perform for passers-by some weekends. They dressed as seniors, carrying babies, in a work called The Future is Watching Us, and marked Juneteenth in oversized masks. Up next: something involving large bird puppets.
But there are also pageant-scale productions — big casts, lots of seats — underway in outdoor venues, including the Medora Musical in North Dakota, the Shepherd of the Hills Outdoor Drama in Branson, Missouri, and the Great Passion Play in Eureka Springs, Ark.
"It's been a bit of a challenge to do a play in the middle of a pandemic," said Kent Butler, who stars as Jesus on Friday nights in Arkansas, and who also leads tours and serves as the production's spokesman. Attendance, he said, is down, reflecting a decline in tourism and the disappearance of large travel groups.
The Great Passion Play, which has been running seasonally since 1968, takes place on a 500-foot-wide, three-tiered stage, making social distancing easier for actors; all but Jesus are also costumed with face coverings whenever their characters are not speaking.
"When I was playing Jesus last Friday night, a little girl, probably age 3, came up to me and wanted to be picked up," Butler said. "It doesn't look good if Jesus ignores a child, and I knew that, but also knew that for her health and safety and my own, it is very wise to use hand sanitiser. So I grabbed her hand in mine and walked her off the set all the way to where I knew there was hand sanitiser available, and was able to clean my hands and made her clean hers as well."
The American Shakespeare Centre will rotate Othello and Twelfth Night between indoor and outdoor stages, so audiences can choose where they are most comfortable. The acting company has agreed to an "isolation covenant". And there are few virus cases in the theatre's Shenandoah Valley region.
"We got lucky in terms of geography," said Ethan McSweeny, the theatre's artistic director. "That gives us an obligation to see if we can try and chart a course."
There are clearly willing audience members. "Theatre is something you crave," said Jackie Schmillen, an Iowa television anchor who went to see a drive-in production of Love Letters in the Des Moines Playhouse parking lot. And Joel Bassin, the producing artistic director of the Firehouse Theatre in Richmond, said his productions of Dorian Gray are selling out — albeit for audiences of only two, four or six people. "People do want to go out if we can assure them we're controlling the risk," he said.
New York Times News Service