Passenger chaos on London trains
Social distancing during peak a 'joke'; UK economy contracted by two per cent in the first quarter of 2020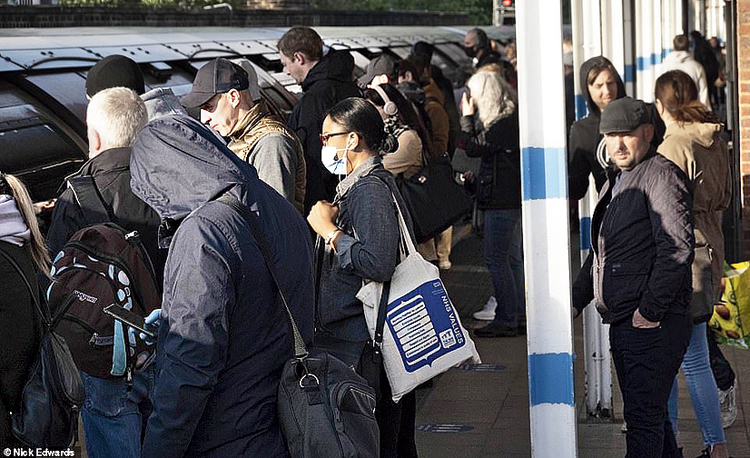 ---
|
London
|
Published 13.05.20, 09:35 PM
---
Passengers were "packed like sardines" on trains and buses with social distancing "next to impossible" as millions of people returned to work on Wednesday for the first time since the Prime Minister Boris Johnson slightly eased the lockdown.
The overcrowding was the worst in London.
Commuters faced waits of up to 20 minutes on the London Underground when the gaps between services during rush hour should be three to five minutes as unions threatened to shut down the network if it was overwhelmed.
Passengers, the majority not wearing masks, were nose-to-nose on the Victoria Line after services were suspended when a customer fell ill on a rush hour train.
"Social distancing during the peak was a joke. During the suspension our carriages were heaving — it will get worse," said one worker, adding it was a "complete shambles".
Another Tube driver said the situation was risking thousands of lives: "Sorry doesn't begin to cut it. Even before passenger collapsed on a train the social distancing during the peak was a joke. During the suspension, our carriages were heaving….it will get worse," he, too, emphasised.
Mick Cash, general secretary of the Rail, Maritime and Transport (RMT) union, threatened a walkout: "This incident shows just how fraught with danger the government's return to work call is for our transport services in the midst of this pandemic. We are monitoring the situation across services this morning and will discuss any appropriate action with our local reps."
There are some suggestions, however, that public sector employees, who are not in any danger of losing their jobs — unlike their counterparts in private industry — but are being paid 80 per cent of their wages under chancellor Rishi Sunak's "furlough" scheme to stay at home, are in no hurry to get back to work.
The Prime Minister is trying to get people back to work on the day it was revealed that the UK economy contracted by two per cent in the first quarter of 2020 after plunging 5.8 per cent in March as the coronavirus crisis took hold, the Office for National Statistics has said.
Boris has said that anyone who cannot work from home should attempt to return to their workplace — but social media videos and images made it apparent that public transport had not been ramped up enough to help them travel safely.
Boris piled pressure on Sadiq Khan as he called on Transport for London, run by the mayor, to scale up tube services immediately and implement "proper marshalling" at stations so that people could travel safely.
A spokesman for the mayor of London hit back: "TFL faces huge challenges around social distancing which is why we all need to work from home if we possibly can.
"All Londoners must avoid public transport wherever possible and rethink the way they travel.If people absolutely have to use public transport, they should avoid peak times, wear a non-medical covering over their nose and mouth and carry a hand sanitiser."
Meanwhile, the transport secretary, Grant Shapps, added to the confusion caused by mixed messages by urging people not to "flood back" onto public transport as they return to work. He warned: "If we see the R number (the infection rate) go up again — particularly above one — we will have to take steps. We all know what that means it means going back to staying at home."
One of the passengers was anaesthetist George Kobe, 48, who was travelling home to New Cross in south-east London after finishing a night shift at St Thomas' Hospital.
Asked about the Prime Minister's "back to work" message, Kobe said: "I think health-wise it's not sensible but it's very difficult as the economy needs to move forward. But the balance between health and economy is very difficult to find so I can't really be completely against him."