Call for UK ethnic data
More than 30 NHS workers who died were from Bame (Black, Asian and Minority Ethnic) backgrounds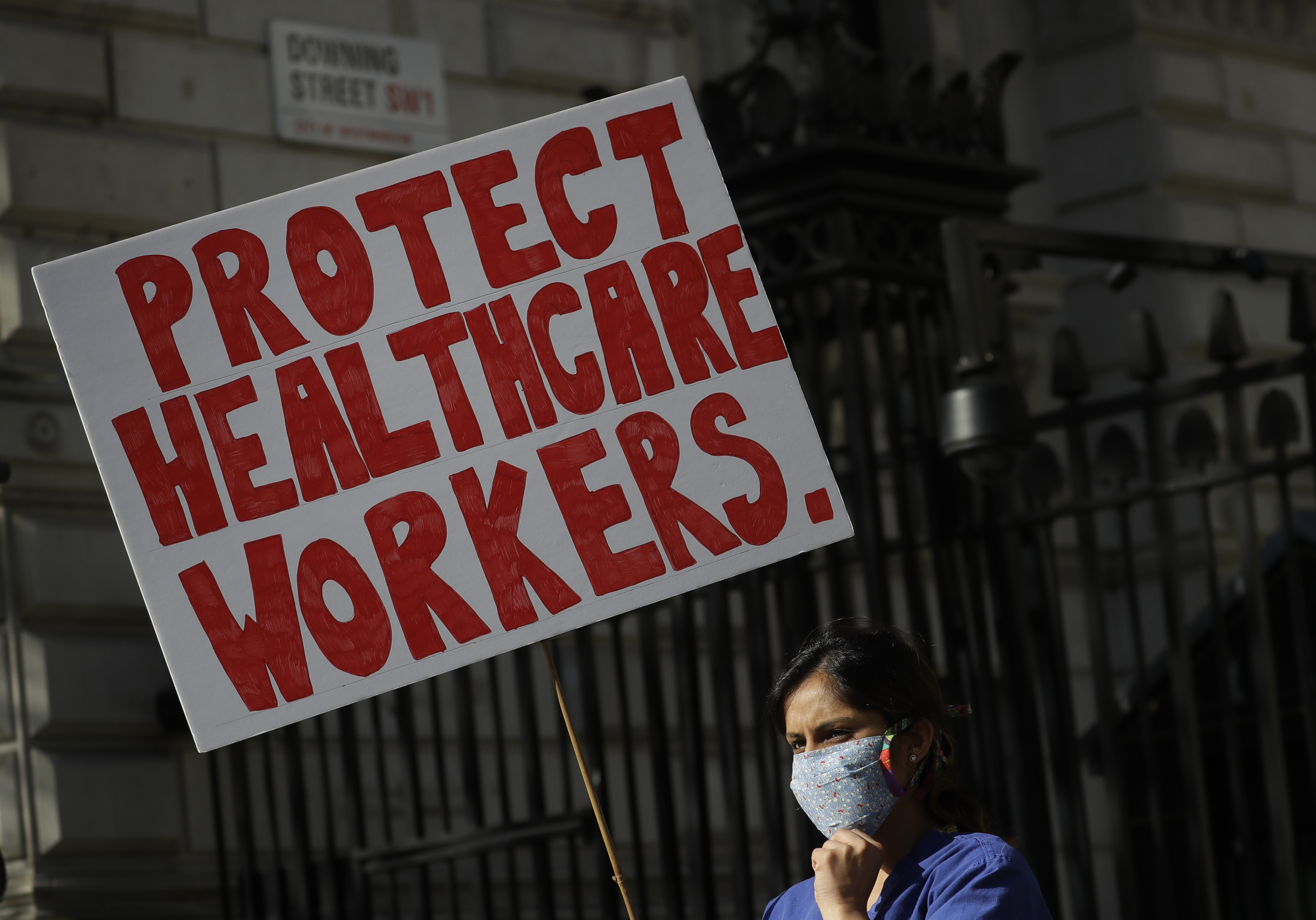 Doctor Meenal Viz holds a banner as she protests outside Downing Street in London, as the country is in lockdown to help curb the spread of the coronavirus
(AP photo)
---
London
|
Published 19.04.20, 08:54 PM
|
---
The leader of the British Medical Association urged the government on Sunday to record the ethnicity of coronavirus cases and warned that failure to do so would be a "scandal".
Although Asian and black people make up 11 per cent of the population, they account of more than a third of coronavirus cases in a critical condition, with the death toll among Indian doctors and healthcare workers and also the Indian community being disproportionately high.
Among the 56 NHS workers whose deaths have been reported, more than 30 were from Bame (Black, Asian and Minority Ethnic) backgrounds.
Dr Chaand Nagpaul, chairman of the BMA council, told the Observer: "This is not an issue that should require further campaigning. It would be a scandal if it requires further lobbying as data recording needs to start now, not tomorrow."
"When you have stark statistics like this, it is an instruction for government to act," he added.
Although the growing shortage of personal protection equipment is undermining confidence in the government and becoming a political crisis for Boris Johnson's government, there is also growing recognition that the death toll among Asians and blacks can no longer be ignored.
Addressing the issue at the daily briefing in Downing Street, Robert Jenrick, communities secretary, conceded: "There does appear to be a disproportionate impact of the virus on those from Bame communities.
"For that reason, the chief medical officer commissioned work from Public Health England to better understand this issue."
He said it was "right that we do thorough research swiftly" in order to "better understand it".
Standing alongside Jenrick, Professor Stephen Powis, national medical director of NHS England, said: "This is something that I am very concerned about, and I know that the chief medical officer is concerned about too.
"And I think it's absolutely right that he's asked Public Health England, who have the expertise... to look at this in detail and get a clear understanding of what might be accounting for increased risks and increased deaths in particular ethnic communities.
"In NHS England, obviously, we have a number of our staff... come from those ethnic groups, and we are actively also looking ahead of that work, of what we have to do to support, and, perhaps, protect them specifically."
'Smallest rise'
Britain's hospital death toll from Covid-19 rose by 596 to 16,060 as of 1600GMT on April 18, the smallest increase in nearly two weeks, Reuters quoted the health ministry as saying on Sunday.
Data published on Sundays has tended show smaller increases in the number of fatalities. April 6 marked the last time the health ministry reported a smaller increase in the daily death toll.
Britain is not considering lifting the lockdown, a senior minister said on Sunday.