Cop27: Breakthrough on climate fund
Financial facility critical for areas like the Sunderbans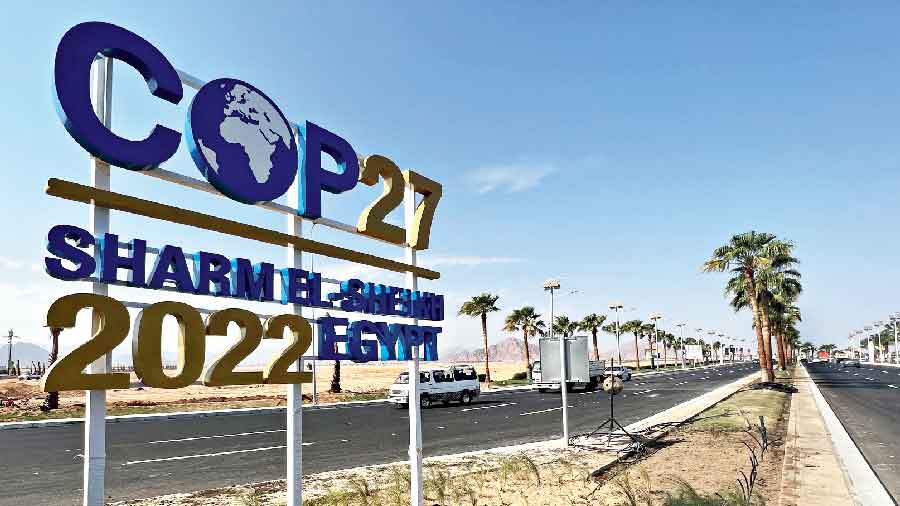 Representational image
File Photo.
---
Sharm El-Sheikh
|
Published 21.11.22, 03:16 AM
|
---
The Cop27 climate conference ended early on Sunday with all 200 countries agreeing to the creation of a "loss and damage" fund that would help poor, vulnerable nations cope with climate disasters worsened by greenhouse gases from wealthy nations.
Such a financial facility — long demanded by the developing nations but resisted by rich countries — would represent a breakthrough critical for areas like the Sunderbans. But it had become the stickiest issue at the conference, and pushed the event 36 hours beyond its scheduled Friday close.
The funding is, however, likely to be restricted to future loss and damage, with the developed countries agreeing to the creation of the facility only on condition that it exclude their historical responsibility in emission rise and the extreme events linked to it. The agreement on the fund is still a big win for the developing and vulnerable countries.
It has also thwarted, at least for now, the effort by some rich nations to link the facility with achieving global temperature goals and getting China and India on the list of the fund's providers and not recipients.
The final, 13-page statement — the Sharm El-Sheikh Implementation Plan — did not set a deadline for the fund's operationalisation, but the Cop27 president had earlier said this should be done in Cop28, expected in  November-December next year.
India's environment, forest and climate change minister Bhupender Yadav welcomed the proposed facility but told reporters there was no question of India providing any funds to it as that was the responsibility of developed countries.
Asked whether India would seek money from the fund, he said it would. The last climate risk report published in 2021 places India among the 10 most vulnerable countries in 2019.
"Unfortunately, the final text merely keeps the processes alive till the next COP. While a notional funding arrangement for loss and damage has been agreed on, its shape and scale are far from clear," said R.R. Rashmi, a Distinguished Fellow with the Delhi-based environmental research institute TERI and a formal national negotiator.
Several countries have already made financial pledges, among them Austria, Belgium, Canada, France, Germany, New Zealand, Denmark and Scotland.
There is no guarantee that the richest countries will deposit enough money into the fund. A decade ago, the US, the European Union and other wealthy emitters had pledged to mobilise $100 billion per year in climate finance by 2020 to help poorer countries shift to clean energy and adapt to future climate risks through measures like building sea walls.
They are still falling short by tens of billions of dollars annually. With Republicans set to take over the US House in January, the prospects of Congress approving an entirely new pot of money for loss and damage appear dim. The Cop27 resolved to limit global temperature rise to 1.5°C above pre-industrial times, reaffirming that by 2030, global net greenhouse gas emissions must be cut by 43 per cent compared to 2019 levels.
It asked multilateral development banks and international financial institutions to increase climate financing threefold by 2025 and simplify access to the funds. Experts, however, said that while the new climate agreement had dealt with the damage from global warming, it had done far less to address the greenhouse gas emissions that are the root cause of the crisis, failing to go much beyond what was agreed last year at UN climate talks in Glasgow.
India and more than 80 other countries wanted language that would have called for a "phase-down" of all fossil fuels, not just coal but also oil and gas. That would have gone beyond the deal at Glasgow, which called for a "phase-down" of coal alone.
But that effort was blocked by major oil producers like Canada and Saudi Arabia, as well as by China, according to people close to the negotiations. However, India was able to prevent the phrase "coal phase-down" getting replaced with "coal phase-out".
(Additional reporting by New York Times News Service)