At UN climate talks, funding for vulnerable nations debuts on agenda
Experts feel that once the discussion starts, the developed countries will have to take more responsibility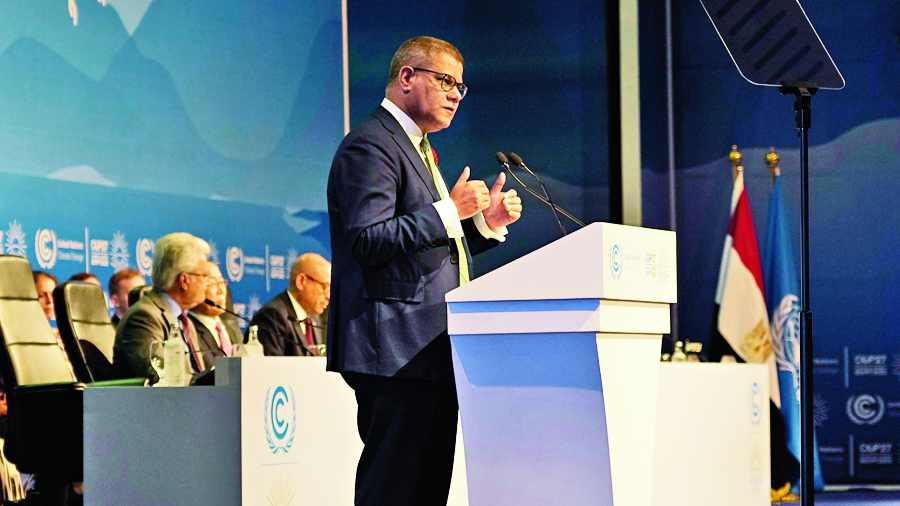 Alok Sharma, president of the COP26 climate summit, speaks at the COP27 UN Climate Summit in Sharm el-Sheikh, Egypt, on Sunday.
AP/PTI
---
Published 07.11.22, 01:51 AM
|
---
Over 190 countries on Sunday agreed to discuss whether developed countries should pay vulnerable nations hit by adverse impacts of climate change, an issue that may have significant bearing for low-lying coastal areas under threat, including the Sunderbans.
Delegations from countries gathered in Egypt for a UN conference on climate change have agreed to a conference agenda that for the first time includes the so-called "loss and damage" — a mechanism for financial support to areas and communities affected by climate change.
Discussions on loss and damage, a longstanding demand of developing and vulnerable countries including India, had hitherto been blocked by developed countries.
This time the developed countries — historically, the biggest emitters of greenhouse gases are likely to be pushed to provide the bulk of financial support — allowed the item to be formally discussed as developing countries and environmental organisations threatened severe consequences for a refusal. The discussions on loss and damage are expected to conclude within two years.
"This is a very welcome start to the conference," said Saleemul Huq, a senior climate scientist and adviser to the least developed countries. "The United Kingdom and other developed countries had more or less accepted it earlier, but the US had not."
However, the developed countries accepted loss and damage in the agenda with a trade-off that it would not include "compensation and liability", looking to evade the historical responsibility of their emissions.
Experts, however, feel that once the discussion starts, the developed countries will have to take more responsibility.
"At long last, providing funding to address losses and damages from climate impacts is on the agenda of the UN climate negotiations. With climate impacts devastating communities all around us, the international community can no longer avert its eyes from the deadly and costly consequences of a warming world," said Ani Dasgupta, President and CEO, World Resources Institute.
"The vulnerable nations have tirelessly appealed for help to cope with the alarming and damaging climate impacts that they hold little responsibility for causing," Dasgupta said.
"Today, countries have cleared a historic first hurdle towards acknowledging and answering the call for financing to address increasingly severe losses and damages."
The annual UN conference on climate change -- under Egypt's presidency this year -- is aimed at facilitating ways to curb Earth-warming greenhouse gas emissions and help developing countries with technology and finance to address climate-change challenges, among other agenda items.
"A loss-and-damage finance agenda has been adopted, but not without rich countries bullying poorer nations to protect historical polluters from compensation and liability. Nevertheless, a new chapter has begun," said Harjeet Singh, a senior adviser to Climate Action Network International, one of the biggest civil society groups.
India hit
The decision is significant as it comes in the wake of the release of the World Meteorological Organisation's (WMO) provisional State of the Global Climate in 2022 report on Sunday that highlighted how climate-change impacts are turning more hostile with every passing year.
India and neighbours Pakistan and Bangladesh have been identified as being among the most affected during 2022 with the data suggesting that areas such as the Sunderbans are likely to be increasingly affected.
"The telltale signs and impacts of climate change are becoming more dramatic," the WMO report said, underscoring that the sea level rise has doubled since 1993, which may push areas like the Sunderbans under even greater risk.
The Sunderbans have already had a sea level rise of about 8mm a year, more than double the global average of about 3.5mm a year, and could get worse, the report said.
"It has risen by nearly 10mm since January 2020 to a new record high this year. The past two-and-a-half years alone account for 10 per cent of the overall rise in sea level since satellite measurements started nearly 30 years ago," it said.