Climate change takes effect: Storm red alert in London
The Met Office sounded a warning that 'Storm Eunice will bring damaging winds which pose a risk to life'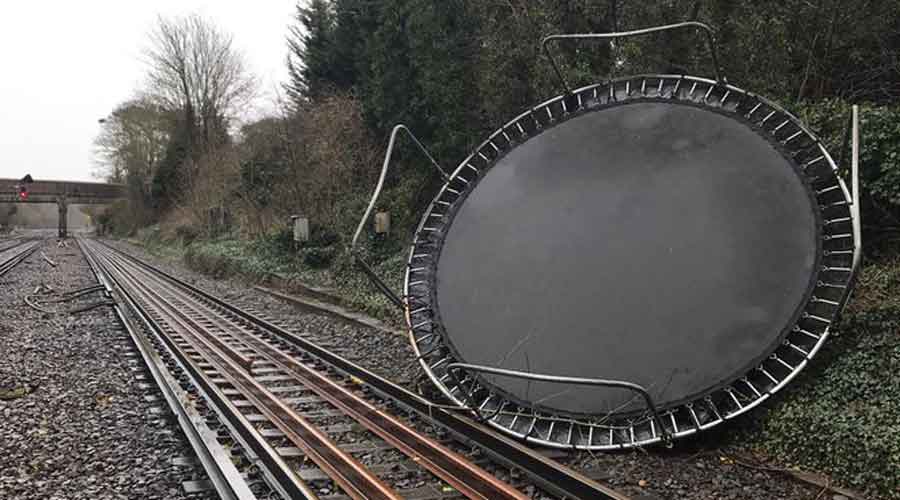 Debris blown onto tracks, like trees and other vegetation.
Twitter
---
London
|
Published 19.02.22, 03:01 AM
|
---
"Englands green & pleasant Land", as eulogised in William Blake's hymn, Jerusalem, has in recent years been witnessing one storm after another, as climate change takes effect. However, Storm Eunice, which devastated the UK on Friday, with highest ever recorded gusts of 122mph on the Isle of Wight, has been something else.
In London, the Met Office put out an unprecedented "red alert", warning that "Storm Eunice will bring damaging winds which pose a risk to life".
The mayor of London, Sadiq Khan, emphasised: "Please stay at home, do not take risks, and do not travel unless absolutely essential."
An excited listener called LBC talk radio to report that he had parked his car in Harrow, north London, and seen "crows and magpies flying backwards" so fierce was the wind.
The presenter James O'Brien corrected him: "You mean they are being blown backwards."
Across the UK, the story was one that is becoming all too familiar in a country known for its gentle rain and weather that is seldom extreme.
According to early reports, a woman suffered serious head injuries after being hit by falling roof debris in Henley-on-Thames, Oxfordshire, while a man was struck by falling masonry in southeast London. In Ireland, a man was killed by a falling tree.
At Heathrow Airport, at least 65 flights — departures and arrivals — were cancelled and a further 114 delayed by more than 15 minutes, according to aviation data provider FlightStats by Cirium.
British Airways said the rate of aircraft permitted to land at Heathrow "is being reduced due to gale force winds".
The airport wrote on Twitter: "High winds and poor weather may cause last-minute delays, but we will do everything in our power to minimise any disruption that results."
Passengers on easyJet flight EJU8014 from Bordeaux to London Gatwick on Friday morning endured two aborted landings before their plane was put in a holding pattern over the south coast and then forced to return to the French city. It touched down back at its starting point more than three hours after it departed.
The airline told passengers: "We're very sorry that your flight has now been diverted back to Bordeaux. This is due to poor weather conditions in London Gatwick, which are below safe operating limits."
On the M4, a major motorway out of London, a heavy lorry overturned, blocking two lanes.
Weather conditions like these are "terrifying" for lorry drivers, Rhys Williams from the Road Haulage Association said. "This sort of wind tests the HGV drivers to the limit."
He advised other drivers to take greater care than usual when passing high-sided vehicles.
Of the motoring organisations, Edmund King, president of the AA (Automobile Association), warned: "With the Red warning extended to London and the South East we are still urging people to only travel when absolutely essential and most people are following our advice. However, being cocooned in your car can lead to a false sense of security and safety. Some of the roads may look safe now  but the impending storm can bring carnage."
And Rod Dennis from the RAC (Royal Automobile Club) said: "If you do need to drive – and some people's journeys are essential – the name of the game is slowing down and anticipating more and seeing how the traffic ahead of you is reacting."
No trains operated across Wales for the entire day, with Great Western Railway services from London Paddington terminating at Bristol Parkway instead of continuing to Swansea.
Ferry operator P&O Ferries suspended its Dover-Calais sailings "until further notice" – and several ferry services due to sail across the Irish Sea were cancelled.
All outpatient appointments for patients of the Royal Cornwall Hospitals NHS Trust were cancelled on Friday "to keep people safe during the storm".
The west country also saw a high number of trees uprooted.
After schools were closed, a Bournemouth-based company, Forerunner Personal Catering, said it had been left with "thousands" of uneaten meals of fish fingers, chicken, jacket potatoes, vegetables – and samosas – which it was willing to give away to anyone who contacted the firm.
BBC Weather meteorologist Simon King said Storm Eunice may have brought "sting jets" – a small area of very intense winds, often 100mph or more.
"These narrow systems – often about 30 miles across – sometimes form in the UK's powerful weather systems, and only last 3-4 hours," he explained. "They are very difficult to predict because of their relative small scale."