Chinese stages show of force near Taiwan for a third day
Taiwan's foreign ministry says in a statement that the country has 'unilaterally created a crisis' by overreacting to Nancy Pelosi's visit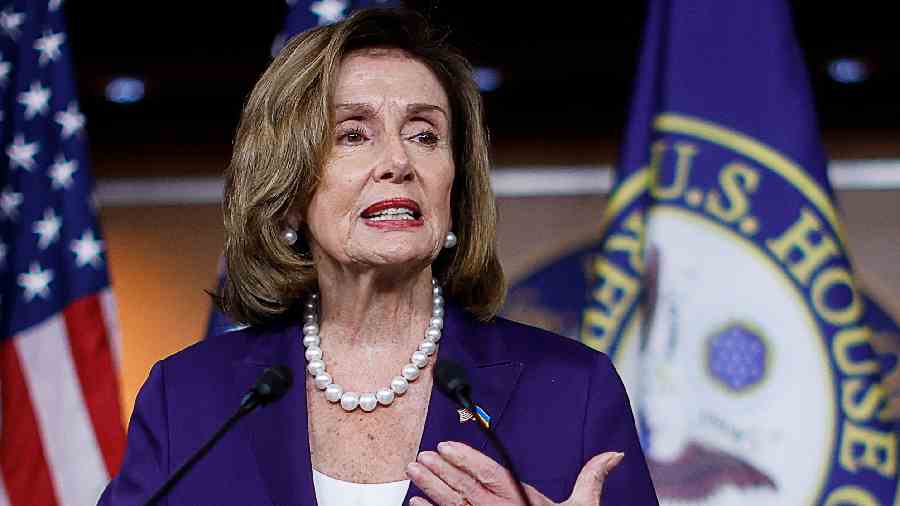 ---
New York
|
Published 07.08.22, 12:32 AM
|
---
China continued on Saturday to project its ire at House Speaker Nancy Pelosi's recent visit to Taiwan, with its third straight day of military drills that have encroached ever closer to the island and raised concerns about a potential conflict.
The Taiwanese defence ministry said on Saturday that several batches of Chinese military aircraft and warships had been detected around the Taiwan Strait, with some crossing the informal median line that divides the island from the Chinese mainland. They appeared to be engaged in an exercise simulating an attack on the main island of Taiwan, the ministry said.
Already, China's show of force, which is expected to run till Sunday, has threatened territory that Taiwan considers its own more directly than any previous exercises had.
China has launched at least 11 missiles into the waters to the north, south and east of Taiwan, including at least one that flew over the island, though Taiwan said it was at a high altitude that constituted no threat. On Friday, it also deployed fighter jets, bombers, destroyers, drones and escort ships to waters near the island. Several of the zones the Chinese military designated for this week's exercises are closer to the island than areas announced during the Taiwan Strait crisis in the mid-1990s, which also involved China firing missiles around Taiwan.
Since the exercises began on Thursday, at least 49 Chinese military jets have crossed the median line, according toTaiwanese officials.
Taiwan's foreign ministry said in a statement on Saturday that China had "unilaterally created a crisis" by overreacting to Pelosi's visit.
"The Taiwanese people have the right to befriend the rest of the world, and China has no right to interfere with the rest of the world befriending Taiwan," the statement said.
The military exercises are the most visible element of the Chinese response to Pelosi's trip to Taiwan, which she had said was intended to show support for the island and its vibrant democracy. Before her arrival on Tuesday, China had repeatedly warned that the gesture by Pelosi — the highest-ranking American official to visit Taiwan in 25 years— would provoke "serious consequences." China claims Taiwan as its own territory, and China's leader, Xi Jinping, has promised an eventual reunification, through force if necessary.
New York Times News Service