Celebrities get a kick out of #BottleCapChallenge
Get your bottles, camera and roundhouse kicks ready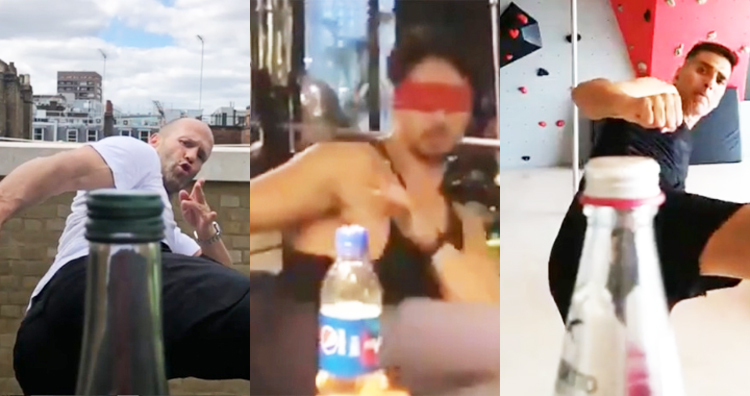 ---
|
Calcutta
|
Published 04.07.19, 12:49 PM
---
2018 was the year of Kiki and Momo challenges. The #BottleCapChallenge is ruling 2019 at present. While the Ice Bucket Challenge in 2014 raised awareness and donations towards the motor neuron disease and had a social cause, the #BottleCapChallenge is a fairly harmless viral challenge which requires you to unscrew the cap of a bottle with a roundhouse kick without knocking the bottle over.
Be curious my friends! #challengeaccepted #bottlecapchallenge Passing this on to our guy @JohnMayer …. hey John if you can't complete this challenge @erlsn and I decided you have to come to Hawaii after your tour and kick it with us until you complete it! 🦶🍾😅 🙏⚡🤙 👊 pic.twitter.com/gLWn0dpOzV

— Max Holloway (@BlessedMMA) June 28, 2019
The videos taken in slow motion add a dramatic dimension to it. The origin of the challenge is still unclear but action-movie-star Jason Statham posted a 23-second Instagram video of him performing the challenge which had more than 14.5 million views by Wednesday.
It may have started with Kazakh Taekwondo champion Farabi Davletchin. Last week Davletchin posted a cap-kicking video on Instagram with the hashtag #farakickschallenge. He challenged several celebrities, including Jason Statham, Conor McGregor, Jean-Claude Van Damme and Jackie Chan.
The hashtag did not really catch on but the challenge did.
This is insane. #BottleCapChallenge @akshaykumar @iTIGERSHROFF pic.twitter.com/Qco0Oi2qHF

— Anshu Kamal (@kamalanshu) July 4, 2019
Trying the #BottleCapChallenge 😂😂😂😂😂😂 pic.twitter.com/zJL8deJAou

— JorgeMartínAlmoguera (@88jorgemartin) July 4, 2019
Many Bollywood celebrities have also accepted the challenge including Akshay Kumar and Tiger Shroff who have starred in action movies.
I couldn't resist 😉#BottleCapChallenge

Inspired by my action idol #JasonStatham, I will repost/retweet the Best I see, come on Guys and Girls get your Bottle out and your Legs in the Air, Let's Do This 💪🏽 #FitIndia #WednesdayMotivation pic.twitter.com/RsDYDWhS5n

— Akshay Kumar (@akshaykumar) July 3, 2019
.@iTIGERSHROFF just took the #BottleCapChallenge to another level. pic.twitter.com/phvnUPP2VN

— Filmfare (@filmfare) July 4, 2019
So all you need is a bottle, a slightly unscrewed cap (cheating hack alert), a camera and some time to hone your skill to pull off a roundhouse kick.