Brexit on Halloween: Is it a joke? Is it fake news?
Trick or treat? Britain wonders, jokes and sighs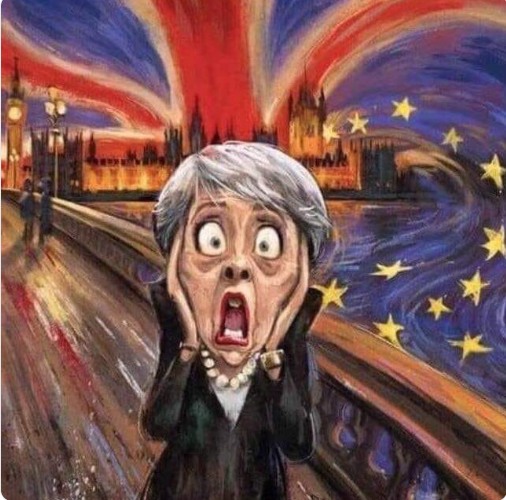 ---
---
While many Brits would like to see the British Prime Minister out, she is the Halloween costume hit. Everybody wants to be a Theresa May zombie.
Those who believed the news could not believe it was a date set in all seriousness by the EU.
Varadkar smiled while delivering this half-joke, but for too many people the new deadline is neither trick, nor treat.
Exasperation was a common emotion as Britain woke up on Thursday to the new deadline.
That Halloween was trending in the month of April made some wonder if the news alerts were true? Or was it fake news?
Borislava Todorova (@btodorova on Twitter) could not believe it. Halloween is her birthday, and this time she's getting Brexit as a present.
Todorova, who describes herself as 'bitter bisexual Bulgarian' is one of many frustrated Brexit watchers.
Some are worried that the children would laugh at them for tolerating this mess.
Others chose Halloween memes.
Do they set these dates/jokes for shits and giggles?

June...
No....
Next year...
No...
October ok.
Halloween it is.....#Brexit

— Tone (@tonyabbit) April 11, 2019
For EU and British leaders, it could be a no-holiday Halloween. Ireland's Prime Minister Leo Varadkar, while speaking on Brexit could not help saying: 'As I learned this evening, Halloween is not a holiday widely celebrated across the European Union.'
Just when this government couldn't get worse they ruin Halloween. I can't bear the 'trick or treat' Brexit jokes already :(

— Tilikum🌱 (@catherinejebson) April 11, 2019
Brexit delayed until Halloween..satire really does write itself these days pic.twitter.com/PttjSamA19

— Simon Williams (@SWills1990) April 11, 2019
"As I learned this evening Halloween is not a holiday widely celebrated across the European Union," jokes Ireland's Prime Minister @LeoVaradkar as #Brexit gets another delay until October 31

More @business: https://t.co/g7snKlh3iY pic.twitter.com/SJppH2Rnlo

— TicToc by Bloomberg (@tictoc) April 11, 2019
Yeah! #Halloween is a great day to do #Brexit. It means that those who voted for it, get to come back and see it enacted! pic.twitter.com/oFQyGL7xb5

— phill smuth (@phillmoog) April 11, 2019