Brexit deal worth £660bn is done: Boris
Parting is such sweet sorrow, says Ursula von der Leyen; Agreement good news for Indian investors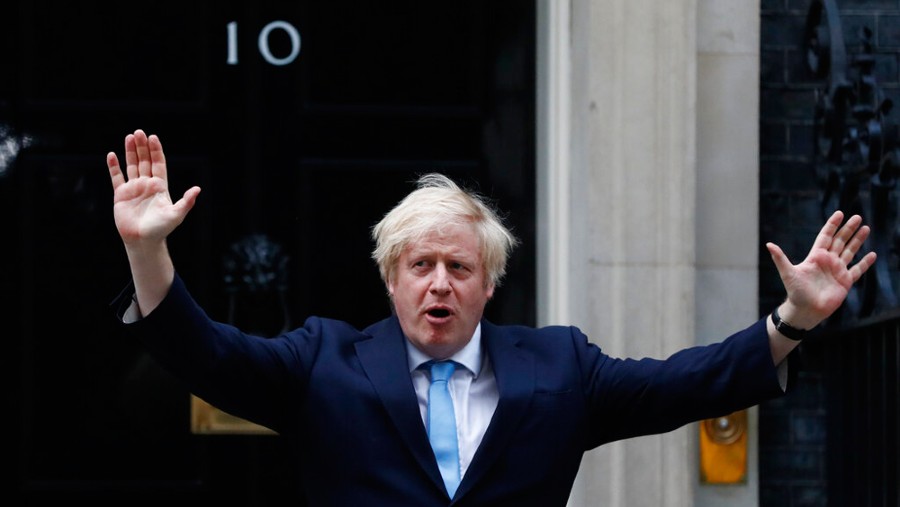 ---
London
|
Published 25.12.20, 03:08 AM
|
---
British Prime Minister Boris Johnson tweeted a picture of himself from
10 Downing Street, arms held aloft, announcing "the deal is done" after the UK and the EU concluded a free trade agreement worth £660 billion on Christmas Eve after four and a half years of acrimonious negotiations.
Just as the first notes of the hymn, Once in Royal David's City, were broadcast live from the chapel of King's College Cambridge, the president of the European Commission, Ursula von der Leyen, started her news conference in Brussels by quoting from Shakespeare's Romeo and Juliet: "Parting is such sweet sorrow."
And in expressing hope that the two warring sides could now enter into a new relationship, she was poetical and lyrical as she also referred to Krishna's discourse from the Gita in T.S. Eliot's Four Quartets, "In my beginning is my end," adding, "And in my end is my beginning."
She said: "We have finally found an agreement. It was a long and winding road, but we have got a good deal to show for it."
She got to the heart of the matter: "This whole debate has always been about sovereignty. We should ask as ourselves what sovereignty means in the 21st century. It is about pooling our strength and speaking together in a world full of great powers.
"It is about pulling each other up in times of crisis instead of trying to get back to your feet alone. And the EU shows how this can work in practice."
Standing next to her was the tall, dignified and weary figure of the EU's chief negotiator Michel Barnier, who summed up: "The clock is no longer ticking. After four years of collective effort and EU unity, today is a day of relief, but tinged by some sadness, as we compare what came before with what lies ahead."
Boris was able to make a formal announcement, setting out the main points of the 2,000-page agreement reached after 12 telephone calls in 24 hours between him and von der Leyen.
Unless his trip is derailed by the growing Covid crisis and the effects of the new mutant strains of the virus, Boris will be able to focus on the advantages, as he sees them, of an India-UK free trade agreement, when he is chief guest at the Republic Day celebrations next month.
The implications of the agreement for India was explained to The Telegraph by Anuj Chande, head of the South Asia Group at Grant Thornton UK LLP, the accounting and consulting firm which produces an annual tracker report on inward investment into the UK by Indian firms.
Chande said: "The news today is generally good news for both Indian investment in the UK and for existing Indian companies in the country. New Indian investors can feel reassured that by setting up in UK, European access will still be available, albeit with some restrictions. Existing Indian investors who rely on market or supply chain access will be relieved. Clearly 'the devil is in the detail'."
He added: "In terms of trade — there is a great opportunity to strengthen bilateral trade ties with a India UK bilateral trade agreement. However, we need to have a degree of caution as it may take some time to negotiate and agree and ensure it is a 'win win' for both sides.
"As our  recent Grant Thornton India meets Britain reports  produced in collaboration with CII has indicated, Brexit has had limited impact on Indian appetite for investment in UK  but  does affect existing Indian companies who trade or  rely on  a European supply chain."
The minds of governments both in Britain and in Europe, notably in France, have been concentrated by the chaos caused of up to 10,000 lorries stacked up in Kent after the discovery of the first mutant strain of the virus. There were clashes between police and some drivers, with volunteers from a Sikh group, Khalsa Aid, trying to help by distributing 2,000 hot meals.
Its spokesman Ravi Singh told Sky News: "In our faith there's a community kitchen called langar — where anyone can come and eat, regardless of race or religion.
"The drivers are very happy to see us and the food. With Christmas around the corner, you don't have to be a Christian to believe in the season of goodwill — can be a Sikh, Muslim, Hindu, whatever… as long as you're a good human being."
The deal will have to be ratified by parliaments, both in the UK and in Europe.
Boris's predecessors, Theresa May, called it "very welcome news", while David Cameron, too, said the "trade deal is very welcome", adding it was "good to end a difficult year with some positive news".
Even the Brextremist Nigel Farage went along with it: "The deal is not perfect but it is a big moment. This victory is a tribute to the ordinary men and women who stood up against the Westminster establishment — and won. There is no going back."
Whether Scotland secedes from the UK as a result of the deal remains to be seen but Scotland's First Minister Nicola Sturgeon said: "Before the spin starts, it's worth remembering that Brexit is happening against Scotland's will. And there is no deal that will ever make up for what Brexit takes away from us. It's time to chart our own future as an independent, European nation."
Fishing was a contentious issue, with the EU demanding a transition period of 14 years during which European trawlers would have access to British waters, mostly off Scotland, for 14 years. Though the industry is worth a trifling £60m, Britain wanted the period to be three years since this is a politically sensitive. In the end, the compromise reached was five and a half years.
"I can assure great fish fanatics in this country that we will be able to catch and eat prodigious quantities of fish," Boris quipped.
Agreement has also been reached on "a level playing field" — the extent to which the British government could give subsidies to local industries. There will be independent arbitration if the EU feels such help is putting European rivals at a disadvantage.
Whichever way one looks at it, Britain's departure from the EU marks a historic moment, not only for the world's biggest trading bloc, but also for global business. Brexiteers — and nearly half the country voted to stay in during the June 2016 referendum  — think Britain will be better off outside the EU.
Boris avoided references to a UK-EU war for once but instead acknowledged: "The EU was and is an extraordinary concept and it was born out of the agony of the Second World War, founded by idealistic people... who never wanted those countries to go to war with each other again. In many ways it was and is a very noble enterprise."
But he also said the UK's own relationship with the EU was "always difficult". He argued the deal now offered "the basis of a new long term friendship and partnership that basically stabilises that relationship".
He said: "We are there as a friend, a supporter, a flying buttress if you like... to lend our voice when needed and be a value to our EU friends and partners."
The EU expressed regret that Britain was leaving the Erasmus scheme, which allows for collaboration between scientists and also the programme under which European students can study in British universities at local rates.
Boris declared the jurisdiction of the European Court of Justice will come to an end and that "it is up to us all together as a newly and truly independent nation to realise the immensity of this moment and make the most of it. This deal above all means certainty, for the aviation industry, the hauliers... the police, the border forces, and all those that keep us safe".