Brazil leader reverses course on fires
Bolsonaro mobilises armed forces to help contain blazes of a scale not seen in a decade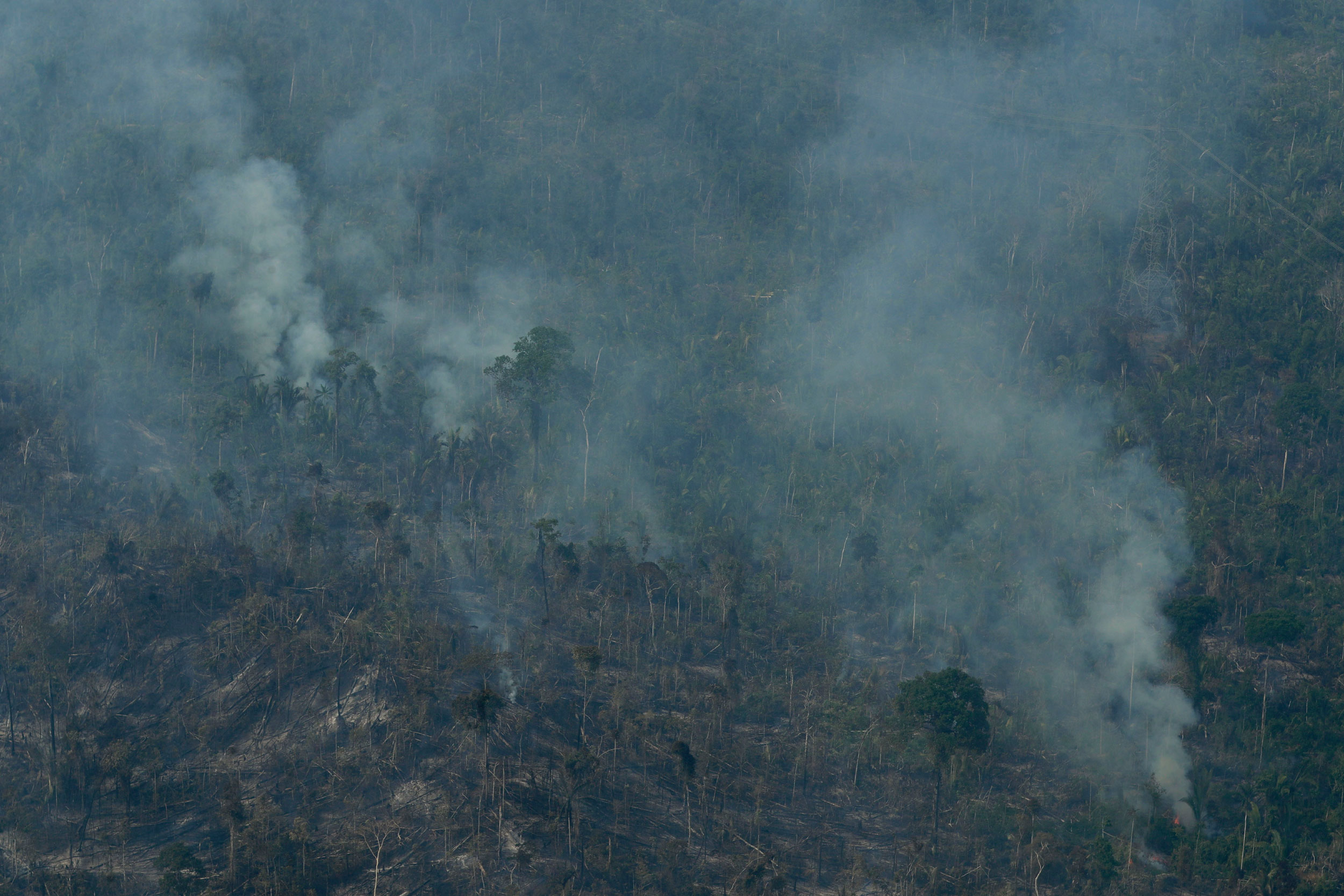 Fire consumes an area near Jaci Parana, state of Rondonia, Brazil, on August 24, 2019.
(AP)
---
Rio de Janeiro
|
Published 24.08.19, 07:28 PM
|
---
As an ecological disaster in the Amazon escalated into a global political crisis, Brazil's President, Jair Bolsonaro, took the rare step on Friday of mobilising the armed forces to help contain blazes of a scale not seen in nearly a decade.
The sudden reversal, after days of dismissing growing concern over hundreds of fires raging across the Amazon, came as international outrage grew over the rising deforestation in the world's largest tropical rain forest.
European leaders threatened to cancel a major trade deal, protesters staged demonstrations outside Brazilian embassies and calls for a boycott of Brazilian products snowballed on social media.
As a chorus of condemnation intensified, Brazil braced for the prospect of punitive measures that could severely damage an economy that is already sputtering after a brutal recession and the country's far-Right populist President faced a withering reckoning.
On Friday, he said that he was planning to send the military to enforce environmental laws and to help contain the fires starting Saturday.
"Whatever is within our power we will do," he told reporters.
"The problem is resources."
Bolsonaro did not indicate what resources the military would bring to bear, but he was scheduled to give a televised address Friday evening to describe the government's response plan.
In a televised address on Friday night, Bolsonaro said the government would take a "zero tolerance" approach to environmental crimes.
But he also said Brazilians living in the states that encompass the Amazon must be provided with broader opportunities to make a decent living.
"I have a profound love and respect for the Amazon," Bolsonaro said in a rare scripted message. "Protecting the rain forest is our duty."
He provided no details about what assets the military would bring to bear in areas where fires are spreading.
It was unlikely that Bolsonaro's plan could address the underlying crisis without a fundamental shift in his environmental policies, which have emboldened miners, loggers and farmers to strip and burn protected areas with a sense of impunity.
Since the nationalist former army captain took office in January, deforestation has increased sharply across Brazil, including in indigenous territories. Bolsonaro has pledged to make it easier for industries to gain access to protected areas, arguing that native communities are in control of unreasonably vast areas that contain enormous wealth.
Brazil's stretch of the Amazon lost more than 1,330 square miles of forest cover during the first seven months of the year, a 39 per cent increase over the same period last year.
The number of fires in the Amazon so far this year, 40,341, is the highest since 2010, and roughly 35 per cent higher than the average for the first eight months of the year, according to Brazil's National Institute of Space Research agency, which tracks deforestation and forest fires using satellite images.
Most of the fires are set intentionally to clear land for agriculture and cattle grazing. But the fire season got off to an early start this year, and blazes set along the edges of the rain forest are unusually potent, raising the risk that some will spread beyond the intended areas.