Boris walks on thin ice on media ties
Sculpture replaces missing PM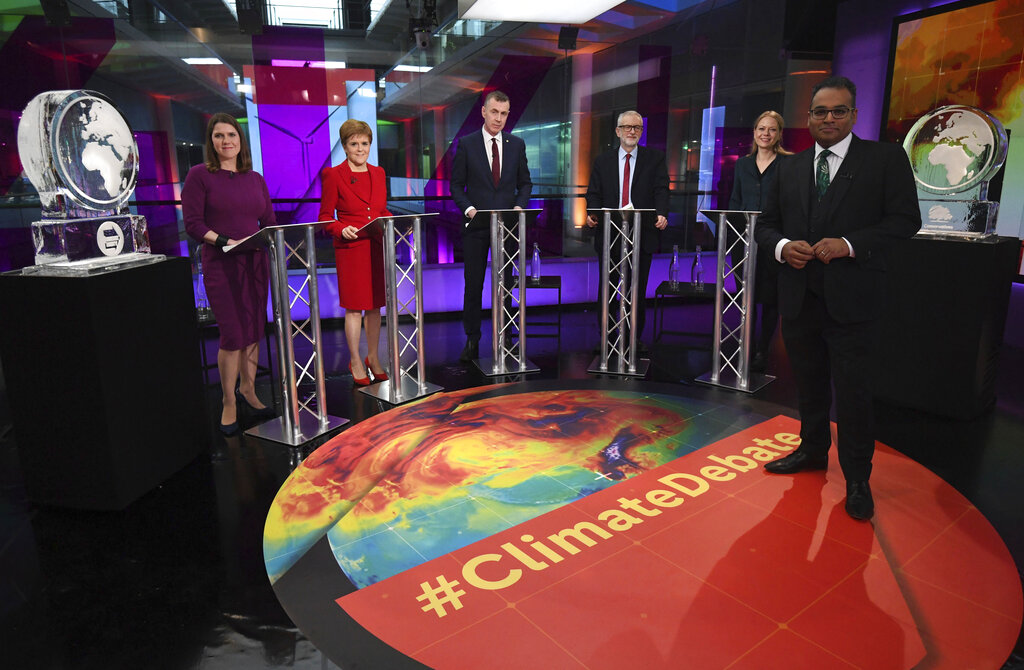 ---
|
London
|
Published 29.11.19, 08:53 PM
---
Tempers are melting in the heat of the British election battle with Channel 4 TV representing Boris Johnson with an ice sculpture on Thursday night after the Prime Minister refused to attend a climate change debate with the leaders of other political parties.
Environment secretary Michael Gove turned up in place of Johnson but was turned away, with the programme's pugnacious Indian-origin presenter Krishnan Guru-Murthy tweeting: "It was kind of Michael Gove to turn up at Channel4News tonight offering to come on the #climatedebate but the other party leaders will only debate other party leaders. We look forward to welcoming Mr Gove another time."
After Johnson failed to attend the "Emergency On Planet Earth" debate, his absence was highlighted with a melting ice sculpture labelled "Conservatives", rather than an empty chair or podium which is generally the norm.
Brexit Party leader Nigel Farage's refusal also to take part in the debate was marked with another ice sculpture.
A threat from a Tory source that Channel 4's licence would be reviewed was later withdrawn by the Prime Minister himself but the Conservative Party ledged a formal complaint with the Ofcom Election Committee about the TV channel's "provocative partisan stunt".
Johnson has also not said whether he will agree to be interviewed by former Sunday Times editor turned TV inquisitor, Andrew Neil, who has already lacerated Labour leader Jeremy Corbyn and will no doubt try to do the same with the Prime Minister.
The reality is that with a detailed YouGov poll predicting Johnson is headed for an overall 68-seat majority, he has been told by his campaign planners he has nothing to gain and everything to lose by allowing himself to be grilled by hard-nosed journalists.
However, he is not quite following the Narendra Modi model of non-engagement with journalists who can ask uncomfortable questions. Modi has attended only one media conference in over five years as Prime Minister, and there too he deflected all questions to BJP president Amit Shah.
On Friday morning, for example, Johnson did take questions, some very personal, from listeners to the talk radio LBC where he said: "I didn't see the (Channel 4) debate but it is noticeable that people have talked more about that than the substance that came out of the debate and I think that is a shame."
At a time when Corbyn is embroiled in controversy over his proposed Kashmir policy and whether he is personally "anti-Hindu", Johnson spoke enthusiastically about the possibility of doing trade deals with four countries, leading off with India.
Asked by "David from Maidstone" about doing international trade deals after the UK has formally left the European Union, Johnson said: "We've got talks under way with many countries."
But he said he was unable to give details about the number of deals that had been done. He said: "There are a number that are oven-ready. I will have to come back and give you the number."
Pressed by presenter Nick Ferrari if he knew how many, Johnson said: "There will be... I imagine, we have about a dozen we are currently working on."
Asked to name at last four of the countries, Johnson identified "ample opportunities to do deals with India, China, Australia, New Zealand", but added: "I am not going to say they are 'oven-ready'."
To suggest a free trade agreement with India is "oven ready" — an expression used repeatedly to describe the Brexit deal he has negotiated with the EU — would certainly be optimistic, over optimistic even.
Another number Johnson is vague about is the number of children he has — he has had four with his estranged second wife, Marina Wheeler, and a "love child" with arts adviser Helen Macintyre. Another former girlfriend Petronella Wyatt, his deputy when he was editor of The Spectator, has herself written about her abortion.
Asked by Ferrari if he was "fully and wholly involved" with all of his children, Johnson said: "I love my children very much but they're not standing at this election. With great respect to you Nick, I'm not going to (discuss this) at all."
Asked if the country could expect the "pitter and patter of tiny feet" if Johnson and his 31-year-old girlfriend Carrie Symonds returned to Downing Street (they still live there), the Prime Minister, who is 24 years her senior, replied: "I'm going to make the same point, I'm not going to get into discussions."