Boris promises people's government
PM tours northeastern England where Labour's 'red wall' crumbled for first time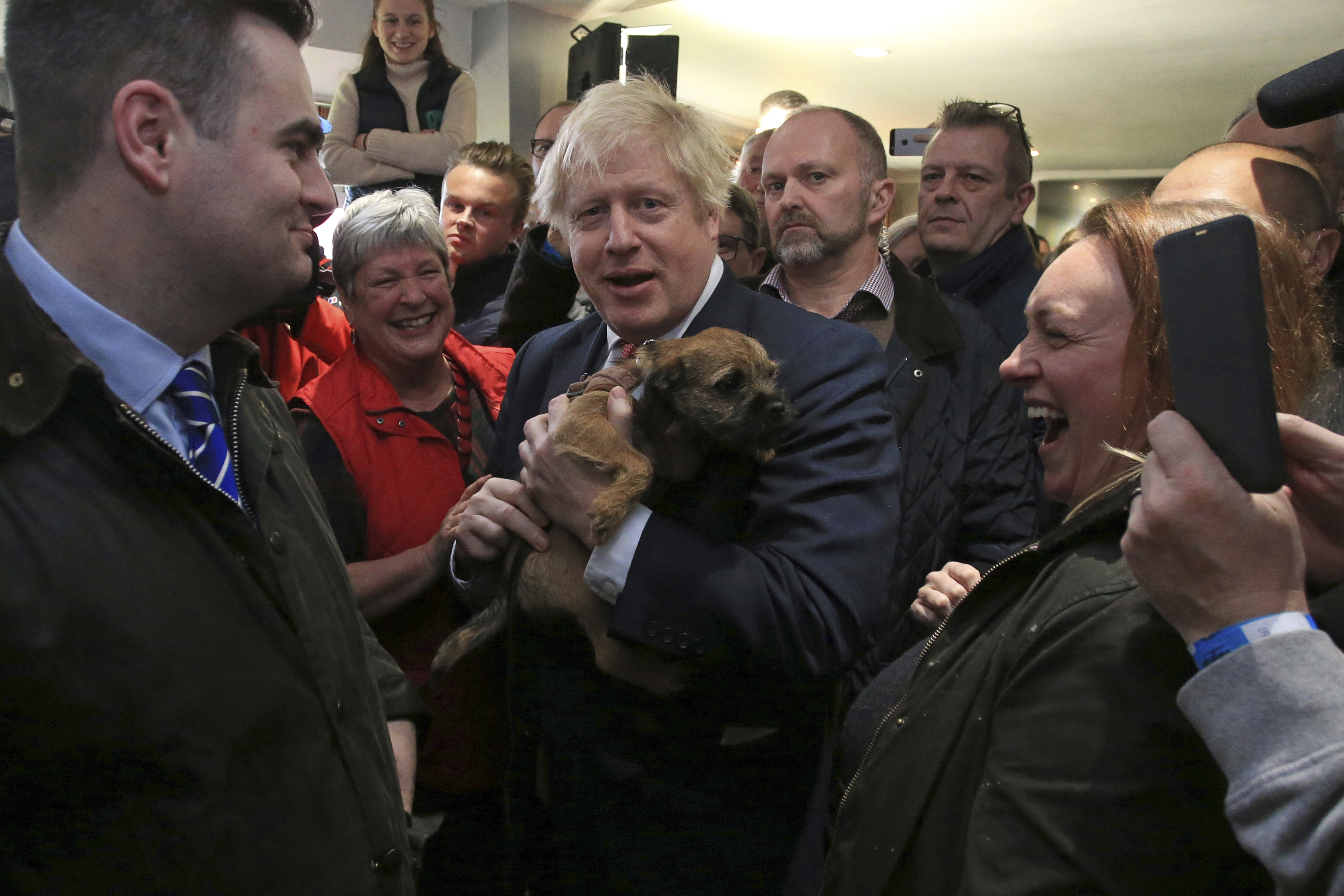 ---
|
London
|
Published 14.12.19, 06:56 PM
---
Boris Johnson promised a "people's government" on Saturday as Britain's newly triumphant Prime Minister toured the northeast of England where Labour's "red wall" crumbled for the first time in several generations giving the Tories their astonishing 80 seat majority in Thursday's general election.
He promised India would be one of his priorities when he rallied Indian voters at the Swaminarayan Mandir in Neasden, north London, last week in what proved to be one of the defining moments of the campaign.
"If f I get re-elected with a working majority I want to visit India at the earliest opportunity next year to strengthen further what the Prime Minister ("Narendrabhai") called 'the living bridge' between the UK and India," he said.
But for the Prime Minister there are even more urgent priorities such as his trip to Sedgefield, in county Durham, a rock solid Labour seat once held by Tony Blair but which has now fallen to the Tories.
Incidentally, the reference to a "people's government" will remind many people that when Princess Diana was killed in a car crash in Paris in 1997, Blair, with his unmatched gift for reflecting the mood of a stunned nation, called her "the People's Princess".
The Prime Minister has raised hopes that given a strong personal mandate, the real, more liberal Boris will now re-emerge as he heads a "one nation government".
To shouts of "Boris, Boris," in what was once Labour's heartland, he thanked the voters in northeast England: "We believe that talent is evenly distributed throughout our country but opportunity is unfairly distributed.
"We are going to rectify that as a One Nation Conservative government, as a people's government."
He said he appreciated that some people had broken "the voting habits of generations" to support him. "I want the people of the northeast to know that we in the Conservative Party and I will repay your trust — and everything that we do, everything that I do as your Prime Minister, will be devoted to repaying that trust."
Some areas, such as Bishop Auckland and Redcar, had never before elected a Tory MP.
"We are going to recover our national self-confidence, our mojo, our self-belief and we are going to do things differently and better as a country. It is going to be a wonderful, wonderful time for our country."
Easily said but it may a bit more difficult to achieve, given that his first action was to take a call from Nicola Sturgeon, leader of the Scottish National Party, and warn her that he will not allow a referendum on independence for Scotland. Having won 48 out of 59 seats in Scotland, which voted "Remain" in the EU referendum in 2016, she argues with some force that it is the Scottish people who should decide their own fate.
So a constitutional crisis seems inevitable over the next five years as Boris attempts to stall the break-up of the UK.
Boris will have a mini reshuffle on Monday — there is some talk of Rishi Sunak, chief secretary to the treasury and one of the stars of the Tory election campaign, being promoted. MPs will return to a very changed House of Commons on Monday — the number of Tory MPs has gone up from 318 to 365, while Labour has fallen from 262 to 203.
About 32 million votes were cast in this election in the "world's oldest democracy", which puts what happens in India, the "world's largest democracy", into perspective.
The turnout was 67.3 per cent of registered voters, which represents a 1.5 per cent drop on the 2017 general election – not bad considering the weather on Thursday was pretty miserable.
There will be a "Queen's speech" on Thursday setting out the government's legislative programme and the return of Boris's EU withdrawal bill before Christmas.
The prospect, meanwhile, in the Labour Party is for bloodshed. Jeremy Corbyn has said he will step down early next year but it seems to he wants to anoint his successor in his own image so that he can perhaps do some backseat driving in the years to come.
He insists the focus on Brexit was to blame for Labour's worst defeat since 1935 rather than his own leadership. He may well get his own way because the National Executive Committee, which will decide the terms of the leadership contest and possibly even who is allowed to run, is packed with militant "Corbynites".
Others who are urging Corbyn to step down immediately include the Labour mayor of London, Sadiq Khan, who said: "Jeremy Corbyn has said he will stand down, and this simply must now happen quickly.
"If we are truly honest with ourselves, we knew in our heart of hearts that Jeremy Corbyn's leadership was deeply unpopular with the British people and that we were extremely unlikely to form a Labour government.
"The Labour Party will have to change fundamentally in order to rise to these challenges and confront the new political reality we face."
Margaret Hodge, a Jewish MP who held onto her London seat, tweeted: "Corbyn talking about a period of 'reflection'. I've reflected. You failed. Please stand down."
Former Labour MP Anna Turley, who lost her seat in Redcar, agreed that Corbyn's leadership was the reason for Labour's defeat.
She told BBC Radio 4's Today programme: "You're getting four doors in a row of lifelong Labour voters saying. 'I'm sorry Anna, I'm a lifelong Labour voter, I like what you've done, but I just can't vote for that man to be prime minister.' "
For Indian voters, however, it wasn't Brexit but Corbyn's support for Pakistan on Kashmir and his reluctance to condemn cross-terrorism – which Boris emphatically did in his Neasden speech, offering to stand "shoulder to shoulder" with India.