Boris did get over 100 MPs to back him in leadership contest, could have run against Rishi
Johnson decided at the last minute to pull out of the race despite getting 102 MPs to back his bid to return to 10, Downing Street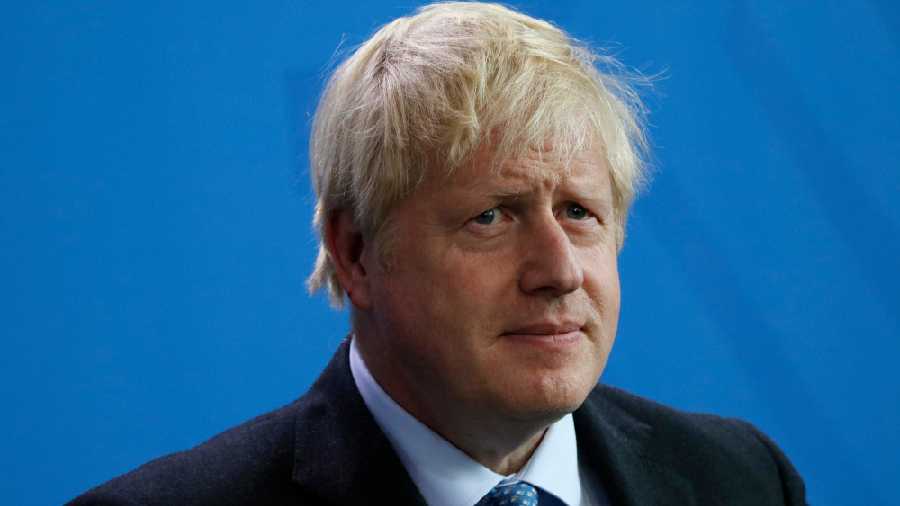 ---
London
|
Published 05.11.22, 01:24 PM
|
---
Boris Johnson did get over 100 MPs to back him in last month's Tory leadership contest and so could have run against Rishi Sunak, it has been confirmed by Graham Brady, chairman of the Conservative 1922 backbench committee who supervises the election.
However, in mark contrast to the direction Donald Trump is taking in probably seeking a second term as US president, Boris decided at the last minute to pull out of the race despite getting 102 MPs to back his bid to return to 10, Downing Street.
Boris flew back from a family holiday in the Dominican Republic and made it clear through his supporters that he was determined to get back the premiership, having resigned from the job in July following the resignation of some 60 ministers, including the health secretary Sajid Javid and Rishi, who was then chancellor.
In an interview with BBC North West Tonight, Brady said "two candidates" had reached the threshold of 100 nominations, but "one of them decided not to then submit his nomination".
That was Boris.
The one who did not get 100 nominations was the leader of the Commons, Penny Mordaunt, who has been retained by Rishi in the same job when he appointed his cabinet.
In announcing he would not be running, Boris was telling the truth when he said: "I can confirm that I have cleared the very high hurdle of 102 nominations, including a proposer and a seconder, and I could put my nomination in tomorrow."
Boris went on: "There is a very good chance that I would be successful in the election with Conservative Party members – and that I could indeed be back in Downing Street on Friday.
"But in the course of the last days I have sadly come to the conclusion that this would simply not be the right thing to do."
He said he had reached out to both Rishi and Mordaunt because he had "hoped that we could come together in the national interest – we have sadly not been able to work out a way of doing this.
"You can't govern effectively unless you have a united party in Parliament."
At the time there was doubt about whether Boris really had crossed the 100 threshold.
For example, the BBC's chief political correspondent, Nick Eardley, had commented: "The former prime minister says he got 102 backers. We can't verify this, the public number is lower and we may never know for sure. It's safe to say many MPs are sceptical he had the number his campaign says."
Brady is the man who tells Prime Ministers to step down when it becomes clear they no longer command the support of their parliamentary colleagues.
He did that with Theresa May in 2019, and with Boris in July 2022. Brady said Boris was initially reluctant to resign.
On the night Brady spoke to Boris, the latter was "still determined to go on".
Brady went on: "He (Boris) mulled it over after that, and he called me early the next morning to say that he'd changed his mind."
Truss recognised her time was up. Brady said: "I was reaching for my phone when I got a message saying the Prime Minister had asked to see me.
"When I went in to see her with her chief of staff Mark Fullbrook, she asked me the question – she said, 'It's pretty bad, isn't it?' To which I replied, 'Yes, it is pretty bad'.
"She asked the second question, 'Do you think it's retrievable?' And I said, 'No, I don't think it is.' And she replied that she didn't either."
Brady explained that a bar was set at 100 MPs to speed up the contest. But had there been two candidates, Conservative party members would have been required to vote in an online ballot. However, after Boris pulled out, Rishi became party leader via a "coronation".
It seems that some Tory party members cannot stomach the idea of Indian origin MP as their leader and have resigned their membership in disgust, a reliable source has told The Telegraph (of India).
In the meeting that took place between Boris and Rishi, the former Prime Minister apparently said that if it came to a ballot of party members he was sure he would win. Therefore, it was wiser for Rishi to step down in return for the promise of a top job in Boris's future cabinet. It was an offer Rishi did not accept.