Boris Brexit vote on a 'knife-edge'
41% of Britons want House to accept deal: YouGov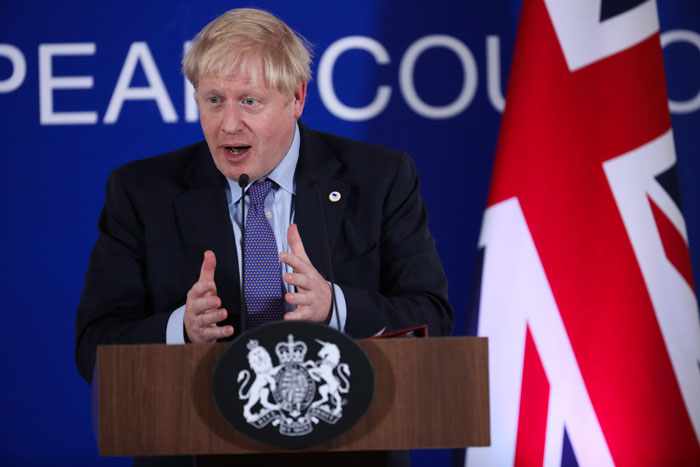 ---
London
|
Published 18.10.19, 07:15 PM
|
---
The BBC says that Boris Johnson's chances of getting his Brexit deal through the Commons on Saturday are "on a knife edge and too close to call".
The loyalist Daily Telegraph predicted that its £275,000 a year columnist turned Prime Minister is "odds on to get his deal through Parliament".
It reported that "bookies William Hill have cut the price of the Prime Minister's deal getting through Parliament from an original 9/4 to 5/4".
"There is definitely some momentum behind the Boris Bill, 66 per cent of all bets have been for the deal to successfully pass through Parliament," William Hill's spokesman Rupert Adams told the paper.
Boris will need to get at least 320 votes to win. The Daily Mail has worked out he could get 331 votes if he could count on the support of 259 Tory loyalists, 28 Tory "Spartan" from the European Research Group, 21 ex-Tories, 19 Labour "leavers" and 4 independents.
A late BBC survey showed 302 for the deal, 301 against, with 36 undecided or unknown.
Lined up against him would be 298 MPs, including 224 Labour, 19 Lib Dems,10 Democratic Unionist Party from Northern Ireland whose support has hitherto allowed the Tories to form a minority government, 5 from The Independent Group for Change, 35 Scottish National party, 1 Green, and 4 Plaid Cymru from Wales. However, this is a best case scenario for Boris.
Boris returned to 10 Downing Street, at 3.30am on Friday after getting a summit of 27 EU countries to agree a deal. He has called a cabinet meeting for 4pm on Friday amid a report that one cabinet minister and a junior minister were on "resignation watch" even though the general mood both at Westminster and in the country at large is positive.
A snap poll from YouGov shows 41 per cent of Britons want to see Parliament vote to accept Boris's new deal. Some 24 per cent said they wanted to see the deal rejected.
YouGov's Chris Curtis said: "While any honeymoon period may end up being brief for this deal, it has so far been well received by the public." Boris ironically has to the win over the support of most of the 21 Tory MPs he expelled from the party for opposing his government in an earlier vote, and also 15-20 Labour MPs.
A suggestion that the latter would be deselected by Labour constituency associations was denied by Jeremy Corbyn who said: "I believe in the power of persuasion rather than the power of threat." Shadow chancellor John McDonnell said he was against Boris's deal "because we won't vote for anything that makes our constituents or our country poorer and by any assessment that's what this deal will do".
It will introduce checks and barriers on our border and well it is worse than Theresa May's deal because it removes those commitments that she was willing to offer about a level playing field to protect workers' rights, environmental standards and consumer rights. It's a very bad deal we can't support it."
Unlike Corbyn, he had a warning for rebel Labour MPs tempted to vote for Boris: "This is a three-line whip and the chief whip, in the normal way, will determine the consequences for anyone who doesn't vote for it."
The Financial Times tried to be level headed and said in its analysis: "Boris Johnson has intensified a charm offensive to convince a majority of MPs to back his new Brexit deal in a crucial House of Commons vote on Saturday.
"The UK prime minister's hopes of getting the withdrawal agreement approved were dealt a serious blow on Thursday, when Northern Ireland's Democratic Unionist party came out against the package.
"Analysis by the Financial Times suggests that unless Mr Johnson can persuade several Labour MPs or independent parliamentarians to support the deal, he will struggle to secure a majority during the first Saturday sitting of parliament since the 1982 Falklands conflict.
"Nearly all of the 287 Tory MPs are expected to back the deal, including most of the 28 hardline Eurosceptics dubbed the Spartans.
However, some may refuse to back the deal unless the 10 DUP MPs endorse it. The Northern Irish party has pledged to vote down the deal because it includes a new customs border inside the UK between the region and mainland Britain.
"They also object to the section that allows the Northern Ireland assembly to opt out of the proposed customs and regulatory system through a simple majority vote."
DUP MP Sammy Wilson, the party's Brexit spokesman, told BBC Radio 4's Today programme: "I can give you absolute assurance we will not be voting for this deal when it comes before the Commons."
Foreign Secretary Dominic Raab said on BBC Breakfast that he thinks the deal was a "win, win, win" for the UK because "we take back control of our laws, our borders, our money".
However, the Brexit debate has long been swayed by emotion rather than logic.
Labour supporter and Evening Standard diary editor Ayesha Hazarika commented: "Interesting how the right is cock a hoop today. They know that if this deal gets through (especially with Labour votes), the Left/Libs are smashed for the foreseeable future. Not just about getting Brexit 'done'. It's about so much more. Stakes could not be higher."
"Super Saturday", as it has been dubbed, could determine the UK's future for decades to come.