Boom and gloom before US mid-term poll
Trump retains grip on many red states, his comments against immigrants have proved destabilising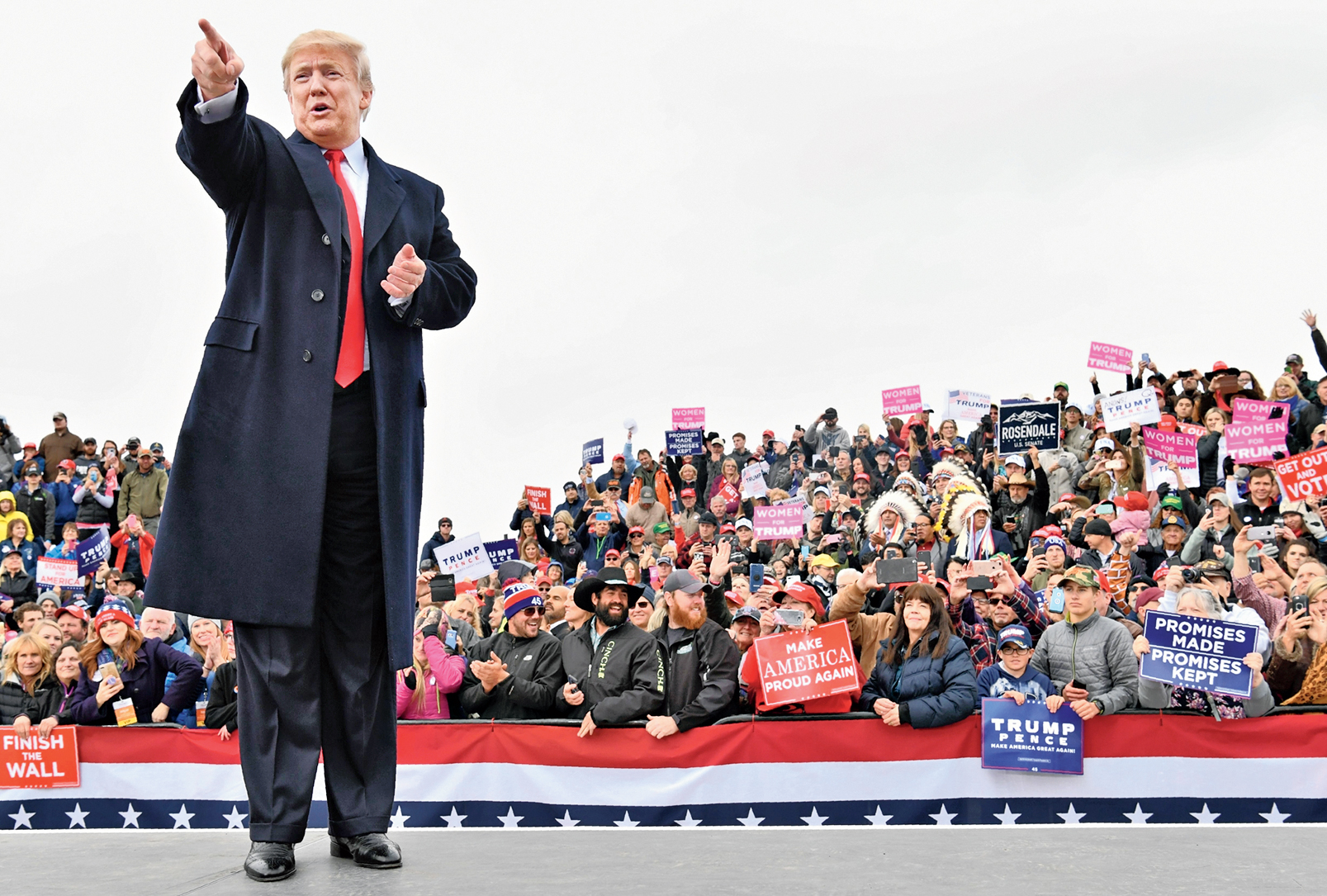 ---
---
As voters prepared to deliver a verdict on the first half of President Donald Trump's term after a tumultuous midterm campaign, the Republicans were bracing for losses in the House and state capitals but hopeful they would prevail in Senate races in areas where Trump is popular.
Trump was set to storm across two states on Saturday, two on Sunday and three on Monday to try and pick off Senate seats in Indiana, Florida and a handful of other battlegrounds where Republicans hope to add to their one-seat majority in the chamber.
Democrats and liberal activists, galvanised by opposition to Trump, gathered on Saturday to knock on doors and make turnout calls from Pennsylvania to Illinois to Washington to try to erase the Republicans' 23-seat House majority.
The run-up to the election, widely seen as a referendum on Trump's divisive persona and hard-line policy agenda, has revealed deep strains in the President's political coalition and left him confined to campaign in a narrow band of conservative communities.
The Republicans' intermittent focus on favourable economic news, such as the Friday report showing strong job growth, has been overwhelmed by Trump's message of racially incendiary nationalism.
While Trump retains a strong grip on many red states and working-class white voters, his jeremiads against immigrants and penchant for ridicule have proved destabilising, with the party losing more affluent whites and moderates in metropolitan areas key to control of the House.
Republicans have grown increasingly pessimistic in recent days about holding the House, as polls show a number of incumbents lagging well below 50 per cent and some facing unexpectedly close races in conservative-leaning districts.
In several diverse Sun Belt states where Republicans had shown resilience, such as Texas, Florida and Arizona, their candidates have seen their numbers dip in polling.
Democrats are in contention to retain or capture governorships in rust belt states like Pennsylvania, Michigan and Wisconsin that were pivotal to Trump's victory and fertile ground for Republicans for much of the last decade.
Still, some Republican leaders saw reason for measured optimism. While Trump said on Friday that Republicans losing the House "could happen", Representative Steve Stivers of Ohio, who leads the Republican House campaign committee, has continued to predict that his party will narrowly hold its majority. Republican strategists have argued that about two dozen races are within the margin of error in polling: if right-of-centre voters swing back to them on Election Day, they say, Democrats could fall short of winning enough seats to take control of the House.
Republican officials are more confident about their prospects in the Senate, where they had an opportunity to enlarge their majority in an otherwise difficult year. Nearly all of the most important Senate races are being fought on solidly conservative terrain, including North Dakota, Missouri and Indiana, where Democratic incumbents are in close contests for re-election. Trump won all three states by landslide margins in 2016.
There was an unmistakable dissonance between the relative health of the economy and the dark mood of a country as voters prepared to go to the polls just days after a wave of attempted mail bombings and a massacre at a Pittsburgh synagogue that left 11 dead.
"The nation is in political turmoil," said Representative Carlos Curbelo, a Florida Republican facing a difficult re-election, in part because of Trump's unpopularity. "The economy is roaring but the mood is so sour. It's a very sad time in this country."
The mood has buoyed Democrats across the country. A class of first-time candidates has been lifted by an enormous surge of activism and political energy on the Left, as a loose array of constituencies offended by Trump — including women, young people and voters of colour — has mobilised with a force unseen in recent midterm elections.
Early voting across the country reflected the intensity of the election: more than 28 million people had already cast ballots by the end of Friday, about 10 million more than at a comparable point in the 2014 midterm elections, according to the Democratic data firm Catalist.
These voters have helped nominate a record number of female candidates for Congress and delivered Democrats a wide and unaccustomed financial advantage toward the end of the campaign.
If Trump has animated a powerful national campaign against him, Democratic candidates have largely avoided engaging the President personally in the closing days of the election, instead hewing close to a few favoured issues like health care.
At a Saturday morning rally, Representative Ben Ray Luján of New Mexico, head of the Democrats' campaign committee in the House, drummed home the party's ethos of ignoring Trump while riding the backlash against him.
"We don't really have to even talk about this President — he's going to do all the talking about himself, for himself," Luján said, addressing volunteers in Los Lunas, where Democrats are making a push to pick up an open House seat. "I want you to concentrate on families here in New Mexico."
Standing beside him, Senator Martin Henrich said: "This is a battle for who we are as a nation."The Democrats have an upper hand in campaign fund-raising. Political spending in the election is expected to exceed $5 billion, making it the most costly midterm contest in history, according to a report by the Centre for Responsive Politics. The report found that Democratic candidates for the House had raised $300 million more than their Republican competitors, by a margin of more than $300 million.
But many Senate Democrats too have decisively out-raised their contenders, a sobering reminder to Republican officials about the rise of small-dollar and billionaire contributors on the Left.
Senator Cory Gardner of Colorado, who oversees the Senate Republican campaign arm, warned that the Democrats' newfound fund-raising prowess could buffet his party even more in 2020, when a less-inviting list of seats is up for election.
It is the House, though, where Republicans face greater peril.
Most critical to determining control of the chamber are likely to be prosperous, culturally dynamic suburbs — around cities like New York, Philadelphia, Detroit, Miami, Chicago and Los Angeles —packed with voters in open revolt against Trump.
Democrats have won over many swing voters in these areas with a message focused on Republican health care and tax policies that are even less popular than the President himself.
"I don't think you can find a race in the country where health care hasn't been a dominant issue," Democratic strategist Jesse Ferguson said.
The fate of Republican lawmakers in the East Coast suburbs could offer an early harbinger on election night of whether the party can maintain even a tenuous grip on the House. Many of those communities could also tip powerful governorships into Democratic hands for the first time in a decade.
Former governor Ted Strickland of Ohio, the last Democrat to lead that state, said the election had effectively become a referendum on Trump, leaving Democrats "confident about the House and a little concerned about the Senate".
"He's on the ballot, regardless of whether his name is there or not," Strickland said of the President. Trump added that the shift in the political climate between 2016 and 2018 was like "the difference between heaven and hell".
Trump has appeared to turn his attention in the last few days away from the effort to keep control of the House, and towards shoring up Republicans in coveted Senate races. He has focused predominantly on electrifying the Right rather than soothing some of the swing voters who backed him over Hillary Clinton two years ago.
In the final weeks of campaigning, Trump has delivered slashing attacks on immigration, railing against birthright citizenship, linking immigration without evidence to violent crime and amplifying debunked conspiracy theories about a migrant caravan in Latin America.
In a possible portent of how he might react to electoral defeat, Trump lashed out at House Speaker Paul D. Ryan on Twitter after Ryan criticised his dubious proposal to void the constitutional guarantee of citizenship to anyone born on American soil.
Trump's approach may resonate in several of the states with the closest Senate races, though it has the potential to backfire in several diverse states where Republican-held seats are at risk, including Nevada, Arizona and Texas.
"It turns off independent voters," said Senator Chris Van Hollen, a Maryland Democrat and head of the Democratic Senate campaign arm, arguing that such states offered his party "a narrow path" to a majority.
Christine Matthews, a Republican pollster, said the Democratic message, focused on health care, was "more relevant" to most voters than what Trump was offering them in his final argument. Likening the election to a tug of war, Matthews said the President was trying to energise his predominantly white and male base even as moderate women recoil from him.
"On one end, you've got white college-educated women pulling hard, pulling back from what we're seeing," Matthews said. "On the other side of the rope, you've got non-college-educated men pulling hard in the other direction."
Even before his lunge towards culture-war rhetoric, Trump and his party appeared to be receiving scant political advantage from the state of the economy, which has grown steadily during his presidency and pushed the unemployment rate below 4 per cent.
A dip in the stock market over the final weeks of the campaign appeared to frustrate Trump, who suggested on Twitter — without evidence — that it reflected investors' concerns about a Democratic takeover.
At no point this fall has a majority of voters approved of Trump, and while some surveys have shown improvement in his standing recently, the Gallup poll found at the end of October that just two in five Americans rated his performance favourably.