Biden chides cadets: You are a really dull class
The President saluted them for persevering through the Covid-19 pandemic, noting that last year's batch had not been able to hold graduating ceremonies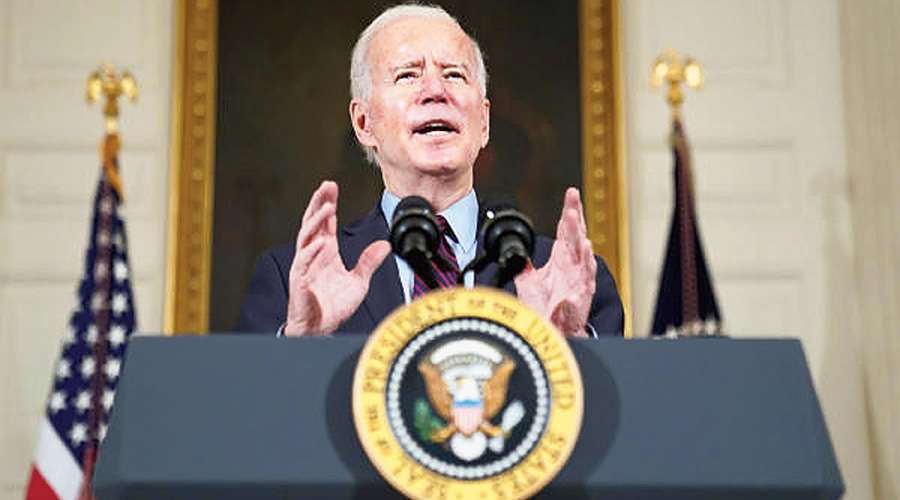 ---
New London, Connecticut
|
Published 21.05.21, 01:02 AM
|
---
President Biden delivered the commencement address at the US Coast Guard Academy's graduation ceremony in New London, Connecticut, on Wednesday, his first speech at a service academy since becoming President in January.
The President saluted cadets for persevering through the Covid-19 pandemic, noting that last year's class had not been able to hold graduating ceremonies. He also chided them, in jest, for not clapping at a joke he made at the expense of the Navy.
"You are a really dull class," Biden said. "Come on, man, is the sun getting to you? I would think you would have an opportunity when I say that about the Navy to clap."
He went on to praise the class and the Coast Guard, citing its role in safeguarding global trade and responding to the pandemic and to national disasters, like hurricanes and wildfires, exacerbated by climate change.
"All kidding aside, being here today is a victory in and of itself, an important mark in the progress we made to turn the tide of the pandemic, and it's a testament of the military's sense of responsibility you already embody," Biden said.