Biden & Harris stress on democratic values in meet with Modi
While the POTUS mentioned Gandhi's ideology of tolerance, the Indian PM quoted his principle of trusteeship and its crucial role in the context of climate change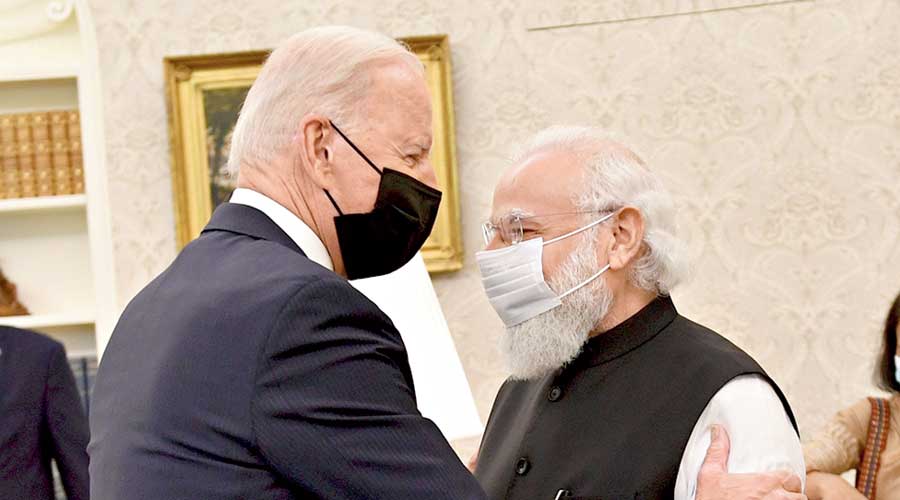 ---
New Delhi
|
Published 25.09.21, 01:48 AM
|
---
US President Joe Biden and Vice-President Kamala Harris underscored the importance of democratic values when they met Prime Minister Narendra Modi separately in Washington DC.
Biden referred to Mahatma Gandhi's message of tolerance and its relevance today, and Modi responded by highlighting the stress that the Mahatma had laid on the principle of trusteeship and its crucial role in the context of climate change.
Earlier, Harris had emphasised the need for democratic countries to "defend democratic principles and institutions" at home in the presence of Modi. Segments of the American media construed this as a diplomatic nudge to the Indian leadership amid concerns about "democratic backsliding" in India.
On Friday night (in India), before Biden and Modi joined their delegations for bilateral talks, the US President had made opening remarks.
Biden said: "Our partnership is more than just what we do. It's about who we are.... It's rooted in our shared responsibility to uphold democratic values, our joint commitment to diversity, and it's about family ties, including four million Indian Americans who make the United States stronger every single day."
Stating that the relationship between the two countries is destined to be stronger, closer and tighter, Biden added that he was convinced it can benefit the whole world.
He mentioned Gandhi and said the world would be celebrating his birth anniversary next week. "We are all reminded that his message of non-violence, respect, tolerance matters today, maybe more than ever," Biden said.
Modi said the Indo-US relationship was entering a transformative period, adding that the importance of the democratic traditions to which both countries were committed would only increase during this decade.
Bilateral trade would assume greater importance, he said, maintaining that trade between the two countries was actually complementary.
India has for years now been hoping for a limited trade deal with the US but nothing has come of it despite hopes of an announcement during Biden's predecessor Donald Trump's India visit in February last year.
Responding to Biden's reference to Gandhi, the Prime Minister said the Mahatma used to speak of the principle of trusteeship, particularly in relation to the planet. This sentiment of trusteeship, he said, was particularly crucial in the context of climate change, which would be an important component of the bilateral talks.
The brief interaction with the media also saw the two share a few laughs, with the President speaking about how he learnt of a Biden family living in India during a visit as Vice-President. Responding to this, Modi said that since Biden had mentioned this to him earlier, he had brought along some documents for him.
The President laughed and asked: "Was I related?"
The Prime Minister replied: "Yes."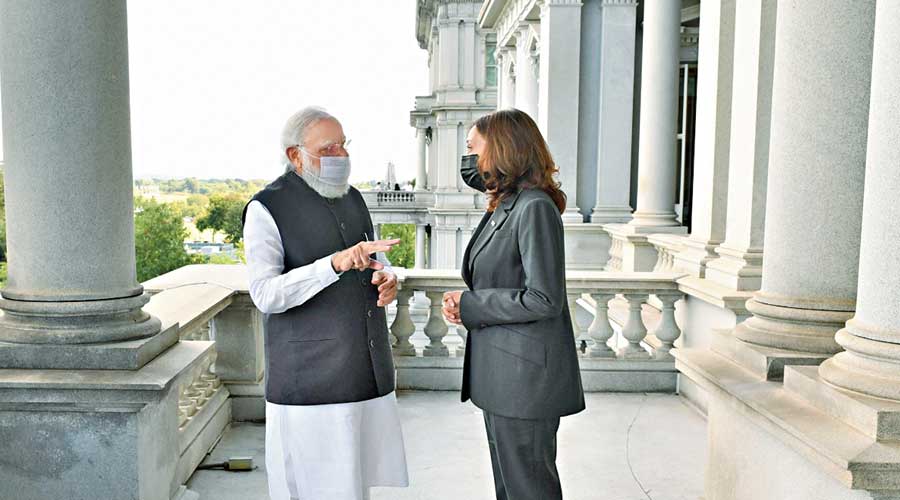 Harris said at a joint media appearance with Modi before their first in-person meeting at the White House: "As democracies around the world are under threat, it is imperative that we defend democratic principles and institutions within our respective countries and around the world, and that we maintain what we must do to strengthen democracies at home.
"And it is incumbent upon our nations to, of course, protect democracies in the best interest of the people of our countries."
Harris, who had earlier spoken with Modi over the phone on June 3, added: "I know from personal experience and from my family of the commitment of the Indian people to democracy and to freedom, and to the work that may be done and can be done to imagine and then actually achieve our vision for democratic principles and institutions."
Asked whether there was any further discussion on the subject during the delegation-level bilateral meeting, foreign secretary Harsh V. Shringla said: "The Vice-President, I think, appreciated the fact that both of our countries represented large and successful democracies and that we needed to continue to work not only within our own countries, but with other countries, to promote the brand of democracy.
"In the discussions, I think she did mention that the US Congress was highly appreciative and kept noting the fact that India and the United States represented the two largest democracies. There was a great deal of appreciation of how both our democracies function. And that was the, I would say, discussion that took place in the actual meeting, in which the media were not present."
Shringla said that Harris had on her own brought up Pakistan in the context of terrorism.
"When the issue of terrorism came up, the Vice-President suo motu referred to Pakistan's role in that regard. She said that there were terror groups that were working there. She asked Pakistan to take action and see that these groups do not impact on US security and that of India."
This was the first formal interaction between Modi and Harris who, as a Senator, had questioned the Centre's August 5, 2019, clampdown on Kashmir.
This was also the first time Harris had sat across the table from external affairs minister S. Jaishankar. She had earlier openly differed on Twitter with Jaishankar when he refused to attend a meeting with the House foreign affairs committee because the US legislators had rejected his request to exclude Indian-American Congresswoman Pramila Jayapal, who had been critical of the Modi government's Kashmir policy.
"It's wrong for any foreign government to tell Congress what members are allowed in meetings on Capitol Hill," Harris had tweeted in December 2019.
Reporting on Thursday's meeting, the Los Angeles Times said: "Vice-President Kamala Harris invoked her familial ties to India as she gently pressed Indian Prime Minister Narendra Modi on human rights during a history-making meeting (on) Thursday between America's first Vice-President of Indian descent and the leader of a country that has become an increasingly close ally."
Modi, in his remarks, referred to Harris's Indian origins and said: "Your being elected as the Vice-President of the United States of America itself has been such an important and historic event. You are the source of inspiration for so many people across the world."
Harris's mother Shyamala Gopalan was a cancer researcher and civil rights activist from Chennai.
Ahead of Modi's meeting with Biden, leaders of the Indian farmers who have been protesting against the three new farm laws urged the US President to intervene on their behalf.
Several farmer organisations and leaders, including Rakesh Tikait, tweeted through the day using the hashtag #Biden_SpeakUp4Farmers.
"Dear @POTUS, we the Indian farmers are protesting against 3 farm laws brought by PM Modi's govt. 700 farmers have died in the last 11 months protesting. These black laws should be repealed to save us. Please focus on our concern while meeting PM Modi," Tikait tweeted.
Several Indo-American organisations have called for protests in Washington DC during Modi's visit — some for the democratic backsliding and the attacks on minorities and others in support of the protesting farmers.
India had slipped two places to 53rd in the Economist Intelligence Unit's Democracy Index for 2020.
Additional reporting by PTI