Bengali wins UK beauty contest
She came to Britain with her family at 9, and now has not one but 2 medical degrees and speaks 5 languages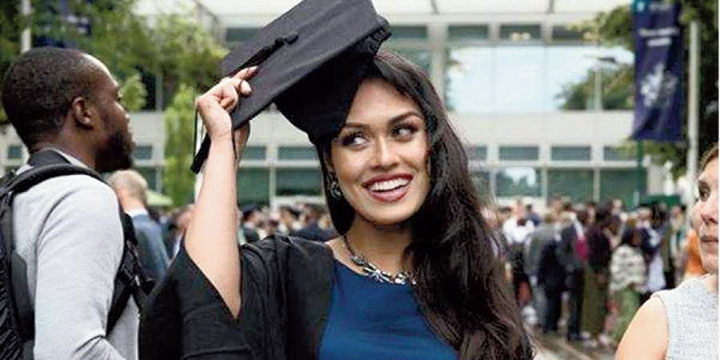 Bhasha Mukherjee
(Sourced by Correspndent)
---
London
|
Published 03.08.19, 08:47 PM
|
---
It is not just in the cabinet that Indians are making their mark but in the beauty business, too, as demonstrated by 23-year-old Bhasha Mukherjee who started work as a junior doctor on Friday hours after being crowned the new Miss England.
Born in India, Bhasa came to Britain with her family at the age of nine, and now has not one but two medical degrees and speaks five languages: English, Hindi, German, French and, of course, Bengali.
By scooping Miss England, she wins a holiday to Mauritius and entry into the prestigious global Miss World pageant. She follows in the footsteps of Reita Faria, now 75, who was the first Indian to win Miss World in 1966 but who did not go into Bollywood but became a doctor instead.
"Dr Mukherjee", who is being hailed in the British press for combining "beauty with brains", admitted: "I don't know what I was more nervous about –— was it my first day at a job that I've studied five years for, or finding out the outcome of Miss England?"
Angie Beasley, director of the organisers, Miss England Ltd, emphasised the strengths of a diverse society as exemplified in Boris Johnson's cabinet with three Indians and a Pakistani: "England is a country that is completely occupied by people of all sorts. The Miss England contest has always been there for, and indeed encouraged, participation by every group and every type. We encourage entries from every ethnicity."
Nor is Bhasa the only Bengali girl projected in the papers on Saturday. The Daily Telegraph has given over a whole page to former England bowler Isa Guha, who is now a cricket commentator, having graduated in biochemistry and molecular biology and gained an MPhil in neuroscience, both at University College London.
Bhasa, who lives in Derby, explained: "After my GCSE results I decided that I was too boring. All I did was study. I loved studying so much. I thought I wanted to do something different and wanted to add something more to my life."
She always loved performing arts, so she set up a dance company. Through those contacts, she got introduced to the modelling world and even encouraged to enter the Miss India competition in 2015.
"I was in the middle of my first year of medical school so I was too scared to go to India for a month and leave my education – so I turned that down," she recalled.
She continued: "My pageant career all started to happen while I was in the middle of studying at medical school – it took a lot of convincing for me to do it, but eventually I decided to do it to balance out my studying and give me a break.
"When I won I couldn't stop crying because it just felt so surreal, during the competition I didn't feel I had any chance, there were so many competent ladies who were doing so well in every round."
Bhasa, who already holds a bachelor degree in medical sciences, just last week graduated with a second degree in medicine and surgery from the University of Nottingham. She has even set up her own charity, The Generation Bridge Project, which combats isolation in elderly people.
After winning the Miss England title at the grand final in Newcastle, she caught a 4am train so she could start her first shift at an NHS hospital in Boston, Lincolnshire, the next morning.
Bhasa said that when she entered the canteen to grab breakfast, she was recognised by a canteen lady. "She asked how the competition went, I told her and she leapt up in joy."