Beijing sets strict quarantine rules
Citizens returning from holidays face 14-day curbs, those who refuse will be punished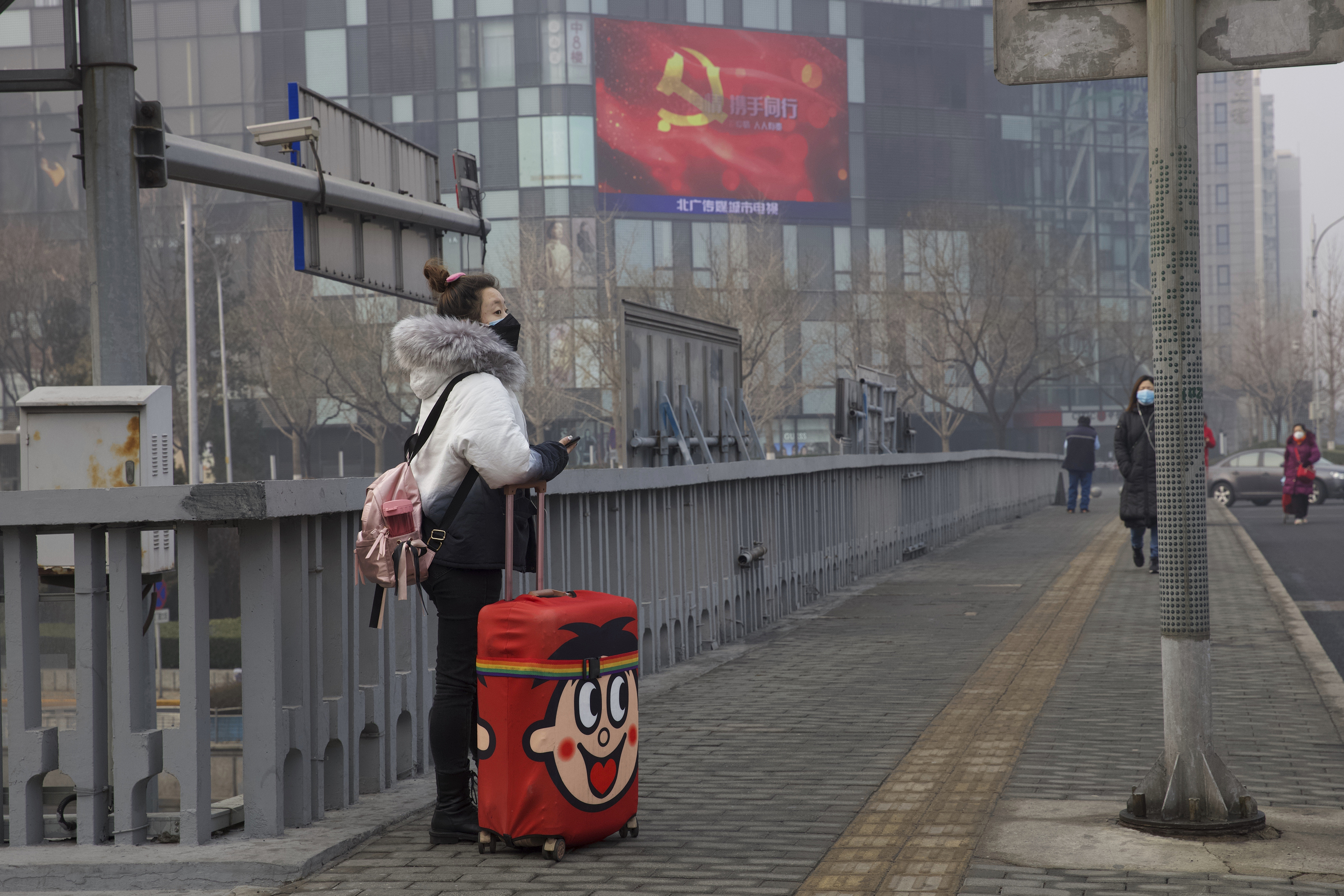 A traveler stands on a bridge near a display showing government propaganda in the fight against the COVID-19 viral illness in Beijing, China on Thursday
(AP photo)
---
Beijing
|
Published 14.02.20, 08:06 PM
|
---
The Chinese capital Beijing on Friday imposed a 14-day self-quarantine on people returning to the city from holidays to prevent the spread of the new coronavirus, and threatened to punish those who failed to comply.
It was not immediately clear how the restriction, relayed by the official Beijing Daily newspaper, would be enforced, or whether it would apply to non-residents of Beijing or foreigners arriving from abroad.
China's economy is struggling to get going after the annual Lunar New Year holiday, which was extended for 10 days to help contain the outbreak of the new and highly contagious respiratory virus, now labelled COVID-19.
Authorities reported 5,090 new cases in mainland China, including more than 120 deaths, taking the number of infected to 63,851, and the number of deaths to 1,380.
The figures give no sign that the outbreak is nearing a peak, said Adam Kamradt-Scott, an infectious diseases expert at the Centre for International Security Studies at the University of Sydney.
But with 500 million people already affected by movement and travel restrictions, President Xi Jinping warned top officials last week that efforts to contain the virus had gone too far and were threatening the economy, sources said.
In cities such as Beijing and the business hub Shanghai, streets and subways remain largely deserted with many shops and restaurants empty or shut.
Government employee Jin Yang, 28, made it to his Beijing office but found it "anything but normal". Canteen lunches are banned in favour of boxed meals eaten at desks. Meetings are held online, not in person. Employees must wear masks all day and report their temperature twice a day.
Economists polled by Reuters said China's economic downturn would be short-lived if the outbreak was contained, but expected this quarter would show China's slowest growth rate since the global financial crisis.
The Chinese carmakers' association said auto sales in China were likely to slide more than 10 per cent in the first half of the year because of the epidemic.
While the vast majority of infections and deaths have been in China, there have been nearly 450 cases in some 24 countries and territories outside mainland China, and three deaths.
Japan confirmed its first coronavirus death on Thursday. One person has died in Hong Kong and one in the Philippines.
Vietnam has imposed 20 days' quarantine on Son Loi, a rural community outside Hanoi that is home to 11 of the 16 coronavirus cases reported in the country, two local officials said.
Family recovers
After being treated for coronavirus in a Beijing hospital for over two weeks, three members of the Liu family have recovered and were allowed to return home on Friday, a family member said.
The family's encounter with the virus began when the parents of a 29-year-old Beijing man surnamed Liu, who are from Hubei province, briefly stopped in Wuhan, the outbreak's epicentre, on their way to Beijing.
The mother was diagnosed with coronavirus on January 29, and her son and his wife and their one-year-old son were all subsequently found to have been infected with coronavirus.