Backlash at UK cops for brutality
One image of Patsy Stevenson pinned down on the ground with a heavy police boot near her face will go round the world and remind many of George Floyd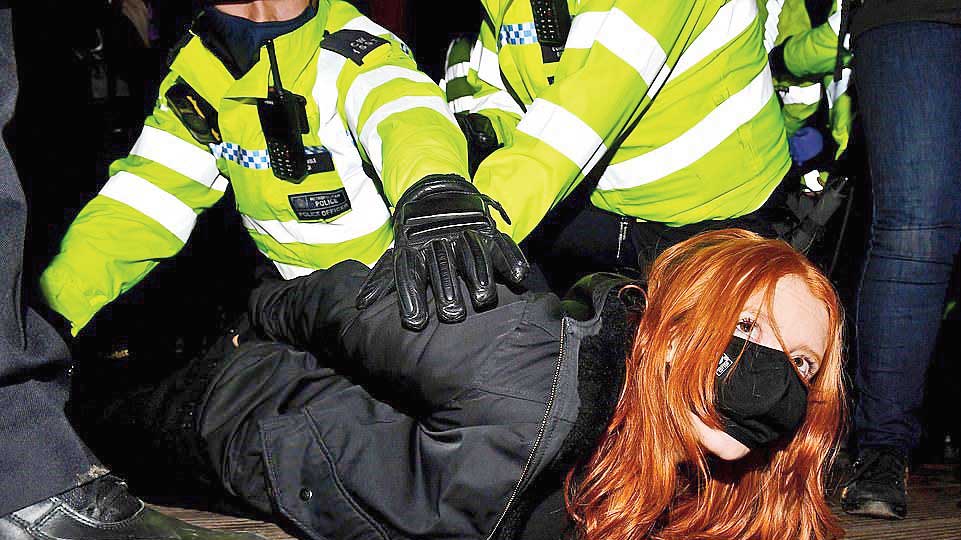 Patsy Stevenson being pinned down by police in Clapham
The Telegraph
---
London
|
Published 15.03.21, 01:53 AM
|
---
The head of Scotland Yard, Dame Cressida Dick, is facing calls for her resignation because of the heavy handed, even brutal manner, in which her officers dragged away women who were holding a torchlight vigil in memory of Sarah Everard at Clapham Common in south London on Saturday night.
Sarah is a 33-year-old marketing executive who was abducted and murdered allegedly by a serving police officer, Wayne Couzens, 48, who appeared at Westminster Magistrates' Court on Saturday.
Sarah was abducted near Clapham Common around 9.30pm on March 3 as she walked home. Her body was found in a builder's bag hidden in woods in Kent, not far from the house which Couzens, a member of Scotland Yard's armed parliamentary and diplomatic protection command, shared with his wife and two children. Dental records were needed to establish Sarah's identity.
Her murder is said to have captured a "moment" when women across Britain came forward with their own experiences of harassment.
Clapham Common, a park which is dark at night and which Sarah had crossed on her way home, has become a place of pilgrimage with piles of flowers — recalling the scenes outside Buckingham Palace when Princess Diana was killed in a car crash in 1997.
A group calling itself "Reclaim These Streets" had called for Saturday's vigil to be held at 9.30pm — the time Sarah disappeared — but were denied permission by the police because of the current Covid lockdown.
However, such was the state of emotion that more than 1,500 women turned up in defiance of the police ban on the vigil.
Earlier on Saturday, even Prince William's wife, Kate Middleton, arrived unannounced and placed two bunches of fresh daffodils picked from the gardens at Kensington Palace. Before marrying Prince William, she had lived in an apartment only two miles away. She let it known that she could clearly remember "what it was like to walk around London at night before she was married".
By the evening what was meant to be a dignified, socially distanced torchlight vigil had turned ugly as police officers completely misjudged the situation and used violence to drag away some women who were trying to make speeches.
One image of Patsy Stevenson pinned down on the ground with a heavy police boot near her face will go round the world and remind many of the circumstances in which George Floyd died in America. There were cries of "shame on you", "let them go" and "arrest your own" from the women.
Even home secretary Priti Patel confessed she had found some of the footage "upsetting" and has demanded a full report from the Metropolitan police commissioner, who happens to be the first woman in the history of Scotland Yard to hold the post. Even Right-wing newspapers, such as The Sunday Telegraph, were leading with calls for her resignation.
London police chief Dick said on Sunday she was not considering resigning and backed her officers. "We're still in a pandemic, unlawful gatherings are unlawful gatherings, officers have to take action if people are putting themselves massively at risk," Dick told reporters. Asked if she was considering resigning, she said: "No, I'm not."
The Liberal Democrat leader, Sir Ed Davey, said in a letter to Dick: "This was a complete abject tactical and moral failure on the part of the police. We therefore call on you to consider your leadership of the service and whether you can continue to have the confidence of the millions of women in London that you have a duty to safeguard and protect."
Mark Harper, Conservative MP for Forest of Dean, said there were "serious questions for the Met police commissioner to answer". Writing in The Sunday Telegraph, justice secretary Robert Buckland, said: "There come times in our lives when a case so horrific comes to light that it has a profound impact on our national psyche, prompting broad and challenging questions for society."
The paper noted that Dick's "five-year contract expires in April next year, and it is widely expected she will step down".
Conservative MP Caroline Nokes, who chairs the Commons Women and Equalities Select Committee, said she was "truly shocked" at the scenes on Clapham Common.
"In this country we police by consent — not by trampling the tributes to a woman who was murdered and dragging other women to the ground. Badly misjudged by metpolice," she tweeted.
It is perhaps worth noting that a number of British politicians, mostly Labour it has to be said, have urged Narendra Modi's government to allow peaceful farmers' protests and press freedom. Now, they are holding their own police to the same standards.
Labour leader Sir Keir Starmer said the scenes were "deeply disturbing" and added: "Women came together to mourn Sarah Everard — they should have been able to do so peacefully. I share their anger and am upset at how this has been handled. This was not the way to police this protest."
Prime Minister Boris Johnson and his fiancée, Carrie Symonds, lit a candle and placed it in front of 10, Downing Street.
The Prime Minister tweeted: "I will do everything I can to make sure the streets are safe."