Amnesty withdraws prize given to Suu Kyi
Suu Kyi had been named Amnesty's 2009 Ambassador of Conscience when she was under house arrest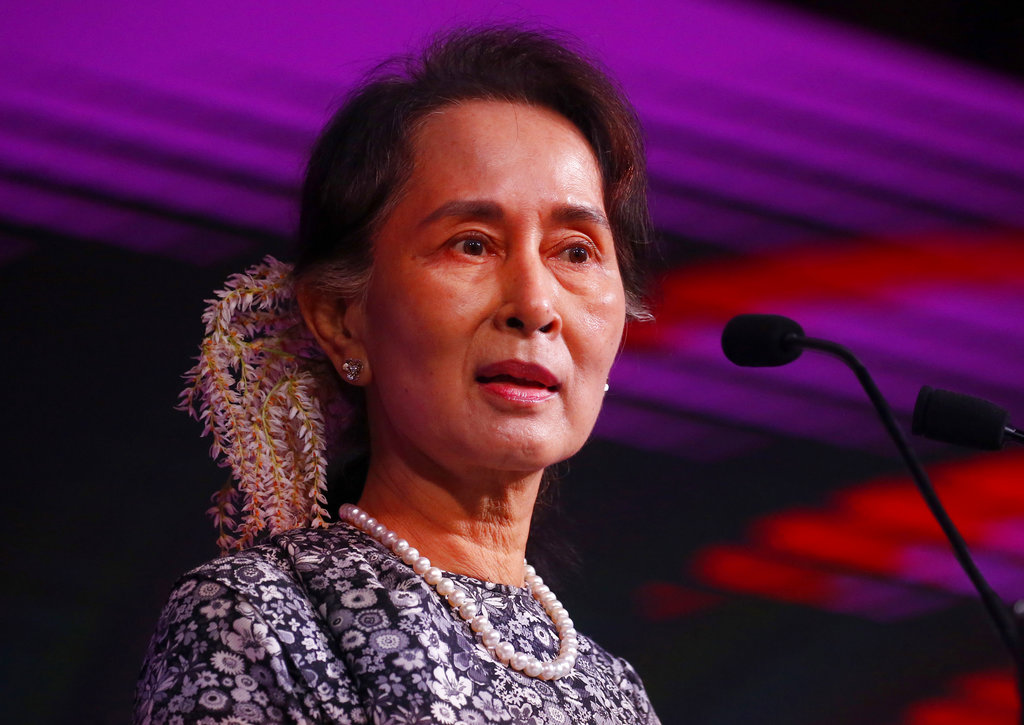 Aung San Suu Kyi speaks at an Asean business forum in Singapore on Monday.
AP
---
Yangon
|
Published 12.11.18, 08:49 PM
|
---
Amnesty International has withdrawn its most prestigious human rights prize from Aung San Suu Kyi, accusing the Myanmar leader of perpetuating human rights abuses by not speaking out about violence against the Rohingya Muslim minority.
Once hailed as a champion in the fight for democracy, Suu Kyi has been stripped of a series of international honours over a Rohingya exodus that began in August 2017.
More than 700,000 members of the mostly stateless group fled across Myanmar's western border into Bangladesh after the Myanmar military launched a crackdown in response to Rohingya insurgent attacks on the security forces.
UN-mandated investigators have accused the military of unleashing a campaign of killings, rape and arson with "genocidal intent". Suu Kyi's administration rejected the findings as one-sided, and said the military action was engaged in a legitimate counter-insurgency operation.
The international human rights group named Suu Kyi as its 2009 Ambassador of Conscience Award recipient when she was still under house arrest for her opposition to Myanmar's oppressive military junta.
In the eight years since she was released, Suu Kyi led her party to election victory in 2015 and set up a government the following year, but she has to share power with generals and has no oversight over the security forces.
Amnesty International said in a statement that she had failed to speak out and had "shielded the security forces from accountability" for the violence against the Rohingya, calling it a "shameful betrayal of the values she once stood for".
The global advocacy organisation's secretary general, Kumi Naidoo, wrote to Suu Kyi on Sunday saying the group was withdrawing the award because it was "profoundly dismayed that you no longer represent a symbol of hope, courage, and the undying defence of human rights".
Zaw Htay, the Myanmar government's main spokesman, did not pick up Reuters calls seeking comment on Monday.
In March, the U.S. Holocaust Memorial Museum rescinded its top award from Suu Kyi and she has had other honours withdrawn, including the freedom of the cities of Dublin and Oxford, England, over the Rohingya crisis.
In September, Canada's parliament voted to strip Suu Kyi of her honorary citizenship. Critics have called for her 1991 Nobel Peace Prize to be withdrawn but the foundation that oversees the award said it would not do so.
Amnesty International also said Suu Kyi had not condemned military abuses in conflicts between the army and ethnic minority guerrillas in northern Myanmar and her government had imposed restrictions on access by humanitarian groups. Her government had also failed to stop attacks on freedom of speech, it said.
Rohingya families flee
Dozens of Rohingya Muslim families on a list of refugees set to be repatriated to Myanmar later this week have fled from camps in Bangladesh where they were living, a Rohingya leader said on Monday. "Most of the people on the list have fled to avoid being repatriated," said Abdus Salam, a Rohingya leader.