Al Qaida kingpin shifted to US custody
Read more below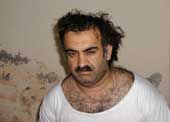 ---
Published 04.03.03, 12:00 AM
|
---
Khalid Sheikh Mohammed after his arrest during a raid in Rawalpindi on Saturday. (AP/PTI)
Islamabad, March 3 (Reuters): Suspected September 11 mastermind Khalid Sheikh Mohammed was in US custody today, a US official said, and was expected to be questioned on details of planned al Qaida attacks after his weekend capture.
Mohammed's interrogators would also be hoping for leads to the world's most wanted man, Osama bin Laden, analysts said, as Mohammed spent a third day in custody.
The US official said in Washington that Mohammed had been taken out of Pakistan to an undisclosed location for interrogation after his capture with two other al Qaida suspects.
Mohammed was solely in US custody, the official said.
Pakistani interior minister Faisel Saleh Hayat and Presidential spokesman Rashid Qureshi had earlier insisted Mohammed was still in Pakistan, being jointly interrogated by Pakistani and US agents.
Hayat said one of the men arrested with Mohammed, previously identified by an intelligence source as an Egyptian, was Somali, but gave no other details. A Pakistani, Ahmed Quddus, was also arrested in the raid. Military sources said a fourth man, an army major related to Quddus, was detained for questioning about his links to the arrested men.
Ahmed's sister Qudsia Khanum said the major, their brother Adil, had not been allowed to leave the north-western town of Kohat, but had not been arrested.
State-run Pakistan Television quoted information minister Sheikh Rashid Ahmed as telling reporters Mohammed was traced through an intercept of a satellite phone call he made from the western city of Quetta, where another al Qaida suspect was detained in mid-February.
Analysts said interrogators would aim to extract information from Mohammed on planned al Qaida attacks which prompted recent security alerts in Europe and the US, as well as the whereabouts of al Qaida leader bin Laden.
"The need is to forestall any possible attacks in Europe and the US which were being organised by Mohammed," said author and political analyst Ahmed Rashid, an expert on al Qaida and its Taliban allies in Afghanistan.
"There have been alerts recently and these were probably related to attacks in the planning stages by Mohammed," he said.
"This is the major business," Rashid said, adding that al Qaida cells planning such attacks would probably have started to scatter after learning of Mohammed's arrest.
Security analyst Shaukat Qadir, a retired brigadier, said he believed interrogators would use torture to get information. "I would be surprised if they don't," he said.
Qadir said Kuwaiti-born Mohammed's arrest was likely to lead to more arrests, but not necessarily to bin Laden. "I am sure they will interrogate him about where Osama is, but I am sure he does not know," he said.
Amin Saikal, head of the Centre for Arab and Islamic Studies at the Australian National University, said bin Laden would probably have fled soon after Mohammed's arrest was announced.
"This is an opportunity for Osama bin Laden to move on. If the US is certain he is still alive and want to capture him then they should not have announced his." Analysts have described Mohammed as a pivotal figure in al Qaida who planned its operations and vetted all its recruits.
The US, under criticism for failing to arrest the top leaders of al Qaida while focusing on a possible war on Iraq, was elated by news of Mohammed's arrest, describing him as "a key al Qaida planner and the mastermind of the September 11 attacks".
The White House said today that President George W. Bush had expressed his "deep appreciation and gratitude" to Pakistani President Pervez Musharraf for Mohammed's capture.
"This is a very serious development, a blow to al Qaida," White House spokesman Ari Fleischer said.
The chairman of the US House of Representatives intelligence committee, Porter Goss, said it would result in "other very successful activities soon" and suggested US operatives were already acting on information seized when Mohammed was arrested.
Some analysts have questioned whether Mohammed was actually arrested on Saturday and speculated he might have been held for some time and the news made public when it suited the interests of the US and Pakistan. The family of Quddus, said he was the only person seized when 20 to 25 armed security men raided their home in the middle-class Rawalpindi district of Westridge before dawn on Saturday. Washington had put a $25 million price on Mohammed.