Afghanistan earthquake: Aftershocks kill five
Aid organisations like the local Red Crescent and UN agencies like the World Food Programme sends food, tents, sleeping mats and other essentials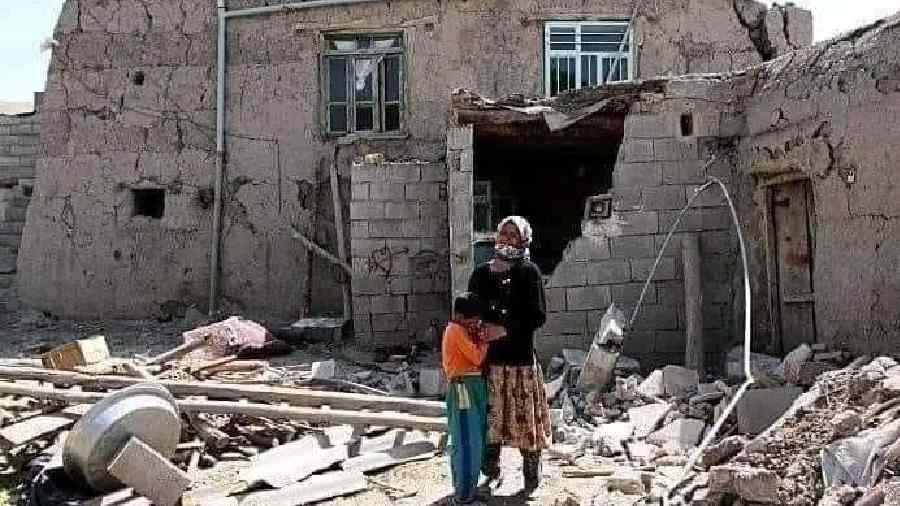 An Afghan family in front of their broken house.
Twitter
---
Gayan, Afghanistan
|
Published 25.06.22, 03:43 AM
|
---
Five people were killed on Friday in eastern Afghanistan after fresh tremors shook areas close to the epicentre of Wednesday's 6.1 magnitude earthquake, a senior Afghan official said.
"(This) morning another earthquake happened in Paktika in Gayan district, according to primary information... five have died," Afghan health ministry spokesman Sharafat Zaman told Reuters.  US Geological Survey's website showed a 4.3 magnitude earthquake had hit near the Pakistan-Afghanistan border. 
Among the dead from Wednesday's magnitude 6 quake are 121 children, but that figure is expected to climb, said Mohamed Ayoya, Unicef's representative in Afghanistan.
He said close to 70 children were injured. That earthquake struck a remote, mountainous region already grappling with staggering poverty at a time when the country as a whole is spiralling deeper into an economic crisis. On Friday, Pakistan's Meteorological Department reported a new, 4.2 magnitude quake that state-run Bakhtar News Agency reported took five more lives in hard-hit Gayan District and injured 11 people. 
Aid organisations like the local Red Crescent and UN agencies like the World Food Programme have sent food, tents, sleeping mats and other essentials to families in Paktika province, the epicentre of the earthquake, and neighbouring Khost province. Several countries have sent cargo planes of aid. Still, residents appeared to be largely on their own to deal with the aftermath.