Afghan women fear Taliban's repressive past
Kabul residents have been tearing down advertisements showing women without head scarves in recent days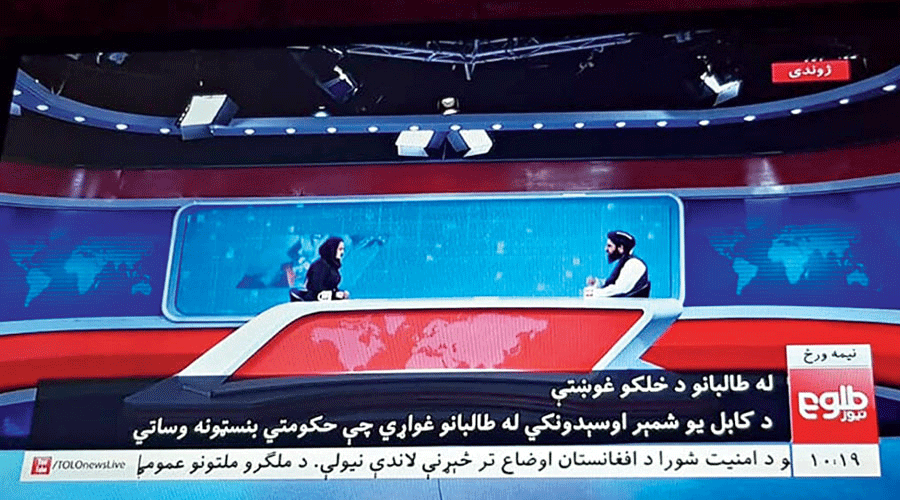 Beheshta Arghand interviews a member of the Taliban's media team on Tolo News on Tuesday.
Picture credit: Tolo News
---
New York
|
Published 18.08.21, 01:48 AM
|
---
As Afghan women remained cloistered at home in Kabul, fearful for their lives and their futures, a starkly different image played out on Tuesday on Tolo News, an Afghan television station: a female presenter interviewing a Taliban official.
Sitting several feet away from Mawlawi Abdulhaq Hemad, a member of the Taliban's media team, the host, Beheshta Arghand, asked him about the situation in Kabul and the Taliban's conducting house-to-house searches in the Afghan capital.
"The entire world now recognises that the Taliban are the real rulers of the country," he said, adding: "I am still astonished that people are afraid of Taliban."
The interview, remarkable given the Taliban's history of subjugating women, was part of a broader effort by the group since taking power to present a more moderate face to the world.
They are encouraging workers back to their jobs — and have even encouraged women to return to work and to take part in the government.
Still, worried about running afoul of local Taliban officials, Kabul residents have been tearing down advertisements showing women without head scarves in recent days.
That made the work of Tolo's female journalists, including a reporter out on the street, all the more notable.
Matthieu Aikins, a journalist who has reported widely on Afghanistan, described the interview as "remarkable, historic, heartening", although he pointed out that during recent peace talks in Doha, the Taliban had given access to female journalists from Afghanistan and other countries.
Afghanistan observers said that while it is not unheard-of for the Taliban to grant interviews with female journalists, including international correspondents from CNN and other outlets, they are rare inside the country.
The Taliban leadership appears to be carefully tending to the group's public image, even as its members continue to preach a policy of exclusion that deprives women of rights and education inside the country.
The notion that the Taliban will suddenly change their ways has been greeted with deep scepticism. "Please spare a thought for the women and girls of Afghanistan," Phumzile Mlambo-Ngcuka, the executive director of UN Women, wrote on Twitter on Monday.
"A tragedy unfolds in front of our eyes."
When the Taliban governed Afghanistan from 1996 to 2001, they barred women and girls from taking most jobs or going to school.
After the US invasion toppled the Taliban, women's rights became a rallying cry. Over two decades, the US invested more than $780 million to promote women's rights. Girls and women have joined the military and police forces, held political office, and competed in the Olympics and on robotics teams — things that once seemed unimaginable.
Now, fears are growing that all those hard-won rights will disappear.
Tolo News has been an independent force in the Afghanistan news media landscape, showing soap operas and reality shows that run counter to the Taliban's conservative ethos.
After their recent capture of Kabul, the Taliban entered Tolo's news compound, collecting all state-issued weapons, and offering to help secure the compound.
Saad Mohseni, the chief executive of Moby Media Group, which oversees Tolo News, told the BBC that the Taliban had been professional and polite. But he said he suspected that his station's content, especially entertainment, would face eventual censorship.
"The Taliban are scrambling to take control," he said.
New York Times News Service