Abortion row: US uneasy over court polarisation
We are politics-driven more than we have ever been, says Justice Samuel A. Alito Jr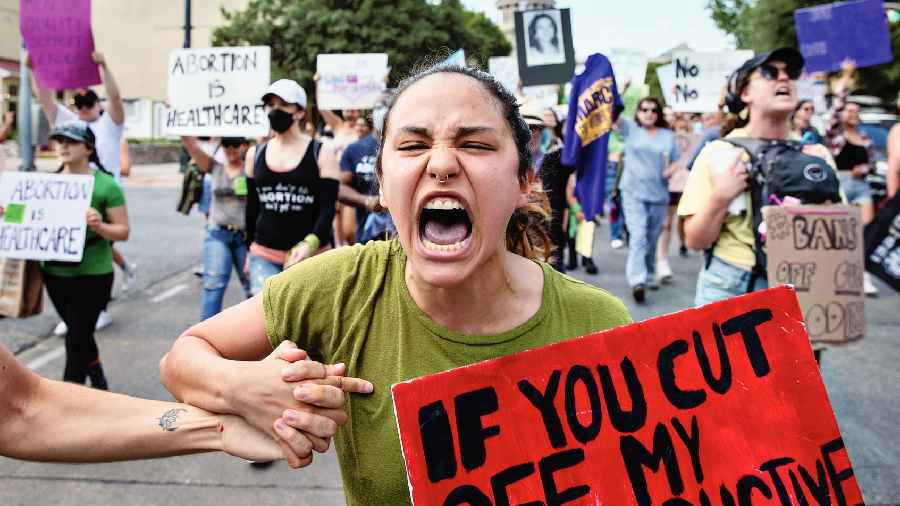 Protesters at a rally for abortion rights in Austin, Texas.
Reuters
---
Published 05.05.22, 12:52 AM
|
---
Connie Wright, a grandmother in Iowa, fell to her knees and gave thanks when she heard that the right to abortion might soon be reversed by the Supreme Court. Jenny Doyle, a neonatal nurse practitioner in Colorado, wanted to leave the country: "I think Iceland sounds good," she said.
But the two had a common response this week as news of a leaked draft opinion that would reverse Roe v. Wade rocked the nation: The Supreme Court has become too political.
Scholars and political experts have regularly debated whether the court's steady march to the Right, hastened by Republican-led Senates that denied President Barack Obama one court nomination and President Biden a second, was sapping public faith that its rulings followed the law instead of politics.
But the bombshell revelation of the court's draft opinion on Roe — leaked in unprecedented fashion, for unknown motives — gave pause to Americans who know the justices more from their annual photograph than their rulings.
In interviews across the country, even some opponents of abortion expressed unease with news that a majority of the court had coalesced behind the sweeping and unapologetic draft written by Justice Samuel A. Alito Jr., one of six Republican appointees on the nine-member court.
"We are politics-driven more than we have ever been, or at least more than I have ever seen in my almost 64 years of life," Wright said. "And I'm not going to say that that's a good thing."
Doyle went further.
"I absolutely believe in a term limit on the Supreme Court," she said, of justices who can choose to serve until they die. "They are losing touch with the real America and the real issues of Americans."
Even before the impending decision to revisit abortion rights reopened painful national divisions, public faith in the court had deteriorated sharply. A national survey by Pew Research Centre conducted early this year found that 54 per cent of US adults had a favourable view of the Supreme Court, compared with 65 per cent last year.
An overwhelming majority of adults — 84 per cent — said the justices should keep their political views out of their judicial decisions, but only 16 per cent of that group felt the court did a good or excellent job of it. Over the past three years, Pew found, approval of the court had declined 15 percentage points, recording its least positive rating in nearly four decades.
Nicole Lamarche, pastor of Community United Church of Christ in Boulder, Colorado, said on Tuesday that she traced her disillusionment to the Republican senators' blockade of Obama's Supreme Court nominee after the death of Justice Antonin Scalia in 2016.
"To me, when they refused to appoint Merrick Garland, or even begin the hearings process, that to me was a sign of a different time," Lamarche said. But the fast and furious appointment of three conservative justices during the Trump administration sent the court lurching to the Right, with the confirmation of Justice Kavanaugh in particular deepening divisions.
In recent months, the congressional investigation into the Jan. 6, 2021, attack on the Capitol revealed that Ginni Thomas, the wife of Justice Clarence Thomas, had urged President Donald J. Trump's chief of staff to overturn the results of the 2020 election.
When the challenge to Roe — in a case about Mississippi's 15-week abortion ban — was argued in December, and it became clear that five justices were ready then to overrule the decision, Justice Sonia Sotomayor articulated the public's gathering suspicion. For decades, Americans have told pollsters roughly two to one that they support a constitutional right to abortion; as recently as last week, in a Washington Post-ABC News poll, 54 per cent of Americans said Roe should be upheld, compared with 28 per cent who wanted justices to reverse it.
New York Times News Service