Five die, 40 hurt during Christmas parade in Wisconsin
Chief Daniel Thompson of the Waukesha Police Department said on Sunday night that a person of interest was in custody and that there was no further threat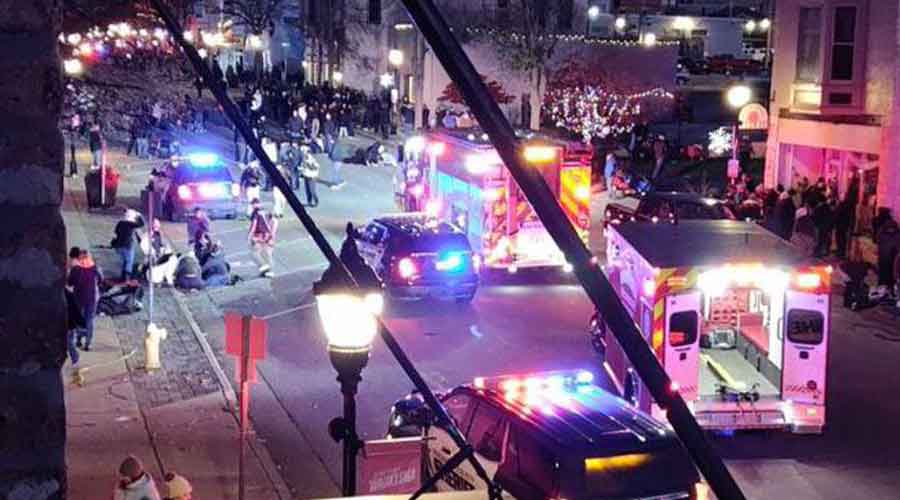 ---
Waukesha, Wisconsin
|
Published 23.11.21, 03:02 AM
|
---
 It was supposed to be a celebratory night in Waukesha, Wisconsin. Dance groups and high school bands and politicians were marching along Main Street in the Milwaukee suburb's Christmas parade, which was returning from a pandemic hiatus.
Then, just before 4.40pm (local time), the driver of a red SUV stormed past barricades and barrelled through the crowd, striking dozens. At least five people were killed and more than 40 people were injured, and the numbers could change, city authorities said in a statement late on Sunday. Area hospitals reported treating dozens of patients, including many children.
"Today our community faced horror and tragedy in what should have been a community celebration," said Mayor Shawn Reilly, who described seeing smiling children and happy parents when he marched along the parade route before the incident. "I'm deeply saddened to know that so many in our community went to a parade but ended up dealing with injury and heartache."
Chief Daniel Thompson of the Waukesha Police Department said on Sunday night that a person of interest was in custody and that there was no further threat. Eyewitnesses described the driver as male, but that was not confirmed by the police. Chief Thompson said shots were fired by the police at the driver.
The suspect appeared to be fleeing another incident when the vehicle sped through the parade route, CNN reported on Monday, citing law enforcement sources. Although the investigation was in its early stages, authorities have found no connection to terrorism, the sources told CNN.
 The incident also appeared to be unrelated to Friday's not-guilty verdict in the trial of Kyle Rittenhouse, who was charged with the fatal shooting of two men and the wounding of a third during racial justice protests in Kenosha, Wisconsin, CNN reported.
A spokesman for Children's Wisconsin said that hospital, which treats only paediatric patients, had admitted 15 people on Sunday.
Details about their conditions were not immediately available. Another hospital, Aurora Medical Center–Summit, said in a statement that it was treating 13 patients, including three in critical condition. Officials at Froedtert Hospital said they also had received patients but did not specify how many.
The tragedy spoiled what participants and onlookers described as a joyous night in Waukesha, a bedroom community about 20 miles west of Milwaukee. More than 60 entries, from the Waukesha Fire Department to the Old Car Club to Santa, were scheduled to march through downtown.
This was the 58th Christmas parade for Waukesha, an annual event that was canceled last year because of the pandemic. The theme of this year's event was simply "Comfort and Joy".
Mikey Randa, 14, said he was marching in the parade with his high school football team when he saw a young girl hit by the car. "The car just flew past us, there was a lot of panic," he said, adding that he initially didn't grasp what had happened. Randa said he then saw five or six bodies lying on the ground. "I'm still in a bit of a shock," he said.
All Waukesha public schools will be closed on Monday, the police said.
Jason Kellner, 49, said that he had just watched his son, a drum player in the Waukesha South High School marching band, pass by, when he first saw a red Ford Escape heading toward the crowd. After passing through an intersection, Mr. Kellner said, the car "started mowing people down".
"I've never felt a worse feeling; wondering what I'm going to find when I get to my kid," Kellner said of the moment he ran toward his son, whom he found standing unharmed by the side of the road.
Kellner said he pulled a bloody saxophone off the street and saw several people, apparently injured, on the ground. "Right now, I'm just angry," Kellner said. "It seems everywhere we turn, it's just another violent day in the US."
Tyler Kotlarek, 28, was watching the parade with family members when they heard what at first sounded like cheering, but then they realised "it was screams," he said. "It was the worst thing I've ever seen in my life."
New York Times News Service and Reuters