17 Maoists killed in clash: Nepal
Read more below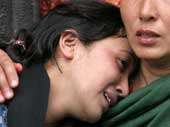 ---
Published 23.01.06, 12:00 AM
|
---
An activist after being taken into custody in Kathmandu. (AFP)
Kathmandu, Jan. 22 (Reuters): Seventeen Maoist guerrillas and six security personnel were killed in the deadliest gun battle in restive Nepal since the rebels ended a four-month-old truce three weeks ago, an army officer said on Sunday.
The news came as an alliance of Nepali opposition parties vowed to continue their protests, just hours after police in Kathmandu clashed with crowds demanding that King Gyanendra restore democracy to the Himalayan nation.
The seven-party alliance called for a nationwide general strike on Thursday.
The officer said the bodies of the 17 dead Maoists and some of their weapons had been recovered from the site of the overnight clash at a remote village in Makawanpur district, 100 km east of Kathmandu.
Another officer said clashes had also taken place in Syangja in western Nepal but gave no details.
The latest violence comes a week after the guerrillas carried out co-ordinated attacks around the capital, killing 12 policemen.
At least 73 people have been killed in insurgency-related violence since the Maoists, fighting a 10-year revolt to overthrow the monarchy, ended a unilateral ceasefire on January 2 after Gyanendra's government failed to respond.
The Maoists made no immediate comment on the latest clash.
Kathmandu saw fierce street protests on Saturday, a day after authorities imposed a curfew to thwart a mass rally, as thousands of anti-king activists fought running battles with riot police. Police said most of the 236 activists held on Saturday had been freed.
Former Prime Minister Girija Prasad Koirala was released from house arrest, his aide said on Sunday, three days after he was detained during the clampdown.