13 people dead in Chile's raging wildfires
Chilean government has declared a state of disaster after a devastating heatwave sparked the forest fires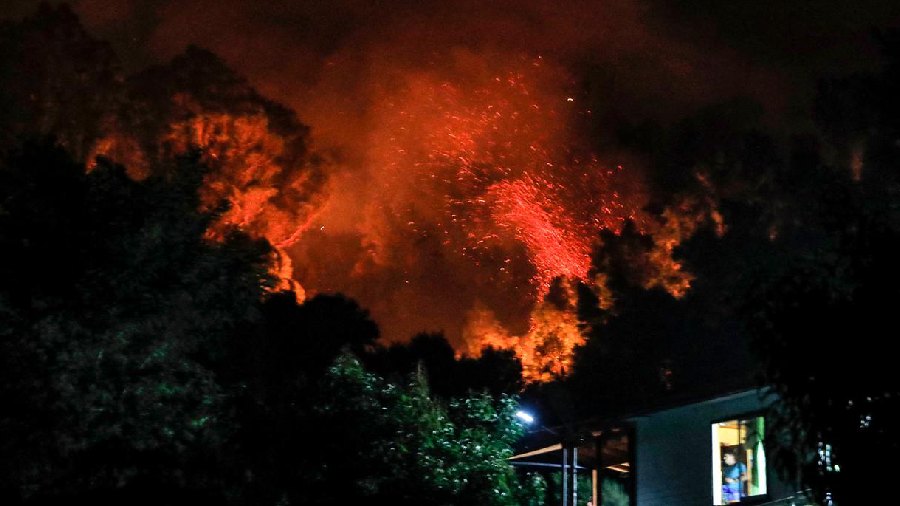 A view of the fire raging in in Santa Juana region of Chile.
Deutsche Welle
---
Published 04.02.23, 11:54 AM
|
---
At least 13 people were reported dead on Friday as hundreds of wildfires across Chile wreaked havoc.
The Chilean government has declared a state of disaster after a devastating heatwave sparked the forest fires.
As of Friday, 151 wildfires were raging, of which 65 were declared under control.
The fires blazed through more than 35,000 acres of land and destroyed over 100 houses since it began on Wednesday.
Among the victims was a firefighter who died after being run over by a fire truck while combating the blaze.
A pilot and a mechanic died while trying to battle the fires as their helicopter crashed in the southern region of Araucania.
The death toll included four civilians who died in Biobio region, in central Chile, which has been among the worst affected by the fires.
What we know about Chile's wildfires
"Families are having a very difficult time,'' Ivonne Rivas, the mayor of Tome in Biobio, told a local radio station. "It's hell what they are living through, the fire got away from us.''
Some 2,300 firefighters and 75 aircraft are involved in the battle against the flames.
President Gabriel Boric suspended his vacation to travel to affected areas on Friday. He said that there is "evidence" that some of the fires were sparked by unauthorized burnings. 
Presidente @GabrielBoric: "Quiero que sepan, no los vamos a dejar solos, hoy la prioridad es apagar el incendio, para eso están desplegados nuestros recursos (...) Como Gobierno estamos preocupados del apoyo en materia de reconstrucción y en recuperar todo lo que se ha perdido". pic.twitter.com/ArpUlKRPHs

— Presidencia de Chile (@Presidencia_cl) February 3, 2023
"My role as president today is to ensure that all resources will be available for the emergency and so that people feel that they are not going to be alone," Boric said from Biobio.
The declaration of the state of disaster allows for coordination with the military and suspension of constitutional rights.
The heat wave is set to continue with high temperatures and strong winds, making it more difficult to control the fires.
"The conditions in the coming days are going to be risky," Interior Minister Carolina Toha told journalists.
The fires have stoked fears of a repeat of the 2017 fires, which left 11 people dead, destroyed 1500 homes and affected over 1,150,000 acres of forest.
Announcement of Pablo Neruda's forensic report stalled
The wildfires caused the suspension of a highly anticipated announcement regarding the death of Chilean poet Pablo Neruda.
Forensic experts were expected to reveal whether the poet died from complications due to prostate cancer or whether he was poisoned, potentially settling one of the greatest mysteries of post-coup Chile.
A spokesperson for the country's judiciary said that the doctor in charge of delivering the report's findings was unable to connect to the internet as his region was affected by fires.