?Yahaan is not about tourist Kashmir?
Read more below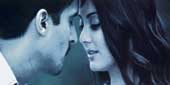 ---
Published 15.07.05, 12:00 AM
|
---
Jimmy Shergill and Minnisha Lamba in moments from YahaanShoojit Sircar
nFrom Barrackpore to Bollywood, it?s been a dream ride?
Yes, I studied in Barrackpore Central School before moving over to Delhi, from where I graduated. I was also a national-level football player but I got actively associated with theatre. We formed a theatre group called Act One with Piyush Mishra, Manoj Bajpai and Ashish Vidyarthi. My backstage work helped me learn scripting. Then I worked for Siddhartha Basu, directing all his shows till KBC.
Next, I took up commercials as a route to do feature films. The Dettol ad with children playing in green jerseys on the Calcutta Maidan became very popular. I went on to do others like the Cadbury ad with Amitabh Bachchan, the Titan ad with Aamir Khan, the Royal Stag ad with Saif Ali Khan... Then I directed Subha Mudgal?s Mann ke manjeere music video which won a lot of critical acclaim. Finally, thanks to my wife?s constant pushing, I started work on my first feature in 2003, which is Yahaan?
nWhat made you set the film in Kashmir?
I have been following Kashmir for a long time now. In 1996, I came across a newspaper article on a love story between an army jawan and a local Kashmiri girl. It had to be my first film. Also, Indian films have largely shown tourist Kashmir. I wanted to show downtown Kashmir which is the hub of most of the terrorist activities. I wanted to show the people of Kashmir, the youth of Kashmir? how a young Kashmiri looks at the world beyond and how the world looks at him from the outside. Mani Ratnam?s Roja touched the subject but didn?t explore it fully.
nHow difficult was it shooting there?
For research work I used to move around without security. You are safer that way. See, I have shot at places in Kashmir which people haven?t even heard about ? Habakadal, Tanhipura, Lal Chowk? I adopted a very guerrilla style of shooting. I didn?t have permission to shoot at many places and had I gone to take permission I would have been stuck. I got my Swedish cinematographer friend Jakob Ihre to shoot the film with a lot of blues and browns. Around 60 to 70 per cent of the film is in Kashmir and I can assure you that the visuals have never been seen before.
nWhy did you choose an unsuccessful actor like Jimmy Shergill and a rank newcomer like Minnisha Lamba as your lead pair?
Jimmy is as daredevil as I am and was ready to go anywhere I chose to shoot. He may not have had a hit but he is a good actor. And his face has the right mix of humanity and a tough army guy.
As for Minnisha, I wanted someone who looked like a Kashmiri. Minnisha may not be a Kashmiri but she looks like one. She has a very real face.
The real hero and heroine of the film, though, is the screenplay written by Piyush Mishra, Somnath De and Sameer Kohli.
nYahaan has been selected for Osian?s Cinefan film festival. Is it a commercial venture or a festival flick?
It?s a pure entertainer. My job has always been to entertain ? I can never go for an arthouse film. Yahaan has some fantastic music by Shantanu Moitra and lyrics by Gulzar. The subject, too, is very intense, of an army man falling in love with a local girl, which is an impossible situation in Kashmir. People there would burn her house, rape her or just shoot her.
nHow smooth was the switch from a 30-second ad to a full-fledged film?
While the technique is the same, in cinema you have a lot more to do, a lot more area to paint. Initially, I did have some difficulty in adapting but I settled down in a week?s time and now I am addicted.
nSo you are now parking yourself in Calcutta for Amarjeet with Lara Dutta?
It?s a woman?s emotional journey fighting the issue of tobacco. Calcutta has great locales, is cheaper to shoot in and I am exhausted seeing Mumbai and Delhi as the backdrop. Calcutta is still largely unseen.
nEven after Parineeta?
Parineeta didn?t explore Calcutta at all? maybe it showcased Bengaliness. The film was mostly shot indoors. The real Calcutta is Bagbazar, Park Street, Kumartuli, Dakshineswar... I want to shoot a lot on the road.
nAny plans to make a Bengali film?
I have always wanted to make a Bengali film on the partition of Bengal. The theme has never been handled in a mass, commercial way. I?m working on the script.