When a Calcutta minister has to pack up & leave
The Duttas of 105 BB Ganguly Street had barely six hours to pack up and leave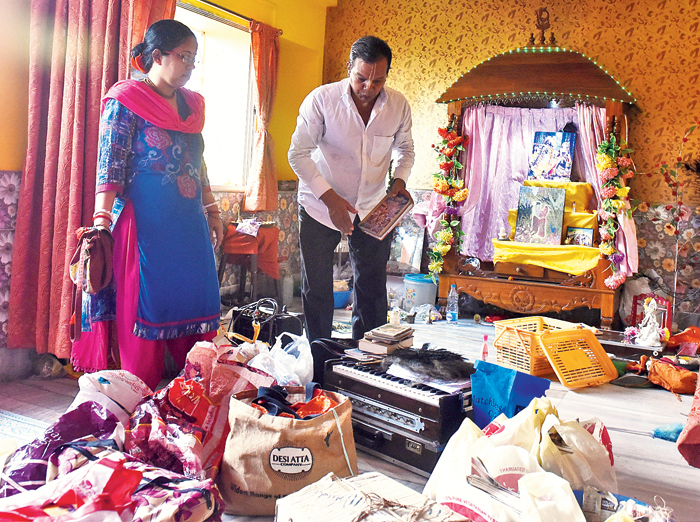 ---
|
Calcutta
|
Published 05.09.19, 09:37 PM
---
Chandra Dutta, only son of Dilip and Pratima, was busy shifting his pets — two parrots and two cockatiels — from their flat on BB Ganguly Street. On Wednesday night, Metro engineers turned up and asked all residents of the building to move out.

The Duttas of 105 BB Ganguly Street had barely six hours to pack up and leave and among a few items that they could carry were the birds.
Among others who moved out with the Duttas was Tapas Roy, the Bengal minister of state with independent charge for the department of planning and statistics and parliamentary affairs.
Around 2pm, Roy and his family left their flat on BB Ganguly Street where they have been staying for the last 13 years.
The building on BB Ganguly Street is some 250 metres from Durga Pituri Lane, the epicentre of the building collapse in Bowbazar. For days its terrace used to be a venue for photographers who would take aerial pictures of damaged buildings. Members of seven families residing here said they had never imagined the building could come in the collapse-zone.
Some 500 metres away from the address on BB Ganguly Street, Bhaswati Dhar on Gaur De Lane kept counting days. Her three-storeyed house has developed 31 cracks across the floors and the family knows engineers would turn up and ask them to leave anytime.
The Dhars know even though props have been set up, it could be a matter of days — or even hours — that they would have to walk out of their 250-year-old house.
The cradle of cracks in Bowbazar remained caught between moving out and readying to move out throughout Thursday as engineers remained busy trying to prevent leakage of water underground and police struggled to contain collective frustration.
"The engineers who turned up on Wednesday night at my place said we would have to move out of our flat immediately. But they didn't offer any alternative accommodation. We told them to arrange for one before we step out," said Shyamal Kumar Dutta, a resident of 105 BB Ganguly Street
"How can one just leave? Where do we take our furniture? What about our sons and their schools?"
The fear of displacement that was once restricted to two pockets of Durga Pituri Lane and Syakrapara Lane spread to other residents in adjoining areas with many not sure whether a verbal order to move out was just enough or a written communiqué was required. Many alleged that engineers were not sure about what to do and there was no clear evacuation plan in place.
"At 6.30am, engineers told me my house was fine. At 8.30am they said I should pack up and leave," said Somnath Banerjee, a resident of Gaur De Lane.
"I have decided that unless Metro officials give me anything in writing I will not budge. I have packed a few items just in case they insist that I leave."
Several residents who had to walk out within minutes of the police asking them to leave last Sunday visited their homes on Thursday. But in a hurry to pick up important documents many said they had left behind some.
"After stepping out, I realised I have forgotten to bring back some items. I asked the police if they would let me enter. But they remained mum," said Debasree Roy, a resident of Durga Pituri Lane.