Bengal polls 2021: Polarisation can't break Bengal family, says Mamata
The CM said the people of Bengal were standing up to the BJP this time to beat back the 'invasion' of the state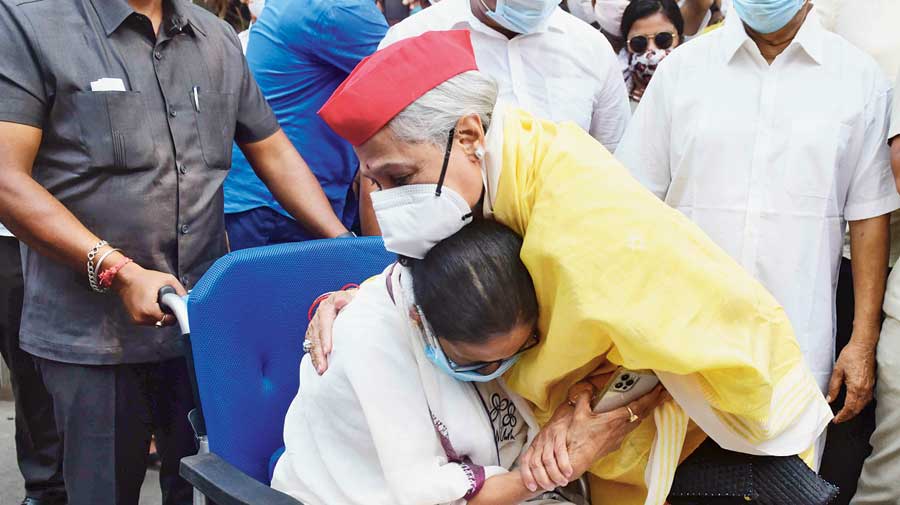 Jaya Bachchan embraces Mamata Banerjee during a road show in Calcutta on Thursday
Telegraph picture
---
Calcutta
|
Published 16.04.21, 01:44 AM
|
---
Chief minister Mamata Banerjee on Thursday expressed confidence that "the large family of Bengal" would stand together regardless of the BJP's attempts at polarisation, casting the Assembly elections as a battle to preserve "Bengal's peace, culture, civilisation, identity and existence".
"I still think the people of Bengal are standing together. Bengal is one large family, of Hindu, Muslim, Sikh, Christian, Scheduled Castes, Scheduled Tribes — everyone is united. The family cannot be broken, despite all the attempts at polarisation," Mamata told the ABP Ananda news channel in an interview on Poila Baisakh evening.
"On the occasion of the Bengali New Year's Day, I reaffirm my unflinching faith in Bengal's people, who know this is the election to save Bengal, its honour and everything it stands for… its complex ethos. Women and the youth are playing a huge role in it this time, I believe, as are farmers, workers, teachers," Mamata said.
The chief minister acknowledged that the saffron camp had succeeded in polarising the electorate considerably when it made unprecedented gains in Bengal during the 2019 Lok Sabha polls. "But as Abraham Lincoln famously said: 'You can fool all the people some of the time, and some of the people all the time, but you cannot fool all the people all the time'."
Asked if she had witnessed signs of polarisation at the grassroots this time during her extensive campaign across the state, the chief minister gave a detailed answer.
"See, this the BJP has done. The BJP went to the Matuas and pledged loyalty; it went to the Rajbanshis and pledged loyalty; but it is actually not loyal to anybody…. The BJP keeps going to various sections of the people and saying different things, trying to woo them, trying desperately to create tiny little fragments in the electorate to suit themselves. That's a fact," Mamata said.
She said her personal assessment was that Trinamul would win a two-thirds majority this time despite what she described as the BJP's attempts to divide through polarisation and identity-based politics. She asserted that despite being extremely religious personally, she would never stoop to adhormo (sin) in the name of dhormo (religion) like the saffron camp.
Mamata said the people of Bengal were standing up to the BJP this time to beat back the "invasion" of the state.
"I think the people are standing firm to prevent the invasion of Bengal by Gujarat. Bengal will not be handed over to Gujarat," Mamata said, alluding to Narendra Modi and Amit Shah by their home state rather than names.
Mamata said: "Otherwise, in future there will be nothing left of Bengal's peace, culture, civilisation, identity, existence…. That is why this is a prestige battle for the people of Bengal. The BJP will be decimated in this election, that is my assessment."
Asked how many seats she believed her party would win, Mamata said: "The Trinamul Congress will, I believe, get two-thirds majority."
The Bengal Assembly has 294 seats, with 148 being the majority mark. Winning a two-thirds majority requires 196 seats.
The BJP, led by Prime Minister Modi and Shah on the campaign trail, has been projecting a tally of at least 200 seats for itself.
Mamata accused Modi of dog-whistling to polarise voters, alleging he was saying things without being explicit. "Who are you trying to fool, bhai?" she asked.
"Our Hindus, in Bengal, are intellectually rich, culturally, they do not differentiate between castes like elsewhere. Everyone believes in Bengal, its soil, its water… raised on a diet of glorious schools of thought, such as that of Rabindranath Tagore, Kazi Nazrul Islam, Swami Vivekananda, Ramakrishna Paramhansa, Sarada Devi, Mahatma Gandhi, Netaji Subhas Chandra Bose," she said.
"They (the saffron camp) are not real monks, they only dress like that to play the part. It suits thespians, not politicians…. They destroy in the name of religion. They lie in the name of religion. They do not even adhere to the religion themselves."
Asked why she chanted Hindu hymns at her campaign rallies, Mamata said she did it "selfishly".
"I used to chant the Chandi Path and many other hymns for at least an hour during my two-hour daily workout on the treadmill. I bow my head in humble reverence to all gods….  Because of that injury to my leg, I haven't been able to walk on the treadmill for a month…. I think I have been putting on weight as well," Mamata said, laughing.
 "My daily prayers for the well-being of everyone were getting hampered. So I chant the hymns from the dais. So that's my own work getting done…. For instance, my Bagalamukhi Ma must never think that Mamata doesn't remember her, as that might make her angry…. I don't want to have these doubts."
Mamata asserted that she was "very religious", more than most people. "But I'm not adharmik (unrighteous) or a bokdharmik (sanctimonious hypocrite)," she said.
"Everyone is equal to me. I feel ashamed to underscore my caste, whenever I give out my last name, in this day and age. If we aren't able to rise even above such basic differences — even after decades in politics — it's a matter of shame."