'TMC to retain power under Mamata'
Bengal Polls 2021: Saffron party can afford to lose, others cannot, says Prashant Kishor
He has called the election a critical milestone from where India could veer towards becoming a one-party state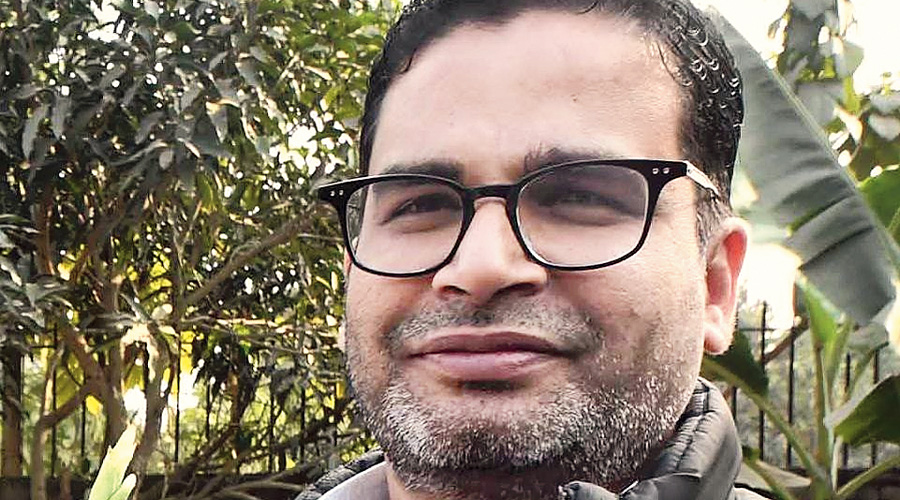 ---
---
Chief minister Mamata Banerjee's political strategist, Prashant Kishor, has called the Bengal election a critical milestone from where India could veer towards becoming a one-party state.
"The BJP can afford to lose this election and still remain a strong all-India party, the others cannot," Kishor said in an exclusive interview to The Telegraph.
"This election will mean the difference between India retaining the vibrancy of a multi-party democracy and becoming a one-nation, one-party state. That is how important this election is.
"For Trinamul to lose Bengal to the BJP will mean a shadow cast much wider. It will have a huge psychological impact beyond Bengal. It will put a question on the viability of putting up a challenge to the BJP. Many others will come under pressure or get demoralised…. That's the battle we are fighting."
That said, Kishor was certain Trinamul would retain power under Mamata.
"The only way the BJP could have won was if Trinamul had collapsed. That has not happened. The BJP was hoping Trinamul would come apart, but they did not contend with Didi and what she means."
Expanding on the claim, Kishor added: "This BJP is a formidable force in Bengal today but there is no way they are going to win, absolutely not. For the BJP to win, they need at least 44 per cent of the vote, which means they will have to substantially up their Lok Sabha numbers.
"Barring a few small-state exceptions like Haryana and Tripura, the BJP's Assembly vote share has always been lower than what they secure in Lok Sabha elections. The BJP has an uphill task; I can tell you they are not winning this one."
Since his debut assignment with Narendra Modi in 2014, Kishor has designed and strategised a string of electoral campaigns, often zig-zagging political and ideological fence lines.
Nearly two years into his assignment with Mamata, Kishor struck a realistic tone, not wanting to underestimate the potential of the BJP's attempt at a power grab in Bengal.
For instance, he believes there could be two ways of looking at the BJP's decision to press party MPs into an Assembly contest — it could be viewed as desperation, it could also be viewed as a signal of "seriousness of intent".
"The BJP is here to stay for a long time, make no mistake," he said.
Even so, Kishor was confident Trinamul would not only retain power but also increase its vote share.
Asked how, he said: "Two reasons. Didi remains by far the most popular leader in Bengal. Nobody has such energy, grit, intelligence and presence. Secondly, look at how swiftly and wholesomely we have responded and rearranged ourselves. We saw and recognised the threat from the BJP; we put in place an elaborate strategy which was a mix of the administrative and the political."
Among the fetching outreach programmes, Kishor named Duare Sarkar, Paray Samadhan, Swasthya Sathi and the Didi Ke Bolo helpline.
"I am not saying all of these people will vote Trinamul, but do not discount the dividends such a comprehensive outreach can shore up. At the political level, two-thirds of the district presidents have been changed. Now this too has led to all that 'exodus' talk that the BJP wants to hype, but the truth is we have a younger, more proactive leadership across the state."
On whether it has helped Trinamul that the BJP hasn't projected a chief ministerial face, Kishor said: "I know it is not a popular thing to say, but if they had projected a face against Didi, things would have been easier for us."
Kishor dismissed the Left-Congress "jote" as of "no significance" in the election and asserted that the contest was bipolar.
He conceded that the BJP, and Prime Minister Modi's personal appeal, had created a "formidable social coalition alloying religion with subaltern castes" and shored up sections of the non-Bengali voter, but argued that polarisation of the electorate would take the BJP some distance but no further.
"Bengal is already as polarised as it could get. Is that enough to take the BJP through? No. There is no denying the BJP's divisive thrust and polarisation, but please complete the circle. Is the polarisation 100 per cent? Or even a little more than 50 per cent? Is the majority community completely blinded by just one factor? No. That doesn't happen," he said.
"In Gujarat the BJP gets 55 per cent of the vote, although the Muslim population is only 10 per cent. In UP, through the 2014, 2017 and 2019 elections, the BJP got roughly 40 per cent. So, despite optimum polarisation everything doesn't go one way; the tea leaves need to be carefully sifted and read."