The West Bengal Pollution Control Board (WBPCB) has launched a road watering project in urban areas in and around Calcutta, including Salt Lake and Rajarhat, to suppress dust that has become the major source of pollution in the Calcutta metropolitan area that the Bidhannagar Municipal Corporation comes under.
"From the initial findings of the study that we have commissioned, we find that road dust is responsible for about two-third of the PM10 pollution, the toxic pollutant that can penetrate the lungs. Hence we have decided to start a programme of water sprinkling on roads to minimise the re-suspension of dust," WBPCB chairman Kalyan Rudra told The Telegraph Salt Lake.
"Under this programme, WBPCB is providing funds to various municipal corporations, including Bidhannagar Municipal Corporation, to operate sprinkler vehicles apart from those that the PCB will ply directly," added Rudra.
"At present, we are running three vehicles mainly to suppress dust around the EM Bypass all the way to Ultandanga and even the airport. But we may increase the number as per requirement," said WBPCB member secretary Rajesh Kumar.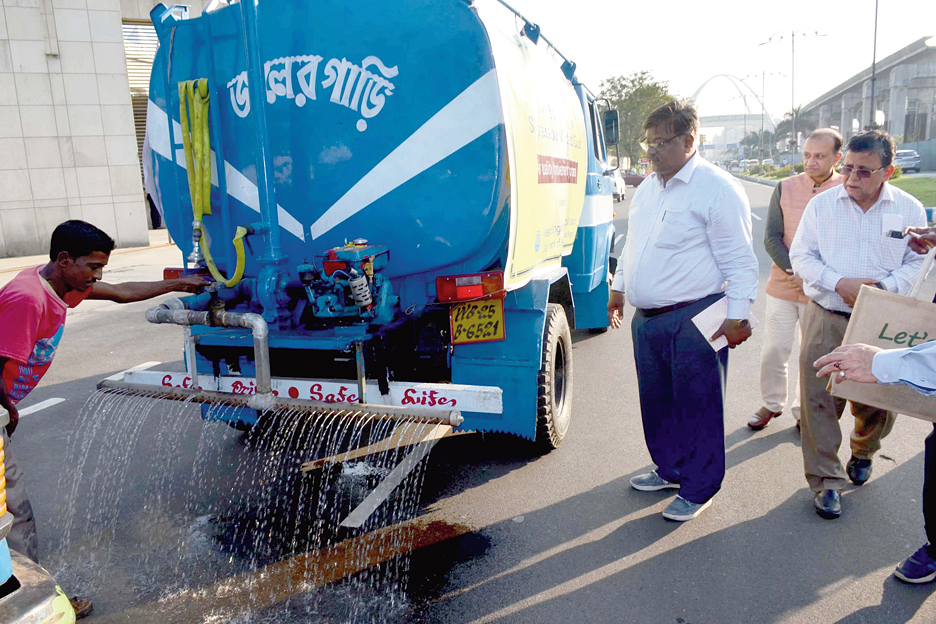 The water sprinkler being tested. (Mayukh Sengupta)
The vehicles are sprinkling water on the EM Bypass from the Ruby Hospital crossing to the Ultadanga crossing and then on VIP Road from Ultandanga to the airport. This is being done once early in the morning and again in the evening.
Each vehicle holds about 6,000 litres at a time, which is required to water about 5km of road. According to PCB officials, the vehicles now collectively cover about 50 to 60km per day.
According to a PCB source, the stretch has been chosen considering both the acute car density of the area and the slew of ongoing constructions, including Metro Railway work, that often turn the area into a dust bowl, especially in winter.
On Wednesday evening, The Telegraph Salt Lake found that during the last 24 hours PM10 was the dominant pollutant in Salt Lake, as measured through the automatic air quality monitoring station located at the Administrative Training Institute in FD Block, as its value had shot up to 213 micrograms per cubic meter against the national maximum limit of 100 micrograms. According to the central pollution control board, this level of pollution can trigger "breathing discomfort to people with lung and heart disease, children and older adults".
"We recently had a meeting with PCB where they promised to give us five such sprinkler vehicles to water the road and suppress dust. We are already carrying this out with our vehicles but those do not have automatic sprinkler mechanism," said Debasish Ghosh, commissioner of Bidhannagar Municipal Corporation.
Ghosh admitted that the dust pollution is much more in major thoroughfares due to high intensity of traffic.