Visva-Bharati probe panel
Same committee on MP gherao and attack on students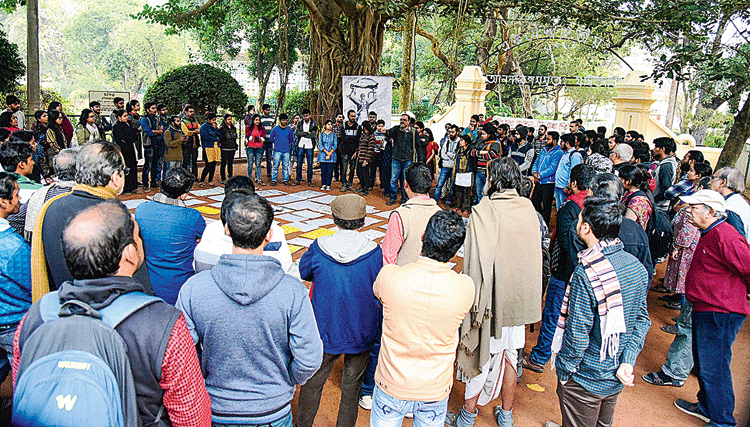 ---
---
Visva-Bharati has constituted a three-member committee headed by a former chief justice of Calcutta High Court to investigate the "confinement" of Rajya Sabha member Swapan Dasgupta at the varsity on January 8 and the "clash between students" on Wednesday.
The committee will be headed by former Chief Justice of Calcutta High Court Jyotirmay Bhattacharya and also have as members Dulal Chandra Ghosh and Manju Mohan Mukherjee of Visva-Bharati's executive council.
While Ghosh is a nominee of Chancellor and Prime Minister Narendra Modi in the executive council, Mukherjee is the vice-chancellor's nominee in the varsity's decision-making body.
Ghosh and Mukherjee had been among a group of academics who had signed a letter in support of the CAA, a teacher said.
"Visva-Bharati has claimed that the attack (on Wednesday) was nothing but a clash between two groups of students and there was no politics behind it. Now, they are going to probe the attack on the students at the hostel and the protest against the CAA lecture as well. Even before the committee starts its work, today's notification about the probe committee goes to prove that the attack was a fallout of the protest against Swapan Dasgupta's lecture," said Somnath Sow, a Visva-Bharati student and SFI leader.
On January 8, a group of students had gheraoed Dasgupta for around four hours at the Sriniketan campus when he had gone there to deliver a lecture on the Citizenship (Amendment) Act
Visva-Bharati officials said they assigned a single committee to probe the two incidents as both had taken place on the campus. "We want a neutral probe and have formed the committee that will investigate both the incidents on our campus. It is also tough to find another judge to head a separate committee," said Anirban Sircar, the varsity's officiating public relations officer.
The committee has been asked to submit a report within a month.
The students who were attacked in the hostel and later at the hospital of Visva-Bharati on Wednesday criticised VC Bidyut Chakrabarty for not visiting them. They said though the VC called himself as their guardian, his action didn't match such a description.
Education minister Partha Chatterjee expressed concern over the "unhealthy environment" at Visva-Bharati.