Up close with transgender life
The biggest draw was Rudra Palash, the city's first transgender dance group, founded by Megh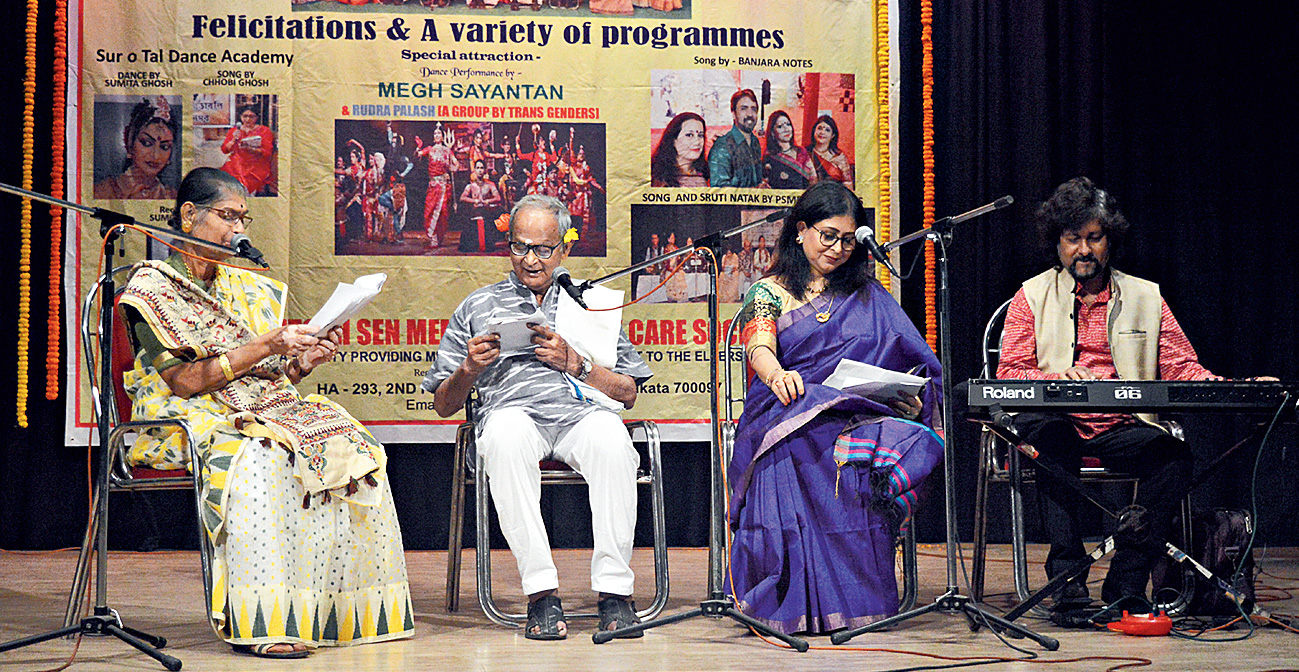 Members of the senior citizens' group perform an audio drama.
Debasmita Bhattacharya
---
Calcutta
|
Published 07.02.19, 01:46 PM
|
---
It was getting late in the evening and the audience was worrying about getting home. But no one was ready to leave Rabindra Okakura Bhavan just yet. They all wanted to watch Megh Sayantani dance.
A few days prior to this show, Paritosh Sen Memorial Elderly Care Society, a group that provides medical, social and legal aid for senior citizens, had held an interaction between their members and a transgender lady — Megh Sayantani. The elderly people were curious and concerned about the community's problems.
Shortly after the interaction the society held its annual programme by members and guest artistes. The biggest draw was Rudra Palash, the city's first transgender dance group, founded by Megh.
"I missed the interaction the other day but today I'm not leaving till I see Megh Sayantani dance," smiled an elderly lady, Kamala Saha of FD Block. She was seated with her friends in the very first row. "The poor girl has faced so much and is struggling to be accepted. Why can't we just accept her?"
Rough childhood
Megh was born Sayantan Ghosh. But he was effeminate and always identified as a female. "I studied at Jadavpur Vidyapith and graduated from Hazra Law College in 2011. But the most difficult stage of my life was yet to come," says Megh, who is currently undergoing a five year-long painful and expensive hormonal treatment to change her gender.
"I started practising at Alipore judge's court and the other lawyers would call me names, mock my gait and my dressing style. I'd be reduced to tears. In 2015 I had to quit practice," she recalls in horror.
Megh had learnt dancing all her life and so shifted gears. She started Rudra Palash, a dance group especially for transgenders.
Curious and caring
The elderly were quite compassionate towards Megh. "In our time, we were told about eunuchs but that is a physical condition. It is only now that I'm learning gender can be about mental conditioning too," said Tripti Chakraborty of Vidyasagar Niketan.
On the day of the show, member Ratish Ranjan Bhattacharya, 93, was spotted requesting Megh to pose for a photo with him. When she obliged and came close he, in a fatherly tone, said: "Dhore darao."
"It's heart-warming to find the elderly being so accepting, when even my own father is not completely comfortable with the idea," said Megh, who has resumed her career now at Alipore criminal court. "But my mother is my strength. She has fought off relatives in my defence. I find the youth to be more open-minded as they have better exposure."
And times they are a-changin'. Last year, Megh became the brand ambassador of two Durga pujas, including one in her own Santoshpur locality. "This when there was a time I didn't have the courage to go down and offer anjali at that puja, fearing taunts."
Those who waited for Megh's dance enjoyed it. She looked very happy as Durga. Singer Manisha Murali Nair performed at the event, as did members like Chakraborty and Sathi Sanyal in chorus. Minister Shashi Panja dropped by to bless the group's endeavour. "Loneliness is the greatest problem of the elderly as even their children are too busy to spare them time. It's good of your organisation to work for this section of society," Panja said.
Founder and secretary of the HA Block-based group, Sarmishta Sen Das, said they had been engaging their members to work for under-privileged elderly persons.
"We have adopted 25 senior citizens of the Munda community in a village near Kasba and provide them daily necessities, take them on outings etc. We want to integrate every part of society, be it the aged, the under-privileged or the transgenders."