Trinamul workers told to click reach-out photos with voters
In Birbhum, all village level leaders have been asked to visit at least 20 households a day with printed details of development in their areas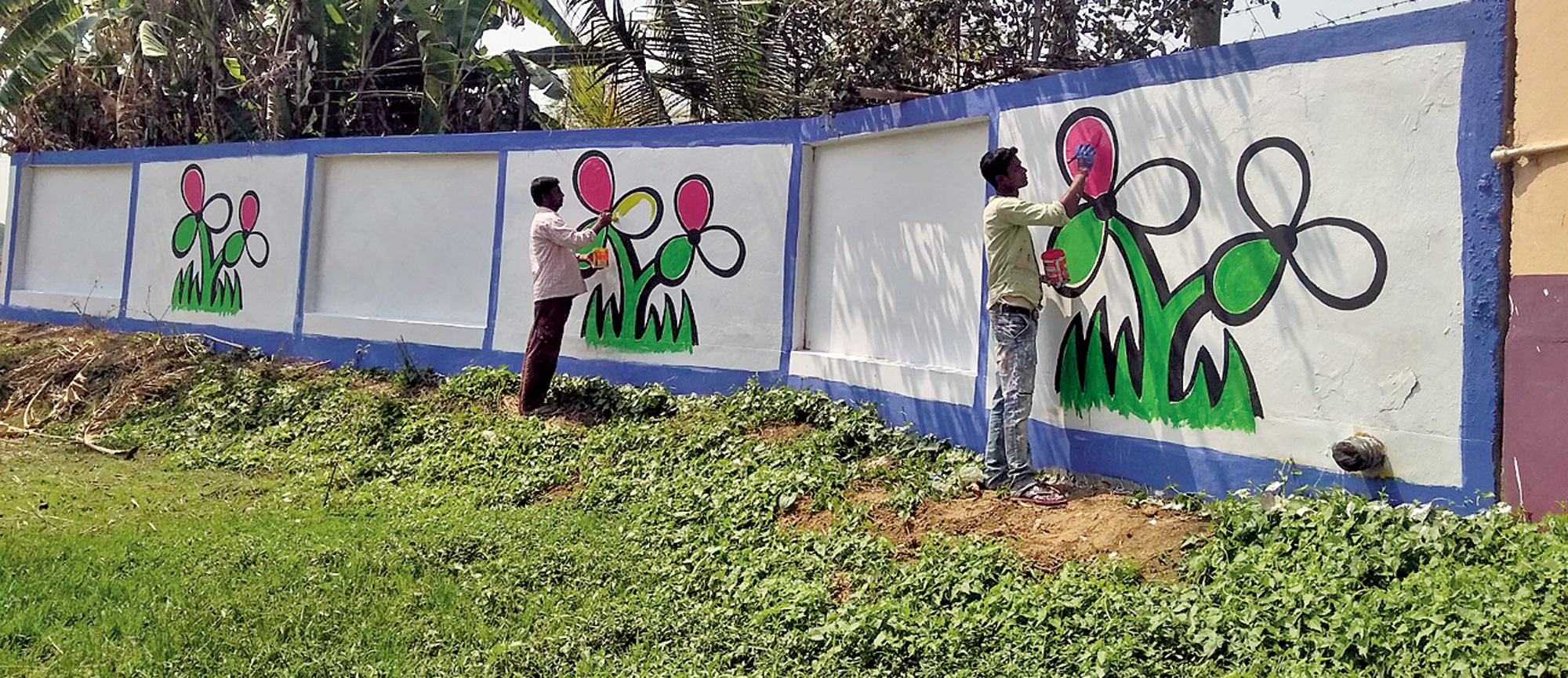 ---
---
Sales team members of Fast-Moving Consumer Goods companies often have to click themselves with customers after visiting them as proof of their marketing drive.
The practice of the corporate sector has now become a model in the Trinamul scheme of things in the run up to the Lok Sabha polls as party foot soldiers in parts of south Bengal – including Birbhum, West Burdwan and Bankura – have been asked to produce photographic evidence of their visits to voters.
A senior Trinamul leader in Birbhum said workers going on door-to-door visits to highlight the Mamata Banerjee government's achievements had been asked to submit to the leadership photographs of each visit.
"The step was taken following complaints on previous occasions that the party workers sent on reach-out missions were not covering every household of their assigned locality," said the leader.
Birbhum Trinamul chief Anubrata Mondal has already started campaign preparation for the district and directed party workers to go on door-to-door campaigns with lists of development work in their areas.
"We have had experience that several party workers and local leaders gave false feedback about their legwork during campaigning. So, this year, the district leadership has directed all local leaders to send photographs of their visits to each household to the IT cell of the party in the district," a senior Trinamul leader in Birbhum said.
Birbhum has 26,70,426 voters and all the village level leaders have been asked to visit at least 20 households per day with printed details of developments in their areas.
Abhijit Sinha, a district vice president and a close aide to Anubrata Mondal told The Telegraph, "From the photographs, we will conduct an audit to monitor the activities of party workers. All the party leaders involved in the programme have been directed to send the photographs taken on mobile phones directly to the party's IT cell. This way we will be able to identify party workers who are not working properly."
Trinamul sources said that during earlier polls party workers and leaders were directed to visit door to door but in many cases they cut corners and visited a few households while reporting a 100 per cent coverage to the district leadership.
"If anyone is found sending photographs irregularly, the worker or leader will be removed from the campaigning and a substitute will be given," a Trinamul leader said.
Like Birbhum, Trinamul leaders in West Burdwan and Bankura are also planning to implement the same policy to monitor activities of their grassroot level workers and leaders.
In West Burdwan, the leadership has directed party workers to hold street corner meetings in every ward under Durgapur Municipal Corporation to make people know about the development in their areas.
Uttam Mukherjee, the Trinamul's district working president in West Burdwan said, "We have planned to ask party workers to send photographs of their street corner meetings to keep a record with us. This election is very important for us and we want our workers to give their best."
Trinamul leadership in Bankura has directed all gram panchayat chiefs to hold camps in all villages of their respective areas to highlight specific developments. The panchayat pradhans will sit with the villagers and tell them about the developments. They pradhans will also be asked to send photographs of such meetings with villagers to the district leadership.