Trinamul replicates Bengal's dole politics in Meghalaya
Party promises implementation within 100 days of govt formation in state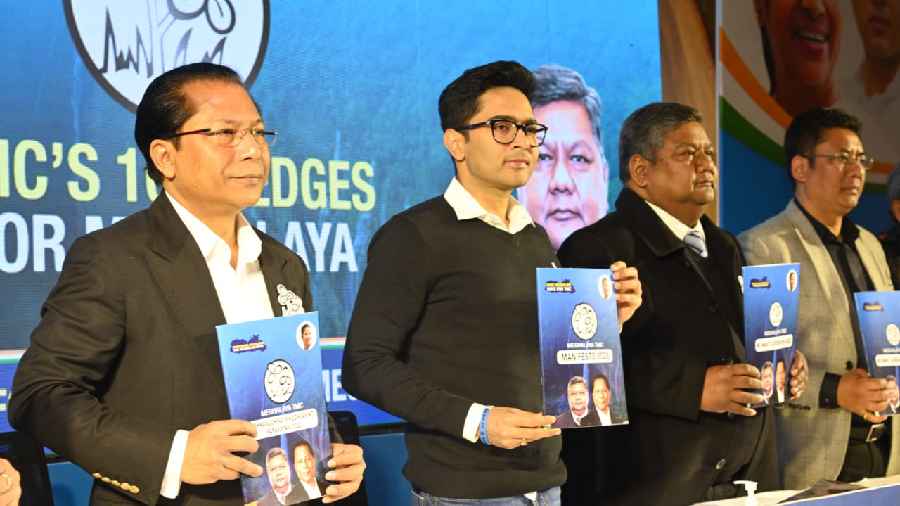 Announcements were made by Abhishek Banerjee, TMC's national general secretary, as part of the party's '10 Pledges for Meghalaya'
The Telegraph picture
---
Calcutta
|
Published 24.01.23, 06:34 PM
|
---
Sample the following:
3 lakh jobs over the next 5 years and a monthly allowance of Rs 1,000 to every unemployed youth between the ages of 21-40
One lakh laptops to all higher secondary and college-going students
Individuals engaged in the tourism sector to be identified and their services to be formalised through government-registered job cards providing a monthly honorarium of Rs 2,500
A direct monthly transfer of Rs 1,000 to one woman of every household as guaranteed universal income support
All social welfare pensions to be doubled to Rs 1,000 per month, whose beneficiaries would be PWD, single mothers, widows and senior citizens
Rs 10,000 annual financial assistance to all farmers
Direct Benefit Transfers of Rs 1,200 annually to the families of all school-going children registered in government-run schools
Set up state's first sports university and a corpus of Rs 10 crores to assist the 22 registered state sports associations and all recognised sports clubs under them
Interest free loans of up to Rs 2 lakhs to local communities to set up homestays and conduct other sustainable tourism activities
If the above announcements, made for the people of Meghalaya, bear striking resemblance to the dole politics of Trinamul Congress practiced closer home in Bengal, then no prizes for guessing that the party intends to replicate that home model to woo voters of the north eastern state as well, where the state polls are scheduled on 27 February.
The announcements were made by Abhishek Banerjee, TMC's national general secretary, as part of the party's '10 Pledges for Meghalaya' made during the launch of its poll manifesto in Shillong on Tuesday.
"This is not a mere document having 10 random promises. These are pledges we make and we will fight till the last drop of our blood to have them fulfilled for the last person they were intended for, once voted to power," Banerjee said and added, "the party will implement each of these 10 promises within 100 days of forming the government."
The TMC manifesto also included the assurance to revoke the border MoU signed with the Assam government and set up police check posts at all strategic border areas.
Meghalaya's leader of Trinamul legislative party Mukul Sangma claimed that the manifesto and the pledges were based on inputs, issues, and challenges revolving around lives of people across all sectors.
"This manifesto is completely realistic and the pledges are based on exhaustive due diligence from the grass roots and the commitment to address the existing issues," Sangma said.
"The funds needed for implementing these schemes have already been factored in. None of these schemes would consume more than 2-3 per cent of Meghalaya's state budget. There would be minimal burden on the state exchequer and there is no question of the state running into monetary debt for them," Banerjee asserted, when asked about doubts raised by the opposition on the source of funds to run such schemes.
"These schemes could not be implemented by the ruling dispensation owing to its incompetence. Mamata Banerjee has successfully implemented many such schemes in Bengal and, at times, has delivered more than she promised. If we can do it in Bengal, rest assured we can do the same in Meghalaya as well," the general secretary stated.
It can be relevantly mentioned that according to the official budget figures of the West Bengal government for 2022-2023, the state's total outstanding debt stands at an estimated amount of Rs 5,86,438 crore for the current fiscal. The estimated loan repayment figure for the same period is Rs 69,511 crore.
Calling the ruling NPP "National Puppets Party", Banerjee declared: "It's only a matter of time now that this My Development Alliance government is ousted and a government which will work for the all-round development of the state is established."
Responding to a question on the opposition's 'outsider' jab at the TMC in Meghalaya, a retort for the party's own isolation strategy against the BJP in Bengal, Banerjee said: "The TMC pledges that Meghalaya will be ruled by Meghalayans. Does the BJP have the guts to say that Bengal will be ruled by Bengal? Let BJP come and say that Meghalaya will not be ruled from the ivory towers of Delhi or Guwahati but from the hills of Garo, Khasi and Jaintia hills and I will apologise before every Meghalayans with folded hands."
Banerjee maintained that those who called TMC a party of outsiders are nowhere close to releasing their manifestos when his party has achieved that feat within four days of the elections being announced.